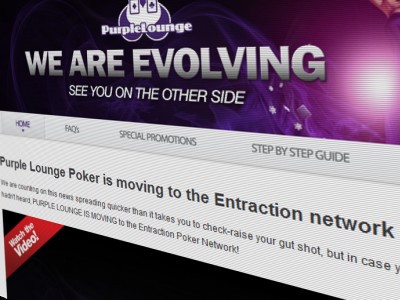 Purple Lounge, the UK-based online gaming company owned by publicly-traded Media Corp, has been taken offline, without warning and with no communication with players.
According to a trading update issued yesterday, Media Corp has loaned Purple Lounge over £900k in the last few months and received no dividends or cash payments from the business. The operation has thus been "temporarily suspended" to consider options.
"As a result of the recent losses, and resulting impact on the Company's cash position having continually funded the losses, the directors are in the process of considering a number of options for Purple Lounge as a means to control the losses and, in doing so, preserve the Company's cash and value in its other divisions," continues the Media Corp trading update. "In the meantime the Company has temporarily suspended the site www.purplelounge.com."
Players have reported slow cash outs for the last couple of months and now funds are inaccessible. The website has been down for at least 48 hours and there has been no communication with anyone from customer support to keep them informed.
At the moment there is no evidence that player funds will not be returned, but the silence from Purple Lounge and terse financial statement from its owner is not encouraging. At present players have no means of contacting Purple Lounge to request withdrawals.
In January, Purple Lounge poker room switched from Microgaming to the Entraction Network. The casino product stayed on Microgaming. It is not clear whether player funds were kept segregated; it is not apparently a stipulation of the remote gambling regulations.
CasinoMeister, a highly-regarded website dedicated to player advocacy at online casinos, has issued a formal "warning" of Purple Lounge following multiple reports of slow payouts. Following earlier trading statements and the abrupt closure of the website, it was removed from the accredited section of CasinoMeister.com, and representatives have been unable to communicate with anyone at Purple Lounge over the last week.
Media Corp (MDC) has seen its share price plunge by 75% in the last 12 months. The company is listed on the Alternative Investment Market (AIM), part of the London Stock Exchange.
The corporate story looks very confusing: A mixture of acquisition plans and the rapid disposal of sites and brands that are not making money.
Last month the Media Corp announced that it was in advanced talks to acquire Gaming Media Group Limited, owner of the Poker Channel and the PokerHeaven brand. In January the company launched forexspace.com, "to further capitalise on the huge demand for Foreign Exchange ("Forex") related advertising." Ten weeks later it was sold.
Media Corp Executive Chairman is Justin Drummond. He and his brother Jason own almost 20% of the company. Justin is an entrepreneur specialising in advertising and internet companies, and is involved in a number of AIM listed companies and web sites.
---
No contact details for Purple Lounge are available, but customers can contact Media Corp with the information below:

Sara Vincent, CEO, Media Corporation plc
T: +44 (0)20 7618 9000
E: saravincent@mediacorpplc.com

Media Corporation plc
1 Poultry,
London,
EC2R 8JR,
United Kingdom.
T: +44 (0)20 7618 9000
F: +44 (0)20 7618 9001
E: info@mediacorpplc.com

---
Correction: The original article stated that Purple Lounge was regulated in Gibraltar. In fact, PL held a license in Malta under the LGA.