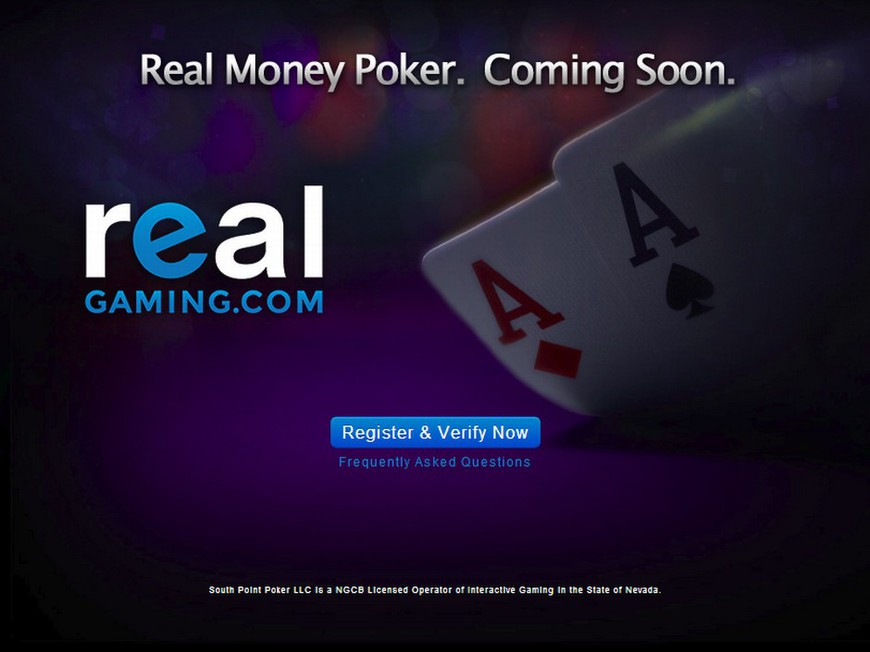 Real Gaming, South Point's brand for regulated real-money online poker in Nevada, today opened up account verification ahead of an imminent launch.
Players can create their accounts and verify their identity on realgaming.com. As with Ultimate Poker, even interested players outside of Nevada can sign up and register today so they are ready ahead of a trip into the state.
"By registering and verifying your identity with RealGaming.com, you will be able to deposit money into your account when Real Gaming goes live," reads an FAQ on the website.
"If you sign up and verify your identity, you will receive an email just prior to launch with instructions on how to deposit money into your account and begin playing on day one."
There are still no details yet on a go-live date—the website still says "coming soon"—but given today's developments its likely just days away.
The FAQ teases: "As soon as we launch, you will be able to play. If you register and verify today, chances are you'll be playing day one on the nation's best online gaming site!"
South Point was the first to receive a license to operate in Nevada back in 2012 and, at one point, was tipped to be the first site to go live. But unknown delays pushed back its launch, allowing Ultimate Poker to become the first online poker site in Nevada when it launched in late April. It has since enjoyed over three months alone in the market, and has successfully passed a rigorous field trial which spanned 90 days.
Unlike Ultimate, which purchased and is now developing CyberArts software, and the yet-to-launch WSOP.com, which uses software provided by 888poker, Real Gaming's software is proprietary and developed in-house. No details of the software have been revealed.