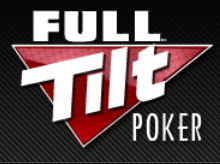 Key Takeaways
Full Tilt is launching Flipout tournaments in which the first round of the tournament pits players against each other with everyone being put all in.
The survivors all qualify for the prize payouts and continue as a normal tournament.
The structure is designed to be attractive to recreational players providing almost instant gratification and reducing the time they need to devote to early tournament play.
The launch was teasingly trailed on Twitter as a "new way of playing online poker tournaments," and Full Tilt has now revealed that the innovation goes by the name of Flipout tournaments. The first are expected to be played today.
The first round of the tournament pits players against each other with everyone being put all in. Moments later the winners of each table are in the money and reseated for the next round where a more traditional tournament structure is implemented.
"The Flipout Tournament format ensures that the players who make it into the money do so faster than ever, with the top prizes still to play for, while those who bust out during the first round can move straight on to their next tournament," the press release reads.
Flipouts are targeted at "time-poor" players who seek "post-bubble action" with a tournament structure that affords plenty of play.
The saving in time, and instant gratification of knowing that money has been won are advantages that will appeal to recreational players.
"You'll be in the money of a potentially large tournament and nobody has actually played a hand yet. This means the average skill level when you hit the money will be the same as the average skill level at the start of the tournament, which is very different from a standard tournament" said Sarne Lightman, Full Tilt Poker's Head of Marketing, according to a report in PokerNews.
The concept is being promoted with a four-day Flipout Festival that starts on Friday March 21 and includes $25,000 in added cash and prizes.
Full Tilt's Rush Poker was the first fast fold game and it has been a wildly successful innovation.
In an interview with pokerfuse, Sarne Lightman explained that innovation was the best tool to compete in the "entertainment space." He explained "Full Tilt has never been afraid to take risks…. We're very proud of that heritage and want to take that back."
While this innovation is not on the technological scale of Rush Poker, it is simple, likely to be effective at giving recreational players a good time online, and represents the philosophy which Lightman wants to promote.