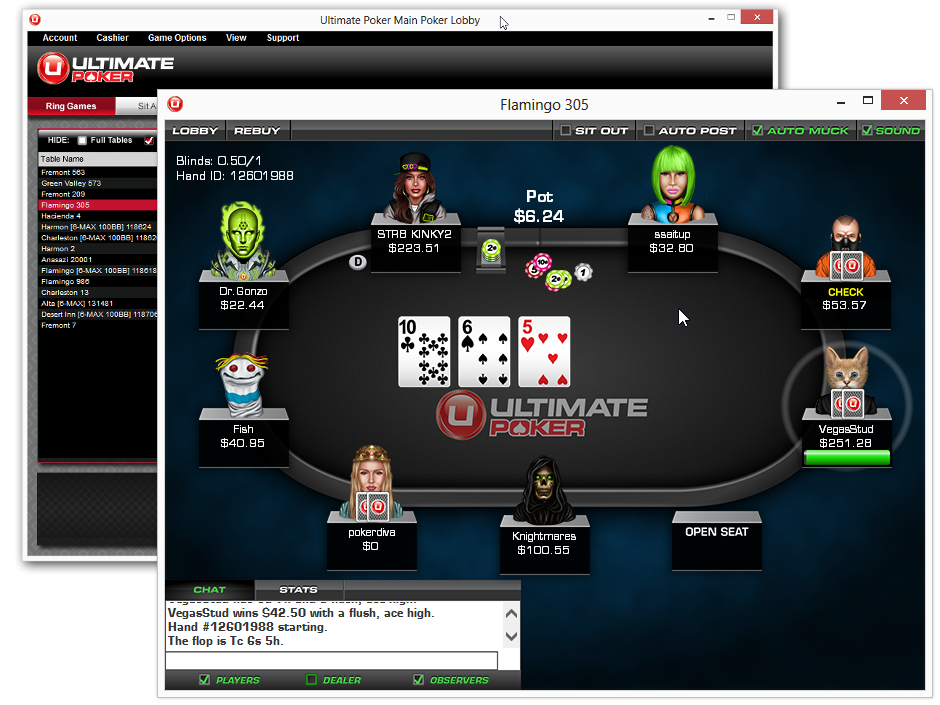 Ultimate Poker, the only regulated online poker site in the US, released version two of its software on Saturday.
In the first update since the site debuted in April, players will find a variety of enhancements, including improved table and tournament features and the introduction of a rewards program.
The new table features include resizable tables, animated avatars, larger cards, a revamped sounds scheme and preset bet buttons and a host of other player-friendly improvements, many of which according to Poker Product Manager Chris Danek are aimed at making it easier for players to multi-table.
Tournaments players will notice the addition of tournament tickets, which provide entry into specific tournaments and tournament dollars called U-dollars (U$) which can be used to register for multi-table tournaments (MTTs) and sit-and-goes (SNGs). In addition, icons have been added to the tournament lobby that will allow players to easily distinguish different types of tournaments (e.g. satellites and 6-max tournaments).
However, there are still many commonly-requested features not in this version, including auto-topup and waitlists for cash games. Omaha games are also still unavailable. All are understood to be in the development pipeline.
Included in this update is the new loyalty program. The new VIP system, "Color Up", allow players to accumulate points (U-points) based on the amount of poker they play and the level they achieve within the program. The U-points can be spent on merchandise now available in the store accessible through the client.
Ultimate Poker is currently only available to players physically located within the state of Nevada, although Ultimate Gaming is scheduled to make its debut in the state of New Jersey along with several other online gaming operators later this fall. Those within the borders of New Jersey will have access to traditional casino games as well as online poker.