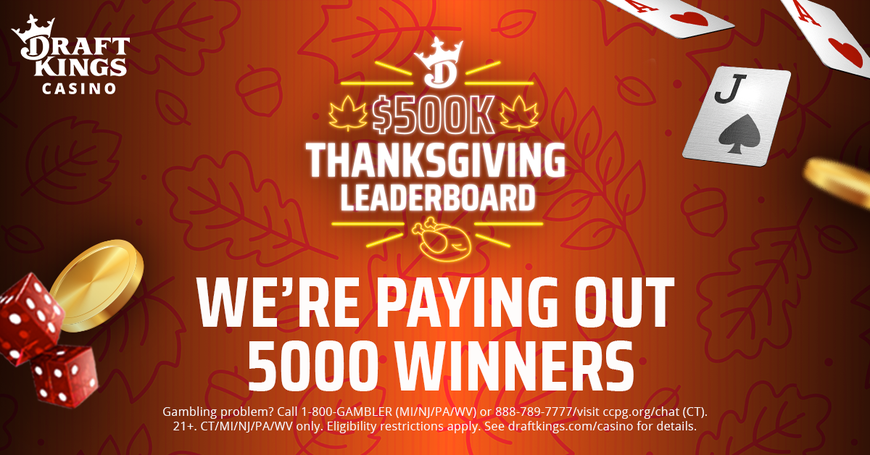 DraftKings Casino is joining the Thanksgiving festivities, giving players a chance to participate in two leaderboards featuring a total of $500,000 in prizes.
Running from the Thanksgiving Day until Cyber Monday (November 29), each leaderboard will dish out a quarter of a million in prizes, rewarding a total of 5000 winners.
Looking to cater to the entire gaming audience, the first of the two leaderboards is geared towards slots' players, while the second one aims at those who prefer table games. So, whatever your choice might be, DraftKings Casino might be a good destination for the next few days at least.
DraftKings Casino offers legal online gambling to residents of Pennsylvania, New Jersey, Michigan, and West Virginia!
Big no deposit offer

Get $50 in free credits after registering
Massive 100% bonus up to $2000 on the first deposit
Take part in generous Dynasty Rewards loyaty program
Close to 500 video slots and popular live casino games
Gravy Train Leaderboard for Slots Aficionados
For those players who enjoy video slots, the Gravy Train Leaderboard is the right pick. Awarding a total of $250,750 in prizes to the top 3,000 leaderboard positions, this leaderboard offers plenty of incentive to try your luck with some of the most popular slot titles out there.
While everyone making it in the top 3,000 spots will earn at least $15, the winner will take home $5000. The second and third place will receive $4000 each, while $3000 is reserved for the fourth and fifth place finishers.
Everyone who makes it in the top 20 will pocket at least $1000.
To participate in the Gravy Train Leaderboard, players need to opt in once. After that, simply play eligible slots games (which is almost all slots on DraftKings Casino except for a few excluded games listed in the promo terms and conditions), and accumulate leaderboard points.
For every $1 wagered on slots, you will receive three leaderboard points. Table games wagers do not count towards this leaderboard.
To further increase their chances of placing high on the leaderboard, players can also take advantage of double-points periods available for the entire day on Friday, Saturday, and Monday.
All prizes will be issued in the form of casino credits when the leaderboard completes. Credits need to be wagered just once on any casino game (except live games), after which there will be no further withdrawal restrictions.
Ca$herole Leaderboard for Table Games
DraftKings Casino is catering to its table games players as well with its Ca$herole Leaderboard, also running November 25 – 29. To get involved, players need to register just once and then start placing wagers on eligible games.
You can collect points for this leaderboard by wagering on the following games:
DK Roulette games – 5 points per $1 wagered
DK Baccarat games – 3 points per $1 wagered
Live casino games and other table games – 1 point per $1 wagered
For this particular promo, wagers made on crap tables will not contribute to the player's leaderboard standing. The same goes for slots, video poker, keno, and other games available on the site that are not in the table games' category.
The prize pool of $250,000 will be divided by top 2,000 finishers, but the eventual winner will take the lion's share of that as they will receive $50,000. The runner-up and the third place finisher will receive $25,000 and $20,000, respectively.
The minimum prize reserved for those finishing 1001 – 2000 is $5.
Surprise Prizes for All Competing Players & Big Welcome Bonus
On top of these leaderboard prizes, DraftKings Casino will also feature special "surprise and delight" offers that will be extended to the players participating in the leaderboards regardless of their finishing positions. The exact information about these special bonuses will only be revealed on the day the bonus becomes available.
As for those who do not have an account with DraftKings Casino yet, the site is available in Michigan, West Virginia, Pennsylvania, and New Jersey. Everyone who signs up between today and December 31, 2021, can take advantage of a generous welcome bonus that matches the player's initial deposit in full up to the maximum of $2000.
That is plenty of extra money for those who have a big enough bankroll to fully utilize the offer. At the same time, DraftKings is generous to those players just looking for a bit of fun, as the minimum deposit required to get a 100% match is just $5.
DraftKings Casino offers legal online gambling to residents of Pennsylvania, New Jersey, Michigan, and West Virginia!
Big no deposit offer

Get $50 in free credits after registering
Massive 100% bonus up to $2000 on the first deposit
Take part in generous Dynasty Rewards loyaty program
Close to 500 video slots and popular live casino games