One of the biggest debates among sports betting enthusiasts across the globe is if wagering on full-time results is more entertaining than betting on a total number of points/goals. In the end, it always comes to individual preferences and strategies, but both can be extremely entertaining.
How many times have you lost a soccer parlay after your team conceded a goal in the stoppage time, or a basketball banker bet losing at the buzzer?
We agree that wagering on the money line can be stressful sometimes, especially for bettors who are also big sports lovers just wanting to sit back and enhance the match experience.
Betting on Over/Under lines (primarily known as Totals) could be a perfect fit for players with this mentality. Read on to learn all you need to about how this type of betting market works at sportsbooks in the US.

Last verified: August 2023
Special Signup Offer
First Bet Offer up to $1500!*
Enjoy live streaming of popular events
Great mobile betting experience
Variety of betting markets on offer
*except NY
Please play responsibly. If you or someone you know has a gambling problem and wants help, call 1-800
GAMBLER
.
Totals Are One of the Most Common Markets
Looking at all major sports present in the US, Spread Betting, Totals, and Money Line are the three most common markets among bettors. Spread Betting and Money Line wagers are always dependent on the team's victory, while in Totals, you are only interested in how much or how little scoring happened in a match.
Some sportsbooks nowadays use the shortened version of O/U (Over and Under), so don't get confused if you see it listed that way instead.
Of course, Over and Under bets have different meanings from sport to sport, but they always revolve around the total number of goals/points/runs in the match. Let's take a look at how this market runs with a few examples from the USA's most popular sports — football and basketball.

At the time of publishing this guide, the 2023 football season has finished, so we will use an example of some previous showdowns to illustrate how the Totals work.
The Super Bowl was played between Kansas City and Philadelphia, with the Chiefs edging out the Eagles 38-35 in one hell of a match.
As you can see in the image above, a big majority of sportsbooks have given a betting line of 51.5 points for the Totals market (displayed as O/U). Everyone who backed the Over option WON because the match ended with a total of 73 points.
The lines differed from operator to operator, with an average of -110. Your wager would be a losing one if you went with the Under option here. Figuring out the Over/Under market might be much easier than you thought, huh?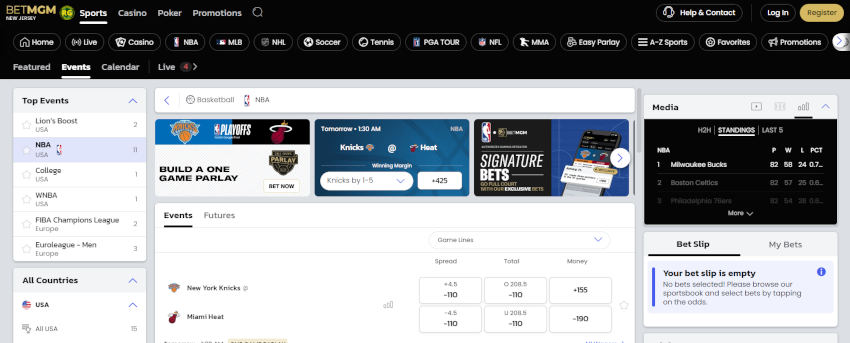 The same rules apply to the NBA playoff match between the New York Knicks and the Miami Heat. BetMGM Sportsbook in Massachusetts was offering a line of 208.5 points for Totals, with sports bettors deciding to go with the Over or Under option at the same -110 price. The math here is simple — if these two teams' combined score is 209 points or more, all Over wagers are going to win.
The offer, markets, and options are similar for Major League Baseball Futures, but of course, instead of goals/points, sports bettors are wagering on the number of total runs in a game.
With an average of 11 games per night throughout the season, the MLB is an excellent source of Over/Under picks for most of the year, making it a very attractive sport to bet on.
Prop Bets as Slightly More Creative Totals Bets
To make things even more interesting and provide more options, all sportsbooks in the USA offer a bit more specific markets for the Totals section, called Prop Bets, for all major sports. Right now, you can bet on Team Total Points in the game (for example, Miami Heat to score 105 points or more), Team Totals for the First Half, or even the First Quarter.
There are dozens of different Over/Under betting lines available for player-specific markets as well. BetMGM Sportsbook is doing a fantastic job covering these, so if you are not already a member, we suggest checking them out and signing up.
A generous welcome package is available on top of competitive odds and a variety of markets. The current promotion is a $1000 First Bet Insurance, which means all new customers who join, deposit, and place their first wager will get a refund of up to $1000 in Bonus Bets in case their first bet does not win.

Last verified: August 2023
Special Signup Offer
$1000 First Deposit Bonus
Access to renowned DraftKings Rewards Program
Great mobile betting apps
Fast and hassle-free withdrawals
Please play responsibly. If you or someone you know has a gambling problem and wants help, call 1-800
GAMBLER
.
FAQ
What if the Totals line for a basketball match is 222.0, and the game ends with exactly 222 points?*
This scenario happens more frequently than you think, especially for sports like Baseball or Ice Hockey, where the lines are not as high as for basketball.
If you placed a bet either on Over or Under in this scenario, the wager would be labeled as void, and the stake is usually returned to your account balance within one hour, depending on the sportsbook.
Do Over/Under wagers include overtime?
Most US online sports betting operators treat overtime as part of the wager. This is a double-edged sword for bettors, of course. Imagine successfully predicting a low-scoring affair in a basketball game just to see it go over the Totals line after two overtime periods. It is part of the game and should not lower your confidence for the next wagers.
Can you combine the money line and total bets?
Again, most of the online sportsbooks in the US nowadays allow players to combine the outcome of a match and the total number of points/goals/runs (Over/Under).
A popular name for this type of bet is Same Game Parlays, where a bettor takes a couple of betting lines for one match and combines them into a parlay bet.
Latest Over/Under Sports Betting News