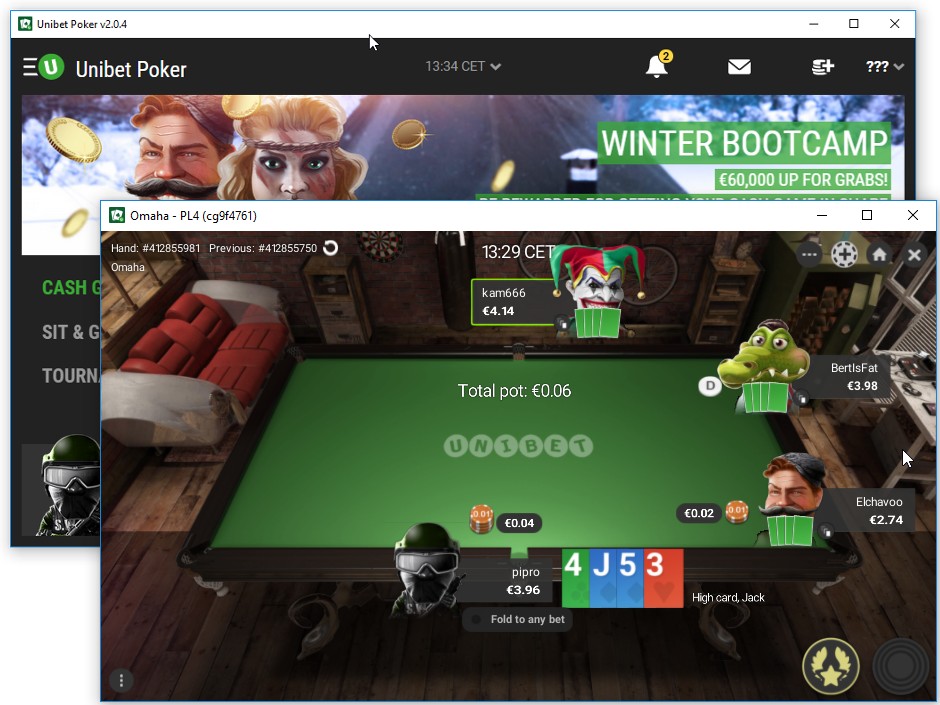 Full year financial results from Kindred Group, formerly Unibet Group and the parent company of Unibet.com and its associated brands, confirm that its strategy for online poker is paying off, with record revenues and growth in the vertical.
Online poker revenue in 2016 was reported as £12.5 million, up a staggering 64.4% on the £7.6 million earned in the year previous.
Revenue from the last quarter of the year was £3.5m, the highest in 15 quarters. Every quarter last year was at least 30% higher than the same quarter the year prior, reversing a trend of declining poker revenues in almost every quarter in the 2014 and 2015.
As PRO predicted in September 2016, annual growth of more than 50% was to be expected, but Q4 was even stronger than anticipated.
The change in fortunes can be placed firmly on the launch of its independent online poker room back in 2014, when the company departed the MPN poker network and launched with bespoke software developed by Relax Gaming.
At the time, the product was a small revolution redefining the online poker experience. Warmly welcomed by both serious and recreational players alike, many of its then-radical decisions at the time—removing table and seat selection, nixing third party tools, cutting down on options, introducing a mission-based rewards program—have since been adopted by many other large operators in the industry.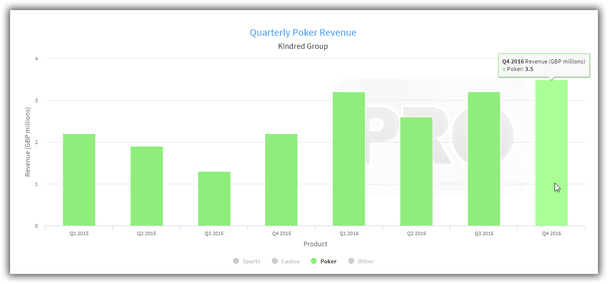 A Transformative Year
It took a while to build up a new online poker network basically from scratch, and revenue did not immediately respond. However, the company has seen solid growth over the last year and a half, and estimates of cash game traffic put Unibet in the top 10 among international operators.
2016 was a particularly busy year for the company's online poker team, running a busy live tour and turning itself into an online poker network by migrating the Finnish-focused Pokerihuone brand onto its poker platform.
It then announced v2 of its client, a major overhaul of the underlying technology that introduced new mobile clients, aimed to fix stability issues, and improve the overall player experience. There were early set-backs, with the product launch pushed back two months, but it was was ultimately introduced in December 2016.
The launch was rather bumpy, but the development team have been quick to roll out updates. While this process of squashing bugs continues even today, given the record Q4 2016 figures, this rollout did not apparently deter the players.
Larger Slice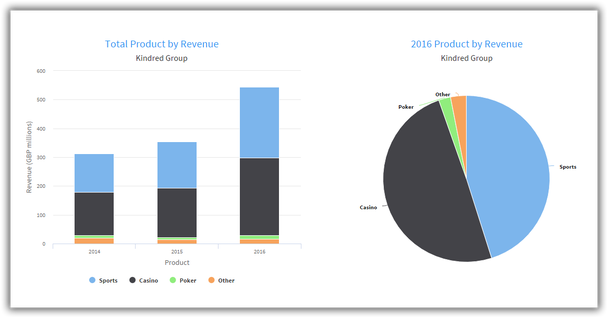 Poker (£12m in 2016) is still a very slim segment of Kindred Group's online gaming revenue, dwarfed by the online casino (£269.4m in revenue in 2016) and its sports book (£245.5m).
These verticals also saw stratospheric annual growth, up 57% and 52% respectively, with total online gaming revenue hitting a historic high of over half a billion pounds.
Yet despite this meteoric rise, poker still shines as the fastest growing product category. With 64.4% growth, poker's share of Kindred revenue grew marginally from 2.15% to 2.3%.
The operator is investing heavily in its live tour; This week will see the start of the 10th season of the Unibet Open on the back of impressive fields from last year, and the operator is pulling out all the stops in London this week, with Twitch live-streaming of the whole event and the star attendance of fan-favorite Viktor "Isildur1" Blom.
The poker platform will only improve in stability this year, and as bugs are squashed developer time can be invested into new promotional vehicles and feature additions. 2017 is shaping up to be another excellent year.
This article originally appeared on Poker Industry PRO and has been republished here as a courtesy to our readers. Please visit Poker Industry PRO for more information on the industry intelligence services that are available, or email [email protected] to get a free trial.