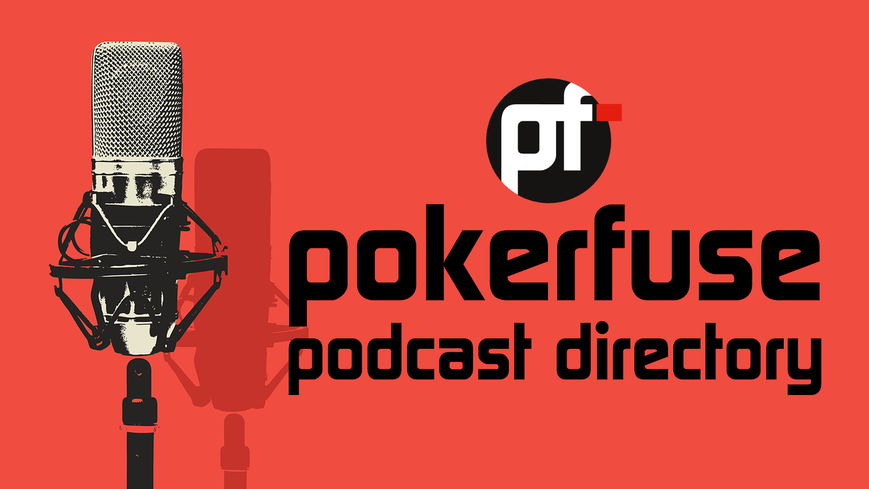 Circuit Kings Chopped Pot Debacle, Postle Spotted, Kaplan Retires from
HSP

& More! –

DAT

Poker Pod Ep #137

  This Week On DAT Poker Pod: Daniel, Adam and Terrence are back with: 0:00 Dnegs surpasses $50M on all time money list & WSOP look ahead 14:35 Daniel goes to Calgary 20: 30 High Stakes Poker Season 10! Gabe Kaplan retires. 28:00 Player Eliminated On a Chop at WSOPC Rozvadov 46:00 Paulina "PokerBunny" PCA Card Mucking Discussion 1:04:25 Henry K vs Josh Arieh Twitter Spat   Link to PR statement: https://www.pokernews.com/news/2023/01/poker-player-chop-pot-wsop-circuit-42924.htm

View the complete archives of DAT Poker Podcast in the directory →
---
January 29th, 2023 Quick announcement
Join America's Cardroom using the promo code TPE for a first-time deposit bonus up to $2000:    https://bit.ly/2Wvb6VbThank you for being a listener and subscriber to this podcast.
View the complete archives of The Tournament Poker Edge Podcast in the directory →
---
Chopped-Pot Elimination, Guests Ike Haxton & Vanessa Kade from PCA
On the latest PokerNews Podcast episode of 2023, Chad Holloway and Jesse Fullen discuss a controversial hand from the WSOP Circuit King's Resort that was a chopped pot but accidentally resulted in the elimination of one player at the final table. They then turn their attention to the 2023 PokerStars Caribbean Adventure (PCA) down in The Bahamas. It was there that Isaac Haxton continued his heater, and he spoke with PokerNews after winning the $100K Super High Roller. Plus, Connor Richards caught up with guest Vanessa Kade, who discussed what it was like to be awarded a coveted Platinum Pass. Other stories discussed include Jackie Glazier being back on Australian Survivor, High Stakes Poker Season 10 premiering on PokerGO, Gabe Kaplan's unexpected retirement from poker commentary, and the recent PokerNews article on the Top 5 Poker Movies You Must Watch. Listen to those stories and more on the latest episode of the PokerNews Podcast! Time Stamps*Time|Topic* 00:25 | Welcome to the show 00:40 | How was Australia? 01:27 | Future of the Aussie Millions 01:45 | Jackie Glazier back on Australian Survivor 03:09 | Sponsor: WPT Global 04:00 | WSOP Circuit King's Resort — Chopped hand results in elimination 10:44 | PokerNews down at the PCA in the Bahamas! 11:57 | Isaac Haxton on a heater — wins $100K Super High Roller 13:30 | Winner interview w/ Ike Haxton 17:37 | Interview w/ Vanessa Kade at the PokerStars Caribbean Adventure 30:58 | Follow updates from the PCA & PSPC on PokerNews 31:11 | Sponsor: 888poker 32:15 | High Stakes Poker Season 10 premieres on PokerGO 33:55 | Gabe Kaplan retires from High Stakes Poker commentary 35:30 | Gabe Kaplan a legend both on and off the felt — Poker Hall of Fame nominee? 37:33 | Who will be taking Kaplan's place in the commentary booth? 39:52 | Top 5 Poker Movies you should watch
View the complete archives of PokerNews Podcast in the directory →
---
Episode 164 – The Peak Poker Performance Formula
Welcome to Episode 164! In this episode, MTT Coach Gareth James and Peak PerformanceMindset Coach Dr. Tricia Cardner are back discussing all things poker strategy & mindset. Inthis episode, the hosts answer a question from a listener who wants some advice on how not tolose focus deep in a MTT.Topics discussed include:* Fitness updates and tips for sedentary players as well as Gareth's upcoming book releaseThe Final Table (preorder here: https://dandbpoker.com/products/the-final-table-play-your-best-poker-when-it-matters-most)* The peak performance formula: Potential + Training – Interference* Why it's useful to take a nonjudgmental and gentle approach with yourself and strategiesfor dealing with burnout* Courage is Calling by Ryan Holiday and how it relates to the topic at handWant us to answer your poker question?Post it in Dr. Tricia's private Facebook group! Join here: https://www.facebook.com/groups/PokerMindsetMasteryLabOr in Gareth's private Facebook group! Join here: https://www.facebook.com/groups/pokerprofitsOr Tweet us: drtriciacardner MTTpokerschool @PokerOnTheMindResourcesCheck out Gareth's program Train and Play Like the Pros that will prepare you for large MTTseries (both online and live): https://www.mttpokerschool.com/Check out Tricia's digital offerings at: https://www.peakpokermindset.com/
View the complete archives of Poker On The Mind in the directory →
---
Poker Fraud Alert Radio – 01/26/2023 – The Return of Mike Postle
Topic begins at (0:20:21) mark: Mike Postle final tables in Biloxi, lists himself under name "Michael Lawrence" — did Veronica & Druff get any of it?.... (1:48:20): "Jim", a friend of Mike Postle's, calls in and has a debate/discussion about the entire situation…. (3:11:11): Pokerstars PCA back in Bahamas, but Druff warns of "civil forfeiture" effort by government which might nail players flying back…. (4:42:37): Jami Lafay's tweets imply she is committing suicide, and poker Twitter panics when she vanishes…. (5:25:52): MGM properties in Las Vegas ban recording of any gambling on property, which affects poker vloggers — was this D Lucky's fault?.... (5:44:03): Las Vegas judge who attempted to break up underage prostitution ring is found dead, "suicide" immediately listed as cause…. (6:46:25): Final table of WSOP Circuit event has an embarrassing moment, as a player is "elminiated" on a hand that should have been a tie…. (7:05:03): Melissa Schubert and Danielle Anderson hilariously shame "Coke Can Greg" for sending gross unsolicited nudes to Melissa…. (7:42:29): Harrah's Las Vegas has gotten rid of the iconic casino statue of "Buck, Winnie, and Chip".... (7:53:38): FBI claims a European woman ran a $4 billion crypto Ponzi scheme, and they can't find her…. (8:10:07): Druff breaks down the bizarre feud between major conservative YouTube personalities Ben Shapiro and Steven Crowder…. tradershky and khalwat co-host the final few hours.
View the complete archives of Poker Fraud Alert in the directory →
---
Chapter 1 Ep. 2 New Casinos, Charity Poker and Rozvadov
PokerGo Cup crowns a Champion. Daniel Negreanu tops $50,000,000 in tournament winnings. We talk new casinos, charity poker, and Rozvadov.
View the complete archives of Ante Up! Pokercast in the directory →
---
January 27, 2023 – Can't Stop to Chop?
Clayton Fletcher (@claytoncomic) discusses the recent debacle in Rozvadov. Then he continues to review of some hands he played in a $28 6-max PKO turbo on ACR.Join the Tournament Poker Edge discord channel:https://t.co/JHEUIHrCrJ——Play on ACR using the promo code TPE for a 100% first-time deposit bonus up to $2,000.00 USD:  https://bit.ly/2Wvb6Vb
View the complete archives of The Tournament Poker Edge Podcast in the directory →
---
#43 Philosophical Friday: Are you Superstitious (Or Even a Little Stitious)?
This week Peter Bermingham and Duncan Palamourdas discuss Superstitions. What are they really and where are they coming from? Are they irrational? What great question did one of the listeners asked that got them all excited?If you have any comments/questions, you can visit the online platform, Greatness Village: https://greatnessvillage.com/To learn more about the Free Nuffle promotion, visit: https://freenuffle.comCPG Cash Game Courses!Preflop Bootcamp: https://bit.ly/Preflop-BootcampFish in a Barrel: http://bit.ly/fish-in-a-barrelNeutralize Flop Leads: https://bit.ly/2OkN8Yt
View the complete archives of Chasing Poker Greatness in the directory →
---
Plug a Leak First
THEN

Find and Exploit That Leak In Others #426

Visit the show notes page for a transcript of today's episode: https://www.smartpokerstudy.com/pod426 The Poker Forge  https://www.thepokerforge.com The Smart HUD for PokerTracker 4  https://www.smartpokerstudy.com/SmartHUD Books on Amazon  https://www.smartpokerstudy.com/AmazonBooks

View the complete archives of Smart Poker Study Podcast in the directory →
---
Submit Questions for Rick Rule: Portfolio Review
Submit your questions for Rick Rule.  Any natural resource companies you have in your portfolio, or are thinking of adding to your portfolio, submit them to my email:   SteveBartonMoney@gmail.com I will be having Rick on the Show Friday, January 27th at 3pm PST.
View the complete archives of Heads Up Poker Podcast in the directory →
---
High Stakes Poker &
PCA

Are Back!

Donnie Peters and Tim Duckworth discuss the return of High Stakes Poker and the return of the PokerStars Caribbean Adventure. Of course, there's a fun edition of the Family Pot included on this episode.

View the complete archives of Poker Central Podcast in the directory →
---
CardsChat with Frank Kassela
On episode #112 of the CardsChat podcast we have the pleasure of welcoming Frank Kassela. Frank is a 3-time WSOP bracelet winner, a former WSOP player of the year, and has $3.4 million in career live tournament earnings. While those numbers are impressive enough, poker isn't his primary gig, as he's a tremendously successful businessman and entrepreneur who has run multiple companies since his first one in his mid-twenties. And while he's one of the friendliest players you'll ever get to share a table with, he has another previous occupation that may just surprise you. On this episode, we get to know Frank a little better.
View the complete archives of Cards Chat in the directory →
---
Ep 175 –
INSANE

WSOP

Hand Sparks Moral Controversy/Discussion About "Doing The Right Thing" At The Poker Table

Welcome back! On today's show we discuss an INSANE situation at a final table where the hand should have been chopped, but the dealer/the players misread it and a player was eliminated from the tournament. The fellas discuss how this could happen, what we would do if we were in the situation, and then open the door to talking about more moral dilemmas at the poker table and what we would do in those situations. Also, Jake has ANOTHER ailment, Nate is about to become a NJ poker grinder, and Smitty and Mintzy are still living the dream. Enoy!You can find every episode of this show on Apple Podcasts, Spotify or YouTube. Prime Members can listen ad-free on Amazon Music. For more, visit barstool.link/crackingaaces

View the complete archives of Cracking Aces in the directory →
---
#110 Tactical Tuesday: Playing Suited Connectors in 3-Bet & 4-Bet Pots (Cash Game Online Poker)
Find out how to get a free poker course below! This week's journey into the realm of Tactical Tuesday poker training series sees CPG's Coach Brad Wilson and co-host Jon Chai critique two cash game poker hands played by Jon, this time playing suited connectors in 3-Bet and 4-Bet pots. It wouldn't be an episode of TT without jams on both hands, and sure enough we're faced with exactly those decisions for the entirety of the chips. Coach Brad enhances his powers with the magic of edibles to checks notes... agree with Jon?
View the complete archives of Chasing Poker Greatness in the directory →