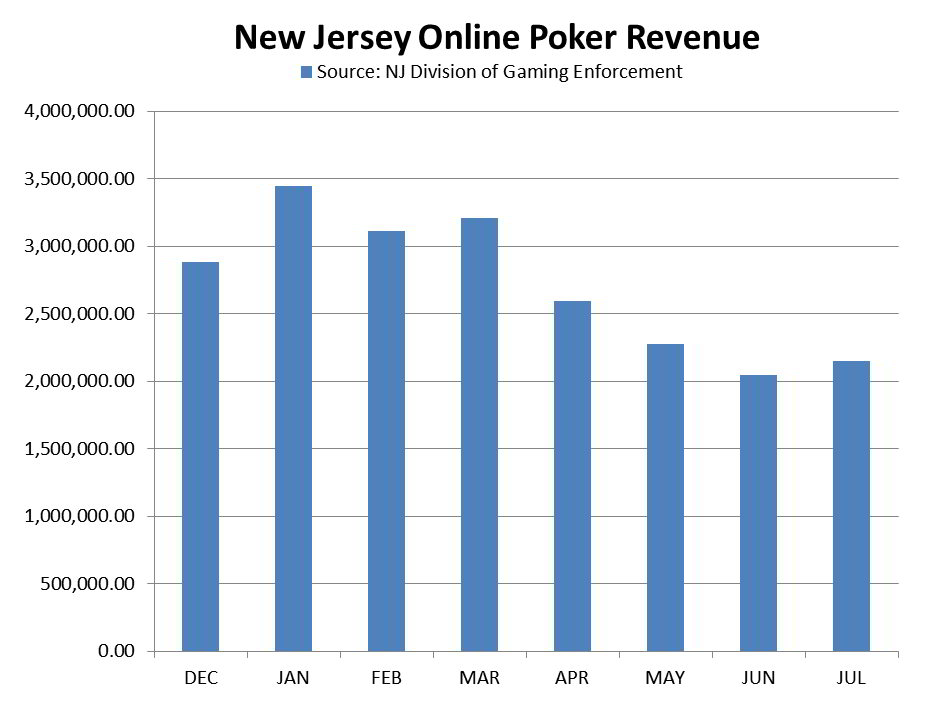 Figures reported by the New Jersey Division of Gaming Enforcement on Wednesday show online poker revenues in the state rose 4.8% in July to $2,146,500.
The rise marks the first time since March that revenues have increased over the previous month, signaling what could be an early end to the seasonal downtrend that traditionally impacts online poker over this period.
Even accounting for the extra day in July as compared to June, online poker revenues are still up 1.42%.
Overall internet gaming win was reported at $10.1 million—up from the $9.5 million figure reported for June.
The 26,826 new internet gaming accounts created in July increasing the total number of igaming accounts to 405,390.
Borgata Leads
Figures for the Borgata/partypoker online poker network continues to lead the pack in online poker revenue, generating $1,109,670 in revenue during July and notching a 3.2% increase over its June figures.
Caesars Interactive—which includes both WSOP's and 888poker's New Jersey operations—are a close second with $1,010,786 in revenue, approximately 9% behind the Borgata. However, it has closing the gap, with a 7.26% increase over its previous month reportings.
Ultimate Poker, operating under the Trump Taj Mahal license, has bucked the trend as its online poker revenues continue to decline, down 14.39% from June to just $26,043.
Market Share
Based on revenue, The WSOP.com/888 partnership continues to gain market share in the New Jersey online poker market.
Though still trailing the Borgata/partypoker duo, which holds 51.69%, WSOP and 888 have gained more than a full percentage point on the market and are now within five percentage points of the leaders with a share of over 47%.
Ultimate Poker continues to only attract just over 1% on the New Jersey online poker market.