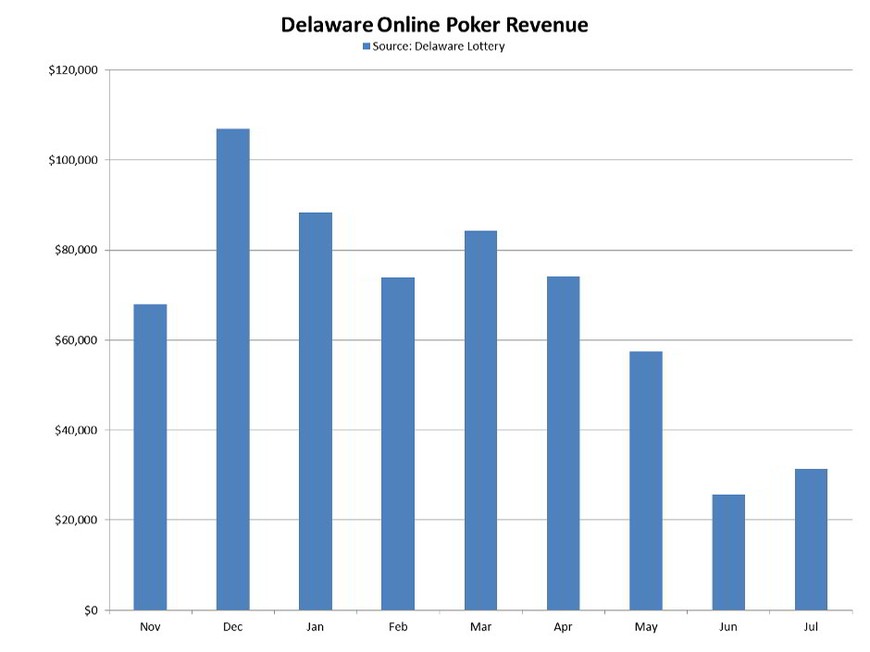 The seasonal decline in online poker revenues for the state of Delaware seem to have bottomed out and are heading upward.
According to figures reported by the Delaware state lottery, online poker revenues rose 22.61% in the month of July. However, the month still ranks as the second lowest on record for online poker.
The three racinos combined only managed $31,398 in online poker revenue for July. While an improvement over the $25,608 registered in June, July numbers represent only 45% of the third lowest month which occurred in May when operators took in $57,468 from virtual poker tables.
Online gaming activity as a whole fell off sharply with the total amount wagered declining nearly 38% to $5,510,993 from the $8,844,489 posted in June.
Overall igaming net revenues saw much smaller decline as the state operators recorded $173,096.40 in total revenues for the month of July— down 7.6% from the $187,332.18 recorded in June.
Revenue-Based Market Share
Delaware Park still commands the largest market share of online poker pulling in 60% of the state's total internet poker revenues. Dover Downs and Harrington hold 31% and 9% of the market respectively.
Dover Downs showed the most impressive increase for July with over 29% more revenue than in June, and a nearly equal increase in absolute dollars as market leader Delaware Park.
Dover Downs was also the only racino to see an increase in overall igaming account sign-ups for the month of July acquiring 140 new accounts—26 more than it had in June—while its competitors remained mostly flat.
As a point of comparison, New Jersey operators raked in $2,146,500 in online poker revenues for the month of July—a 4.8% increase over June.
Nevada, the only other state with legal and regulated online gaming in the US, has yet to post its figures for the month of July.