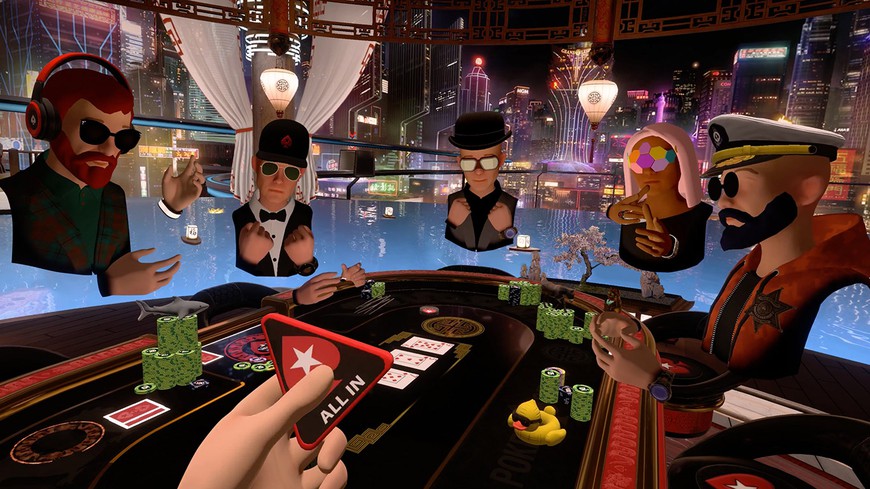 Last week, online poker giant PokerStars unveiled its new virtual reality poker product, PokerStars VR, at a trade show in the United Kingdom.
The company's latest attempt to innovate on the popular game of poker seeks to combine the best aspects of traditional live poker and its more modern internet-based counterpart, online poker.
One of the features of PokerStars VR that stands to make the biggest impact on the success of the new product is its live streaming integration. Players can broadcast their action from within the virtual reality environment while also streaming a feed of their real-world environment and chatting with viewers.
Live Streaming and Poker
In recent years live streaming of poker has become one of the game's biggest promotional tools, bringing in new players from YouTube and Twitch including gamers and their fans from the broader world of esports.
All major poker operators, both live and online, have embraced live streaming, with brand ambassadors using the medium to engage with their fans and final tables of major live poker events being broadcast in near real time (usually with a short delay to conserve the integrity of the game).
Why Play on PokerStars?

Sign Up Today »
Largest player base in the world.
Home of Spin & Go, Power Up and lots of other unique game variants.
Biggest weekly tournament schedule around.
Live streaming is so much a part of poker these days that many poker streamers have adopted the mantra: "If you didn't stream it, it didn't happen."
With virtual reality in its infancy, PokerStars VR is more of an attempt to establish a foothold in the developing industry of virtual reality than it is to immediately develop another revenue stream for the company. In order to do so, it is imperative that a multi-player game like PokerStars VR reach as many early adopters as possible, both from a popularity standpoint and, as with traditional poker, to build liquidity.
Luckily, there is a significant overlap in demographics between the target market for poker and virtual reality, making live streaming of the product in use a great way to increase awareness and generate buzz around the product.
Plans to Live Stream Play on PokerStars VR
Two of PokerStars' more popular live streaming brand ambassadors, Jamie Staples and Jeff Gross, got a chance to get some hands-on experience with PokerStars VR at a private demonstration of the product (also attended by pokerfuse) in August.
Both sponsored pros indicated that the intend to add play on PokerStars VR to the content mix on their streams.
"It would be great to sit down with other people who have a VR set up and run a home game together," Gross said, adding that exposure via poker live streams could be a "big factor" in getting new people to try virtual reality.
"I think it will be a great tool to break up my routine of normal MTT streams," Staples added. "Something fun to do to get back to the roots of what we are actually all doing. Playing poker!"
Gross and Staples both indicated they plan to introduce play on PokerStars VR to their audiences in the near future, though PokerStars has yet to indicate when the product will emerge from its current private beta testing period and be available to the general public.
Once adopted by enough of his fans, Gross sees a play money home game on PokerStars VR as a potential regular feature on his stream. "For me living in the USA, to stream a VR home game from Miami is a solid option."
Staples also anticipates a possible regular weekly VR segment on his stream, if the content is a hit with his fans. "It's fun and engaging and a good tool to get people interested in the game we all love. I think it will be a nice addition to the regular content," Staples commented.
Gross summed up his vision of PokerStars VR as a way of "having fun and being innovative with poker, showing not only that new games are available but that there's a brand-new way of playing.
As PokerStars VR gets closer to a full commercial release, more of PokerStars' live streaming ambassadors will likely gain access to the product and look to incorporate play on the platform into their content mix.
By the time PokerStars VR officially launches, PokerStars may well have a network of live streamers ready to promote the product giving it a boost in achieving the critical mass needed to be a success.