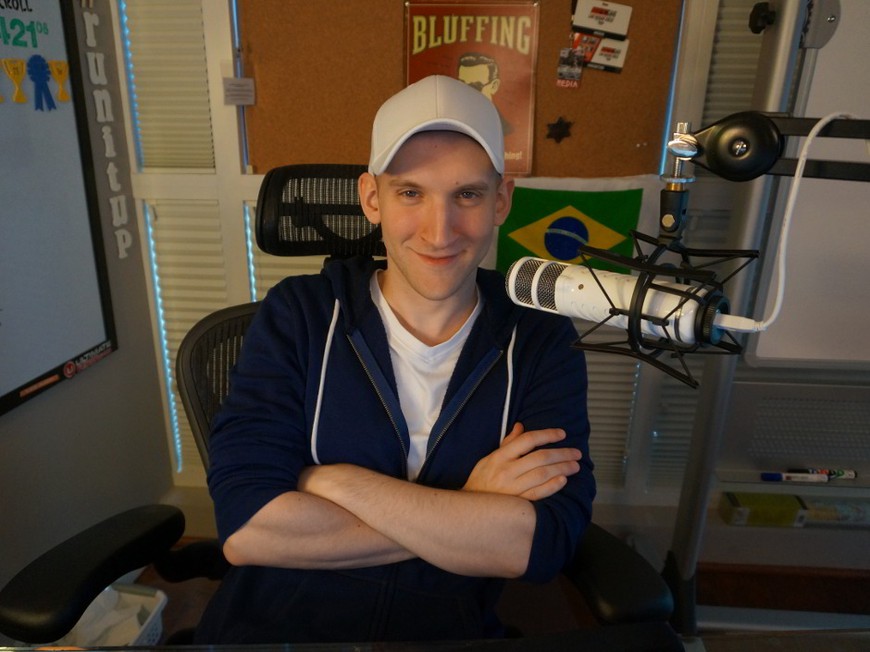 PokerStars is once again raising the profile of live streaming poker on Twitch by incentivizing players to become the "Next Great Twitch Streamer" with a Platinum Pass (valued at $30,000) to the PokerStars Players No Limit Hold'em Championship (PSPC) to be held January 6-10, 2019.
As part of its Platinum Pass Adventure promotion, in which PokerStars brand ambassadors host competitions for their fans to win their way into the PSPC, Jason Somerville is calling on amateur and professional poker players alike to take their game to Twitch and create fun and engaging poker content.
"What an amazing opportunity for someone to get involved in Twitch poker, try your hand at Twitch poker streaming and be awarded with a Platinum Pass," Sommerville stated. "If you need any help getting started with your streaming journey, we have a comprehensive guide on RunItUp.com and I am excited to see who gets involved and what these streams look like. I think it is going to be awesome for both poker and Twitch."
RunItUp's guide for aspiring streamers walks you through all of the steps to get your stream up and running on Twitch including details on the free broadcasting software, optimal settings, layout advice, monitoring chat and recommendations on equipment such as microphones and webcams. RunItUp even provides pre-designed overlays to help your stream look slick.
Players have until July 27 to register for the competition by sending their name, Twitch page, country of origin and a brief description about themselves to pspc@runitup.com. Players will then have until November 15 to convince Twitter audiences and a panel of poker streaming pros including Lex Veldhuis, Kevin Martin, Jaime Staples, Ben "Spraggy" Spragg, Jeff Gross, Fintan Hand and of course Jason Somerville himself that they will be the Next Great Twitch Streamer.
Poker play during the streams can include play on any regulated site, but since PokerStars is providing the $30,000 Platinum Pass, they require at least the majority of play take place on their site. Check out the PokerStars Blog for additional details.
The Platinum Pass includes a $25,000 seat in the PSPC, six nights' accommodation at the Atlantis Resort in The Bahamas and $2,000 in food and beverage allowances. PokerStars is determined to make the PSPC the biggest event in poker history by contributing $9,000,000 to the prize pool of the rake-free event. As part of its contribution, PokerStars is in the process of giving away over 300 free entries into the tournament and has committed to adding $1,000,000 to the first-place prize.
Additional Ways to Win a Platinum Pass
PokerStars and its ambassadors have also announced other contests that will award Platinum Passes.
Liv Boeree and Igor Kurganov have two Platinum Passes to give away in their search for the "Next Great Poker Minds." The two poker pros will host a series of quizzes and puzzles that challenge the skills necessary to be successful at poker. The 10 contestants with the highest scores across 4 quizzes will advance to the final on October 3 where the top two finishers will win a Platinum Pass.
Qualify for the PokerStars Players No Limit Hold'em Championship now!
"What we've always loved most about poker is the strategy of the game and how it constantly challenges you to think deeply. Much of this translates to better decision making in everyday life. So when PokerStars gave us 2 Platinum Passes to give away to our followers, we immediately knew we wanted to do something around rationality and logic," the couple commented. "Now we're excited to run a series of puzzles and tests to help find the next great poker brain. Even if you don't have much poker experience we're sure the person winning will have the mental agility to compete in the upcoming PSPC event in the Bahamas. Good luck!"
Dates for the quizzes and more important information about the contest can be found on the PokerStars Blog.
If you fancy yourself as more of a grit and determination type person, then the contest by Jaime Staples may be more for you. Dubbed "Your Ultimate Sweat" after Staples' famous prop bet where he and his brother Matt had 1 year to cut their difference in weight from 171 pounds to just 1 pound.
"I wish people could have their own UltimateSweat experience," Jamie exclaimed. "Through embarking on my weight loss journey, I learned so much about how to live a healthier life, and also gained confidence that when I put my mind to something, I can achieve it. Thanks to PokerStars, all of you now have a chance to have your own ultimatesweat, and it doesn't just have to be about health"
Contestants can create their own challenge to be scored on Personality and Creativity, Frequency of Updates, Level of Difficulty and Goal Achievement.
The challenges must be completed by October 8 with a final video update due on October 15. Jamie will then select five finalists to submit to a panel of Bill Perkins, Jeff Gross, Mike Mcdonald, Lex Veldhuis, Kevin Martin and along with Staples the group will rate the finalists based on the stated criteria. You can find out more details here.
PokerStars kicked off its Platinum Pass Adventure promotion last month with contests hosted by Fintan Hand and Ben Spragg, Felix Schneiders and Andre Akkari.