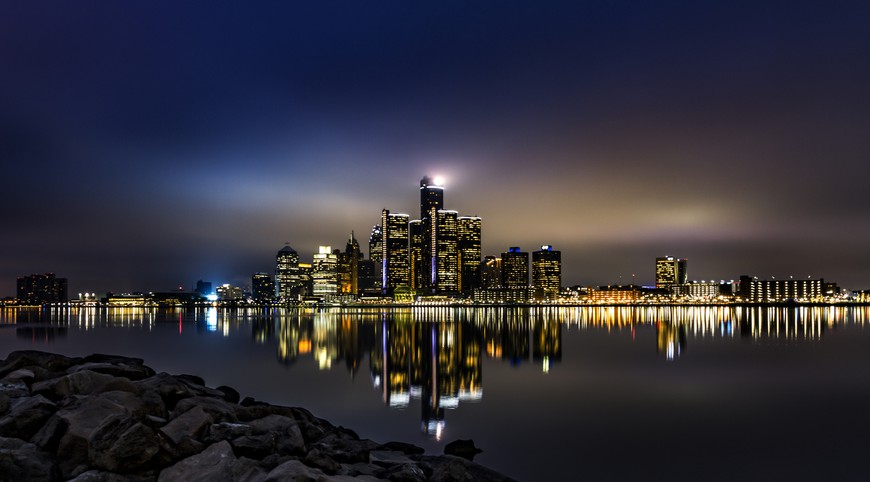 GGPoker is actively exploring opportunities to make our great software and games available to American players The parent company of GGPoker has registered as a foreign corporation with Michigan authorities as part of a plan to license its poker software to iGaming operators in the state, pokerfuse can exclusively reveal.
NSUS Group registered similarly as a for-profit foreign corporation in New Jersey in May 2021 and has maintained an interactive gaming manufacturer license in Pennsylvania since February 2021.
All three developments suggest that NSUS is making moves behind the scenes to introduce multi-state online poker in the US — possibly through a partnership with an existing iGaming operator.
"GGPoker is actively exploring opportunities to make our great software and games available to American players, but we don't have any specifics to share at this time," Paul Burke, a spokesman for GGPoker, told pokerfuse in an exclusive.

Last verified: August 2023
Special Signup Offer
100% deposit bonus up to $600!
Or get up to $100 worth of rewards
Available in many regulated markets
Great

MTT

schedule including

WSOP

events
Agent Office Opens in Suburban Detroit
Ontario-based NSUS has stated since 2020 that it wants to break into the North American market with its GGPoker software. Aside from a highly-visible partnership with WSOP in Ontario, NSUS has made limited in-roads on the continent — and very little in the US.
State records show NSUS applied to register as a foreign corporation with the Department of Licensing and Regulatory Affairs (LARA) on March 27. LARA issued the license on April 3.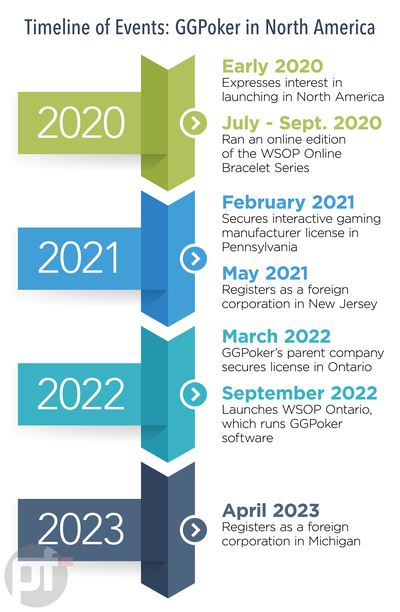 According to the application, NSUS requested the license because its future plans in the state include the "licensing of poker software and related back-office system to interactive gaming operators." It also established an office for an agent in suburban Detroit.
NSUS is not currently listed as an operator, supplier, or vendor by the Michigan Gaming Control Board (MGCB). GGPoker could not launch online poker in Michigan without being licensed by MGCB first.
Foreign corporations must be licensed in Michigan if they plan to conduct business in the state, regardless of whether they are for-profit or non-profit entities. According to LARA, such corporations must also be "in good standing under the laws and jurisdiction of its incorporation."
A certificate of compliance from Innovation, Science, and Economic Development (ISED) Canada, an office within Canada's federal government, was included in the LARA application. ISED Director Hantz Prosper certified that NSUS was in good standing, having filed annual returns and paid all fees required under the Canada Business Corporations Act.
The LARA application was signed by C. Donald Brown, a Toronto-based attorney and privacy officer specializing in intellectual property cases, on March 27.
CT Corporation System is listed as NSUS's agent in Michigan and has an address in Plymouth, a suburb of Detroit. No other details were available about the agent through LARA.
NSUS

Also Has a Presence in NJ, PA, and Ontario

There is no clear favorite among US online poker operators over which would most likely partner with NSUS for online poker.

An operator like DraftKings or Golden Nugget is a possibility since both have access to states with multi-state poker — namely, Michigan and New Jersey. Both have access in Pennsylvania and West Virginia, but multi-state poker is not yet available in those markets. Barstool is another possible partner.

Golden Nugget Online Gaming (GNOG) has been owned by DraftKings since May 2022.

WSOP, which Caesars own, is another possibility, but developments in Ontario since 2021 suggest that NSUS and WSOP may have soured on the idea of working together.

Despite jumping in to save WSOP events in the wake of the pandemic in 2020, in March 2021, 888 and Caesars agreed to renew their partnership in the US for an additional five years, extending it until 2026.

Then, in March, NSUS changed the registered domain of WSOP Ontario from wsop.ca to ggpoker.ca. It also rebranded the online poker room as "WSOP @ GGPoker." Previously, it was branded as "WSOP Powered by GGPoker."

NSUS has held an interactive gaming manufacturer license in Pennsylvania since February 2021, but it needs to either partner with a land-based casino or win designation as a Qualified Gaming Entity (QGE) through the Pennsylvania Gaming Control Board (PGCB) before launching online poker there.

According to New Jersey's Business Records Service, NSUS is registered as a for-profit corporation in New Jersey. The licensure is similar to the one in Michigan under LARA.