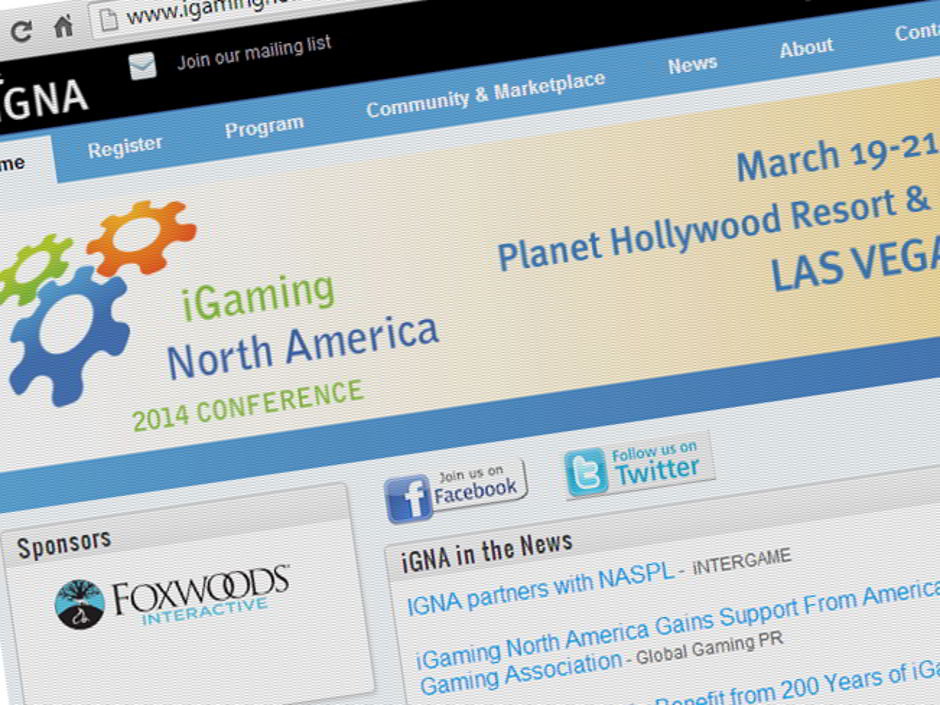 The iGaming North America 2014 conference gets underway today at the Planet Hollywood Hotel and Casino, Las Vegas.
iGNA has always been one of the most important events on the industry calendar, with dozens of sessions and events scheduled over three packed days, and dozens of exhibitors in the igaming space showing off their wares.
But this year is unique—it is the first since regulated online gaming has been legal and live in the United States. In the last twelve months, three online poker rooms have launched in Nevada, three "racinos" have launched online gaming in Delaware, and over half a dozen have debuted in New Jersey.
There is a lot to discuss. Successes and failures of the launches so far; who is winning and who is struggling; the regulatory landscape today, and what can be expected in the future; takeaways from the mature European market; online poker liquidity and what compacts will mean; payment processing and what lessons can be learned—and all the while, exhibitors showing off their platforms and software to regulators, operators and potential market entrants.
If you are at the conference, these are our picks of what to see. If you are not, you can rest assured that Team Pokerfuse will be there to report on all the important sessions relevant to the online poker players and industry.
Day 1
The conference gets underway on Wednesday, March 19 at 1pm with brief welcome remarks from Sue Schneider, Founder, eGamingBrokerage.com.
The conference gets into full swing at 1:15pm with a 2014 US Policy Roundup, where a panel of political heavy-weights will run through a roundup of state and federal US policy, all within 45 minutes.
Richard Lopes, Chairman of the Californian Gambling Control Commission will be joined by State Senators from California, Pennsylvania and New Jersey. Moderator Jeff Danielson, State Senator of Iowa, will keep everyone on point to cover all the latest developments in the US market, as well as discuss projections for 2014 and beyond.
You have got only a moment to catch your breath from that whirlwind as at 2pm one of the highlights of iGNA 2014—"Visionaries' Perspective – Is I-gaming the Problem or the Solution?"—kicks off. Caesar's Mitch Garber will be fighting (verbally, at least) on behalf on online gaming against Andy Abboud, Las Vegas Sands Exec and staunch opponent of the proliferation of online gaming.
At 2:45pm the exhibit hall opens, and remains open until 5pm (it is open all day Thursday and Friday too).
Meanwhile the conference splits into two tracks—in the iGaming 101 Track, you have Marketing Objectives in Today's Business Climate and Mobile Gaming – Technology, Metrics & Strategy; alternatively pick the Operations Track to hear everything you could possible want on Staffing Considerations and Models for Success – Tips from European Veterans.
The latter appears the most interesting, with a panel of execs from Betfred, Intralot, PKR and Paddy Power discussing what worked in Europe, and their strategies for a US entry.
Day 2
Don't go too crazy at the cocktail reception at the end of Day 1, as another don't-miss session gets underway at 9am—the Keynote Address from Ultimate Gaming Chairman Tom Breitling and CEO Tobin Prior.
Ultimate Gaming was the first to launch online poker in Nevada—the first of its kind in US history—and followed up with an online gaming launch in New Jersey.
The pair will offer "a look back at the difficulties encountered, the initial successes and the huge possibilities for the future," as well as offer perspective on a year "... that will long be remembered as the start of something big."
From then until lunch time you've got a pick from a few talks—you'll struggle to make the call between the likes of "Compelling Slot Game Design for Social" and "Mock Trial – Sports Betting"—but whatever you do, make sure you're back for the mid-afternoon, because that's when online poker shines.
The "Poker Track" commences on 3:45pm with two don't-miss sessions. Regulated Online Poker – The Story So Far and, at 4:30pm, the Poker Players Panel.
The former is hosted by Chris Grove, head honcho at Online Poker Report; the latter by none other than pokerfuse Editor Michael Gentile. Each panel will offer perspectives on the nascant online poker industry in the United States—first from the jounalists and analysts, then from the players.
Day 3
An even earlier start on March 21: a 1-hour welcome address at 8am with speakers Brian Sandoval, Governor of Nevada, Robert Boughner, Boyd Gaming VP, and Tom Russel, director from the Coalition for Consumer and Online Protection. The trio give their own observations on online gaming in their area of expertise.
The morning splits into two tracks. The "Policy & Regulation Track" seems most relevant to readers with one very important panel: "Growing State Pools through Interstate and International Play." Moderated by Marco Valerio, a panel of three will discuss issues of the intrastate model, and the viability of interstate compacts.
With Delaware's recent compact with Nevada, the session could not be more timely. Panelist Helene Keeley, State Representative from Delaware, will surely provide valuable insight.
You're almost there, but there's one more session you can't miss. "New Jersey: a Debrief on the Launch" at 11am will be vital viewing. Execs from Golden Nugget, Borgata and Caesars will discuss "the challenges they faced, what worked, [and] what didn't."