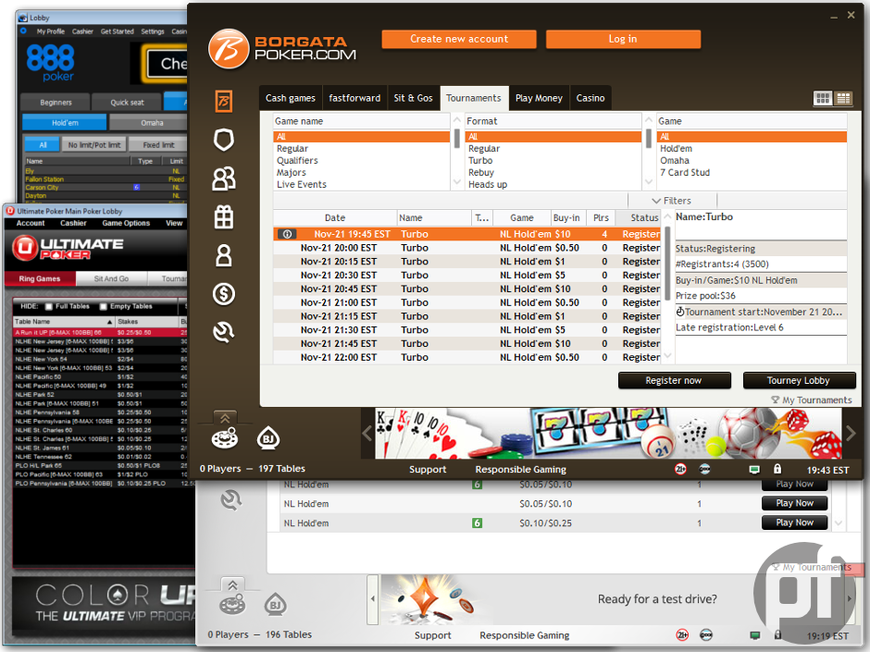 Key Takeaways
WSOP

.com and 888 launch online poker on the same software, but with a separate player pool.
Ultimate Poker on proprietary software, and Golden Nugget on Ongame, launch independent rooms.
BorgataPoker.com and PartyPoker.com launch on bwin.party's new NJ network, sharing liquidity.
Another 8-hour test period is scheduled for Friday evening, followed by 16 hours on Saturday, then full day tests on Sunday and Monday.
The "soft launch" period for online gaming in New Jersey went live Thursday evening, with 17 domains launching online gaming services for invited New Jersey players, including seven for online poker.
At the opening gate is PartyPoker's debut into the US online gaming market, with its own-brand PartyPoker.com sharing liquidity with BorgataPoker.com.
Two sites are using 888 Holdings software, each using one of Caesars' two casino permits: 888.com and WSOP.com. However, the two sites have separate liquidity. 888's is understood to be on its own All American Poker Network, and subsequent skins may join.
Late to launch yesterday due to a minor filing issue was Golden Nugget, which debuted poker on GoldenNuggetPoker.com. It runs on Amaya's Ongame software. Sharing the same liquidity as Golden Nugget is the online poker room for BetfairCasino.com.
Update: GoldenNuggetPoker.com was removed from the DGE authorized site list Friday morning; though the site was live Thursday evening, there was apparently no real money play. Betfair did launch. Golden Nugget expects to be running tonight when the soft launch recommences.
Ultimate Gaming's only approved domain according to the DGE is ucasino.com, where the group has launched its first regulated online casino. However, real money online poker in New Jersey is also operational, with the download hosted on UltimatePoker.com.
The other brands given the green light to launch online gaming have opted to launch online casino services only, including HarrahsCasino.com on 888's platform, Caesar's Casino on Amaya, and TropicanaCasino and VirginCasino.com on Gamesys.
Tropicana is reportedly planning to launch online poker on GameSys's new poker platform, currently in development, in early 2014.
PokerStars was the notable absentee yesterday. Company spokesperson Eric Hollreiser tweeted late on Tuesday that the "conversations with NJ DGE are continuing" and that the group "[remains] committed to working with the Division to complete the review process."
The soft launch period ran for eight hours yesterday. Various glitches with geolocation and the signup procedure were reported as players tested the new system.
Another 8-hour period is scheduled for this evening, starting at 6pm local time. A 16-hour period will run on Saturday, followed by a full 24-hour period on Sunday and Monday.
Following the successful 5-day soft launch, a full launch for approved operators is scheduled for Tuesday, November 26. However, the New Jersey DGE reserves the right to extend this soft launch period if significant issues arise.
Full list of poker rooms and networks
PartyPoker NJ: shared liquidity network with two skins – PartyPoker.com and BorgataPoker.com.
Ongame NJ: shared liquidity network with two skins – GoldenNuggetPoker.com, BetfairCasino.com.
AAPN: Network with currently one skin, 888.com

WSOP

.com – independent, uses 888 software
UltimatePoker.com – independent, uses proprietary software.