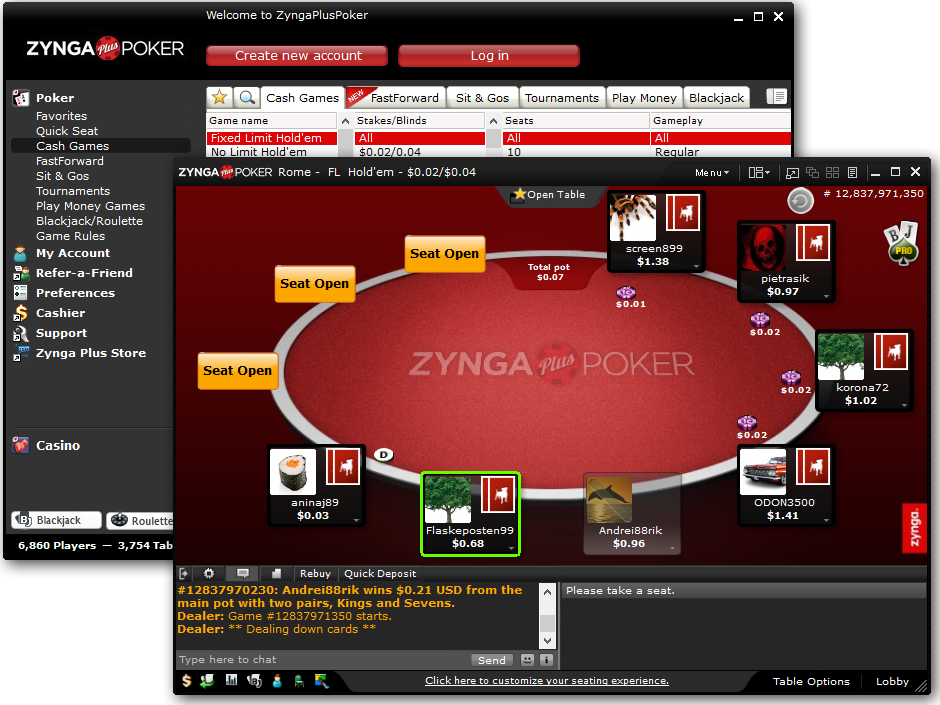 In a conference speech on Monday, Zynga's CEO reversed a decision not to extend their real money poker operations—he told investors that later this year Zynga would launch pilot programs for real money poker in several parts of the world.
ZyngaPlusPoker launched as a UK-restricted download client on the partypoker network in 2013. Earlier this year, the company quietly added a real money Facebook client.
ZyngaPlusPoker did not set the online poker world alight, and its lack of impact was seen as one reason why Zynga decided to end plans to expand its real money gaming ambitions.
The company became huge with applications on Facebook—it is estimated that 350 million people have played Zynga Poker—and the game is Zynga's top money spinner. Unfortunately for Zynga, gamers moved on to mobile devices and the company was slow in making its key titles available on the new media.
Zynga's share price has plunged over the last couple of years, and it now has a new Chief Executive, Don Mattrick. "Did the company miss a beat with the transition to mobile? Absolutely. Are we fixing that? Yes, we are," Mattrick said.
Zynga's newly released mobile poker game is packed with features that are designed to appeal to recreational players and establish Zynga as a major force in mobile gaming.
The industry has long been ambivalent about Zynga's real money gaming ambitions. On the one hand, the game technology and ability to attract a mass market of recreational players has been seen as a threat, on the other, there is a massive leap between offering a free-play poker app and managing real money gaming in a regulated environment. Amaya Gaming's CEO, David Baazov, has said that he sees the two business areas as being completely separate.
The financial markets showed their appreciation of and confidence in Zynga's ability to make real money gaming a success—the company's share price soared 9% on the news.