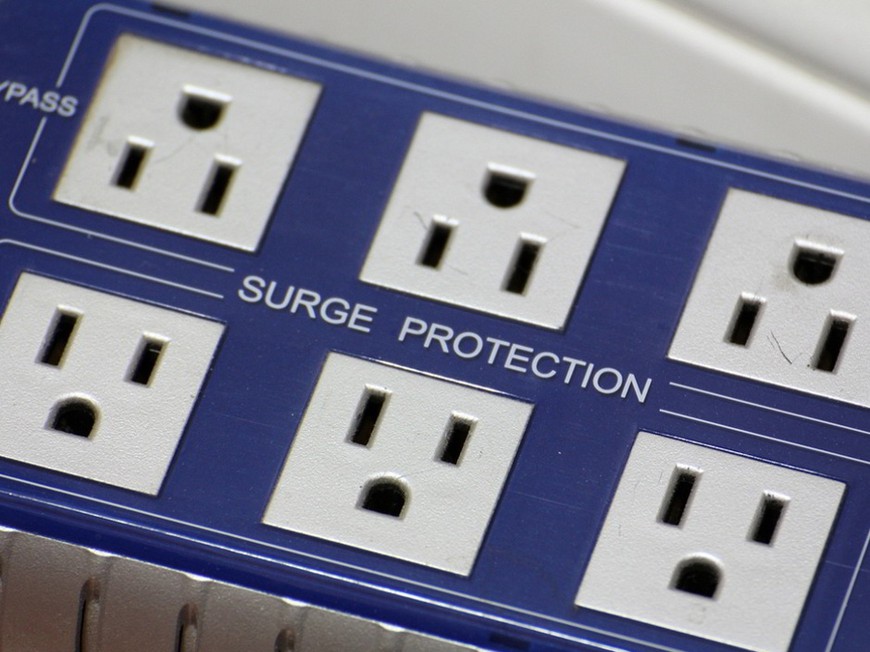 This week has been a good one for iPoker which is set to regain its spot in second place behind PokerStars. Full Tilt's decline has continued and bwin.party has been unable to improve its player volumes despite the launch of ZyngaPlusPoker as a PartyGaming skin.
The Cyprus bailout debacle has seen prices of Bitcoins soar and then collapse, bringing broader awareness of the online currency to the mainstream media. One reason perhaps why Bitcoin-only site SealsWithClubs has tripled its cash game volumes this year and is this week's biggest gainer.
The Battle for Second Place
PokerScout's latest seven day average figures place iPoker, PartyPoker and Full Tilt all within a whisker of each other with iPoker at 3,100 players and the others around 3,000. However, these figures are a long way from telling the full story.
Changing the measure to a 30 day moving average and looking at the data over a three month period shows the clear trends for the competing sites. Full Tilt has not managed to establish a plateau, PartyPoker has flattened out after a decline and iPoker has made steady upwards progress.
Recent additions to the iPoker network are paying dividends and have helped parent company Playtech turn around what was its least profitable gaming segment. The trend strongly suggests that this latest switch in the running order looks set to continue and that iPoker's lead will increase.
The ZyngaPlusPoker Effect
After talking about the real money gaming opportunity for over two years, Zynga finally got off the bench and launched ZyngaPlusPoker as a PartyGaming skin restricted to UK customers. Zynga's share price spiked 15%, which is a lot more upward movement than PartyGaming's traffic numbers which continued their steady slide.
A close up view shows that ZyngaPlusPoker's launch has made no noticeable difference to Party's numbers. The P on the line marks our announcement of the launch of ZyngaPlusPoker.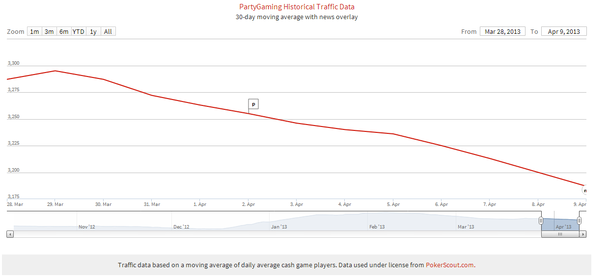 It is still early to make an assessment, but many investors in bwin.party and perhaps the senior management may have been expecting something more dramatic than a continued slide. After all, when Full Tilt relaunched, global poker traffic increased by 10%. Since the launch bwin.party's share price has gone in the same direction as their traffic numbers—down 7%.
The SealsWithClubs Comeback
The weeks biggest gainer has been SealsWithClubs, up over 10%. Players returning after the site went down late last month for two days following a Denial of Service (DDoS) attack that forced its servers offline.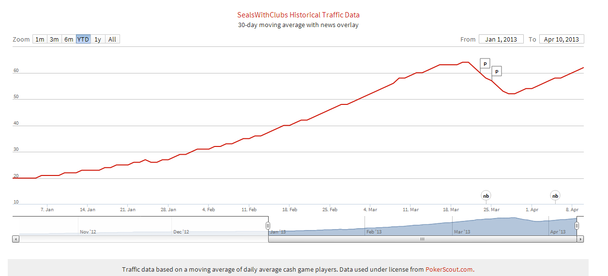 That DDoS caused the downturn visible on the SealsWithClubs traffic graph, but traffic has returned to the trend that has seen a tripling in cash game volume this year.
The increasing popularity of Bitcoin have not hurt their numbers, but as a US facing site, the prospect of State regulated online poker returning to the US may affect their ability to keep this growth trend moving in the right direction.
Graph data used under license from PokerScout.com and Pokerfuse Pro.