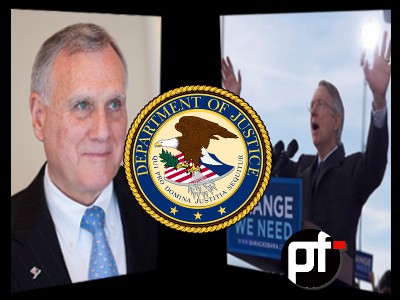 Senators Harry Reid and Jon Kyl requested that Attorney General Eric Holder continue the war against offshore companies offering online gaming – including online poker – and clarify the US Department of Justice's position on intrastate online gaming.
Harry Reid (D-Nev.), a recent proponent of online poker, attempted unsuccessfully to attach a bill regulating online poker to must-pass legislation during the 2010 lame duck session of Congress. At the time Jon Kyl (R-Ariz.) was quoted by Politico as saying, "zero chance — no chance whatsoever that would be part of the tax deal." Kyle has since stated that he would not be opposed to legislation that carved out poker.
Now united, two of the most powerful Senators in Congress and have asked the US Department of Justice to "pursue aggressively and consistently those offering illegal Internet gambling in the United States." Dated July 14, the letter cited a "lack of activity by law enforcement" as a contributing factor that over "1,700 foreign sites continue to offer Internet gambling to U.S. players."
In addition, the Congressional duo asked the DOJ to "reiterate the Department's longstanding position that federal law prohibits gambling over the Internet, including intra-state gambling (e.g., lotteries)." They added that if the DOJ is contemplating a change in their stance on intrastate gambling, that they "consult with Congress before finalizing a new position that would open the floodgates to Internet gambling."
Nevada and Washington D.C. have already passed legislation to enable online gaming within their jurisdictions. In June, Nevada Governor Brian Sandoval signed a bill that calls for Nevada to establish regulatory guidelines for online poker, but limits Nevada's ability to offer online poker without clearance from the DOJ. Though Washington D.C. has passed legislation to provide online poker within its borders, it has recently delayed plans to begin offering games this year.
Requesting that the DOJ take a hard line against intrastate gaming could derail efforts in California to pass SB40. The bill would regulate online poker, force California to opt-out of any future Federal legislation, and ring fence their player pool.
Being that MGM Resorts International and Harrah's Entertainment- two corporations that stand to reap substantial rewards form the regulation of online Internet gambling – are two of Harry Reid's biggest financial backers, it is unlikely that Reid has had a sudden change of heart regarding online gaming. Rather, it is more likely that the US brick and mortar casinos are continuing to bankroll the clearing out of the competition in a billion dollar industry.