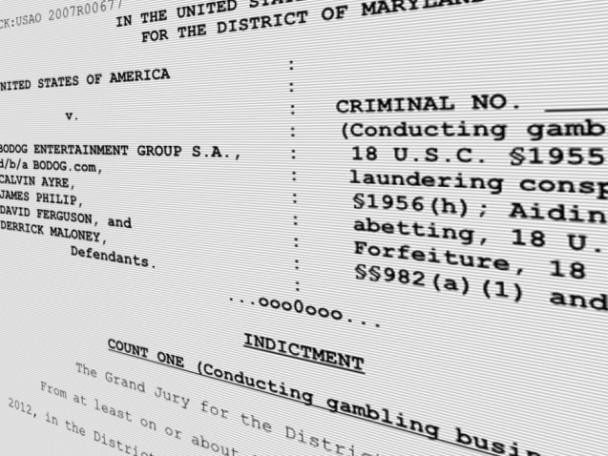 Federal prosecutors unsealed an indictment against Bodog founder Calvin Ayre and three top-level officers on Tuesday. It follows multiple undercover investigations spanning over half a decade, with information of payment processing and company structure provided by an unnamed informant.
The indictment, unsealed by prosecutors in Baltimore, listed officers and directors James Philip, David Ferguson And Derrick Maloney alongside founder Ayre and Bodog Entertainment Group.
The domain name Bodog.com was seized earlier in the day by the Department of Homeland Security. It had been dormant since May of last year when the Morris Mohawk Gaming Group (MMGG) – the Bodog licensee that operates in the US – changed to Bodog.eu following the domain seizures of Black Friday and Blue Monday then renamed to Bovada.lv later in the year.
The indictment alleges that Ayre et al. did "knowingly and unlawfully conduct, finance, manage, supervise, direct, and own all or part of an illegal gambling business … involving online sports betting."
The defendants are also charged with conspiracy to commit money laundering for which the purpose was "to move funds from accounts controlled by [Bodog] and located outside the United States to the gamblers, media resellers, and advertisers located in the United States."
Evidence substantiating the charges was obtained by undercover investigations by federal agents and the cooperation of a Bodog ex-employee and a media partner that had accepted advertising for Bodog.
The ex-employee-turned-government informant alleged that "Bodog has hundreds of employees, located in Canada and Costa Rica" performing the day-to-day operations of the company. The informant, referred to as CI-1, also named the top-level officers and directors of Bodog.
Information provided by "CI-1" was corroborated by records obtained from payment processors and through interviews of personnel from both the payment processors and the media company. According to the seizure warrant, "financial records obtained from these payment processors, media company, and related financial institutions show that Bodog has been in continuous operation since at least June 2005."
Records were obtained from two payment processors – JBL Services Inc. and ZipPayments Inc. – documenting a combined $100m of funds processed on behalf of Bodog Entertainment Group.
In addition to information provided by the informant, the government also conducted two undercover investigations. In 2006 an undercover IRS agent was able to establish an account on Bodog, make "winning bets on a number of sporting events" and then request and receive checks from Bodog via mail to a Maryland address.
In 2009, an Immigration and Customs Enforcement's (ICE) Homeland Security Investigations (HSI) agent opened an ewalletxpress account and proceeded to fund several online gambling accounts including one at Bodog.com. From a government computer in Maryland, the agent made bets on sporting events as recent as January 2012. On several occasions the agent requested and received the proceeds of the online wagers via checks mailed to a Maryland address and via cash obtained from Western Union.
According to the undercover agent, the activities of the investigations demonstrated that Bodog.com domain was "being used to facilitate the gambling activity of the Bodog organization."
As part of the conspiracy the defendants are charged with "(a) the movement of funds to pay winnings to gamblers, (b) the hiring of media resellers and advertisers to promote the Internet gambling activity, and (c) the movement of funds from accounts outside the United States, in Switzerland, England, Malta, Canada, and elsewhere, to accounts in the United States to pay those media resellers and advertisers."
The Indictment seeks the forfeiture of "any and all property constituting, or derived from, any proceeds obtained, directly or indirectly, as a result of that offense." If any of the property subject to seizure cannot be located, has been transferred or sold, is beyond the jurisdiction of the US or has "substantially diminished in value", the US authorities intend to "seek forfeiture of any other property of the defendants up to the value of the property charged with forfeiture."
Bodog is no stranger to domain name troubles. In 2007 1st Technology LLC was awarded a default judgment against Bodog in a patent infringement case that led to the seziures of Bodog.com and Bodog.net and forced Bodog to operate under newbodog.com and bodoglife.com. They were able to return to bodog.com after reaching an agreement with 1st Technology LLC in 2009.