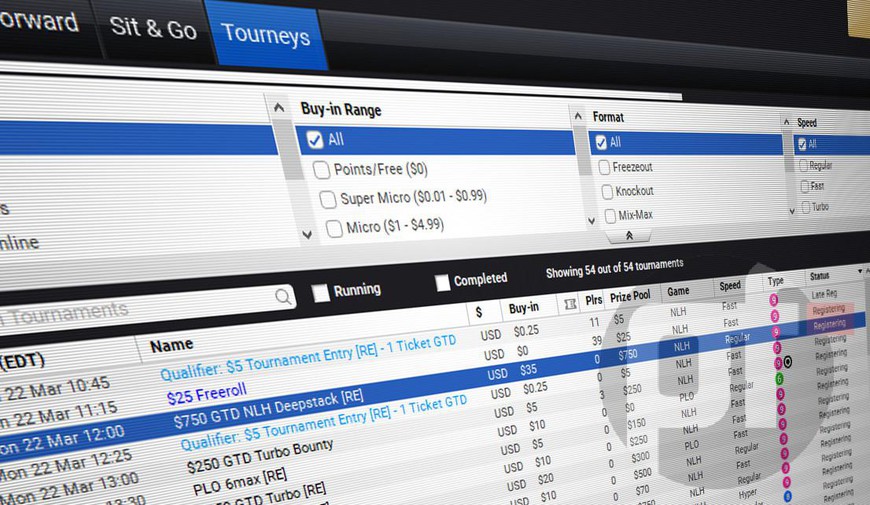 BetMGM Poker MI seems to be winning the Sunday game in the Michigan online poker market. They started May off with a huge Sunday, while rival PokerStars MI had a lackluster start to the month.
BetMGM blew through their Sunday guarantees, including more than 3 times the guarantee in the marquee Sunday $40k tournament. Rival PokerStars, on the other hand, struggled to make guarantees this past Sunday, paying overlay on several of their bigger games.
While there is online poker played 24 hours a day, seven days a week around the world, Sundays hold a special place in the online tournament grinder's heart. Nearly every operator puts big games on Sunday with big guarantees, and the Michigan market follows suit.
BetMGM MI has their marquee Sunday $40k, a tournament featured in every market the partypoker US Network client runs in. PokerStars MI runs the $60,000 guaranteed Sunday Special, along with several other high-value Sunday games.
Amazing welcome bonuses

$25 free, no deposit required plus deposit match up to $600. No code needed

Great promos

BetMGM has gone out of the gate with some massive first month promotions—freerolls, bonuses and reloads

Trusted Brand

Connects with BetMGM's world class casino and sportsbook
BetMGM Sunday $40k Triples Guarantee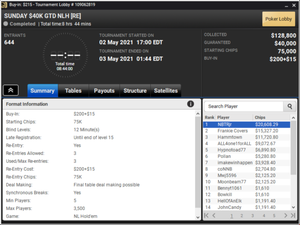 The Sunday $40k is a staple feature on the partypoker US Network, which hosts the BetMGM skin in US markets. After barely a month in operation, the Michigan version of the game not only made guarantee this past weekend, it blew past the $40,000 promised, ending with $128,000 in prizes for the $215 buy-in.
By comparison, while the New Jersey version broke its reduced guarantee of $35,000, with almost $5,000 extra in the pool, it didn't even make the base guarantee in Michigan.
BetMGM Pennsylvania, on the other hand, where the Sunday $40k was running for the first time in a brand new market, missed the guarantee by $10,000.
The turnout in Michigan was huge. A total of 644 entries showed up for this one, putting more than $20,000 on top for the winner.
BetMGM also crushed the guarantees on their smaller events this past Sunday. The Daily $10k got $11,700 in total prizes, while the $3,000 Sunday Starter had $3,200 to play for. Both the $1,000 Sunday Progressive Bounty, and the $2,500 40-Stack also broke their guarantees.
Sunday on PokerStars MI Falls Short
The Sunday Special is PokerStars' marquee Sunday tournament in the US market, and Michigan guarantees $60,000 every Sunday for the $100 game. This past Sunday they failed to hit that goal, however, with 560 runners combining for only $51,408 collected.
It wasn't just the Sunday Special that fell short this past Sunday at PokerStars MI. Nearly every game with a guarantee attached had overlay in it, including the $3,000 Sunday Storm ($2,703 collected), and the $7,500 Sunday Warm-up ($7,235 collected).
PokerStars MI
: The global online poker giant now offers legal, regulated online poker in
Michigan!
For more than a decade, PokerStars has led the industry with the best software, largest player pools and safest environment to play
Great Welcome package: $50 worth of Spin & Go and

MTT

tickets as soon as you play a single cash hand
Or a big first deposit bonus: huge 100% up to $600 deposit bonus with code STARS600
Home of the Sunday Special, MICOOP, Spin & Gos and more
Two major Sunday games did make the guarantee this past weekend. The Sunday High Roller collected $200 more than the $30,000 guarantee, while the $6,000 Sunday Supersonic amassed a prize pool of $6,700.
Overall, the broken guarantees this past Sunday didn't outweigh the missed ones. The shortfall in the Sunday Special was about twice what they collected in fees on the game, so it was a net loss for them of around $4,000.
In the major games where they broke the guarantee, they only exceeded them by about $900 total, so overall it looks like a losing Sunday for PokerStars tournaments. PokerStars MI did make the shortfall up in fees, but in the end, barely broke even.
BetMGM MI Starts May on Tournament High Note
May 2 BetMGM vs PokerStars MI Sunday Performance
| Operator – Game | Buy-In | Guarantee | Collected | Delta From Guarantee | Total Delta |
| --- | --- | --- | --- | --- | --- |
| BetMGM MI – Sunday $40K | $215 | $40,000 | $128,000 | $88,000 | |
| BetMGM MI – Sunday Starter | $55 | $3,000 | $3,200 | $200 | |
| BetMGM MI – Daily $10K | $109 | $10,000 | $11,700 | $1,700 | |
| BetMGM MI – Sunday Progressive Bounty | $55 | $1,000 | $1,600 | $600 | |
| BetMGM MI – 40-Stack | $55 | $2,500 | $2,850 | $350 | $90,850 |
| PokerStars MI – Sunday Marathon | $100 | $20,000 | $18,910 | -$1,090 | |
| PokerStars MI – Sunday Warm-up | $30 | $7,500 | $7,235 | -$266 | |
| PokerStars MI – Sunday Storm | $10 | $3,000 | $2,703 | -$297 | |
| PokerStars MI – Sunday Special | $100 | $60,000 | $51,408 | -$8,592 | |
| PokerStars MI – Sunday High Roller | $250 | $30,000 | $30,290 | $290 | |
| PokerStars MI – Sunday Supersonic | $50 | $6,000 | $6,721 | $721 | -$9,234 |
It is clear just based on a comparison of the two marquee tournaments on each operator that BetMGM MI won the Michigan tournament game this past Sunday. Despite a bigger buy-in and lower guarantee, their Sunday $40,000 saw more runners and a much higher prize pool than PokerStars' Sunday Special.
But even on a deeper dive, it is clear that BetMGM had solid tournament results this past Sunday against a less than stellar performance from their Michigan competitor. BetMGM broke guarantees across the board in all their events this past Sunday, while PokerStars fell short in numerous spots.
While BetMGM was the clear winner in Michigan this past weekend, it wasn't all gloom and doom for PokerStars. They did manage to collect a bit more in total fees on their Sunday major games than they paid out in overlay in those same games, but it is a small silver lining in some very cloudy results.
BetMGM won across the board however. They collected more in fees than PokerStars on their Sunday majors, with $11,478 collected versus $9,903 by PokerStars. Further, BetMGM got to keep all of that, as they were not required to pay out any overlay from it.
Whether these results will continue through May remains to be seen, but the first weekend of May was a clear win for the new BetMGM MI against the established competitor.