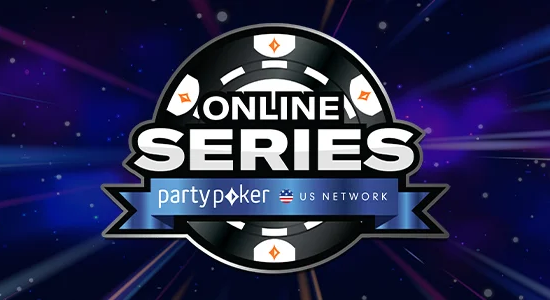 Borgata Poker NJ, in conjunction with partner brands BetMGM and partypoker, are throwing another poker party in June in an attempt to hold onto its second place market position.
The ten-event, eight-day Online Series kicks off on June 6, and will guarantee $280,000 in total, down from $325,000 in May.
The latest series comes just a couple weeks after their last series ended on a bit of a surprise note: Despite their solid numbers in terms of revenue and cash game traffic, the May partypoker Online Series in New Jersey fell short of the guarantees by more than $55,000, providing a lot of value to players.
Despite the lower overall guarantee, there is still a lot of value in this series for players—perhaps more so than in May. Both the final event (that closes the series with a big guarantee) and the opening event have had their buy-ins reduced by more than their guarantees, putting extra potential value in the pot for June.
Borgata NJ
: Offering legal and fully regulated games in
New Jersey
since 2013!
One of the first regulated sites, Borgata has earned its reputation with the players over the years
Nice no deposit offer: Get $20 in freeplay as soon as you open your Borgata Poker account
Double your money: big 100% up to $600 deposit bonus available on your first deposit
Good selection of cash games and tournaments across all stakes
Borgata shares a player pool in New Jersey that includes its own skin, as well as BetMGM Poker NJ, and partypoker. Together, the three make up the partypoker US Network; since late 2020, it has been holding second place in a couple of key indicators in the New Jersey market.
The Borgata brands were consistently third place in the market from their launch up until the end of 2020, trailing behind leader WSOP.com and second place PokerStars in both cash game traffic and overall revenue.
However, it moved ahead of PokerStars, which operates under license with Resorts Casino, in revenue in December of 2020, and has been ahead of PokerStars in cash game traffic since the end of May as well.
Taking the Overlay Out of the Overlay Series

The latest Online Series is scheduled to start tomorrow, Sunday, June 6 through to June 13 with a total of ten events. In May, the series guaranteed $325,000, but when the dust cleared, it only collected $267,634 in entries.
Even with the almost $20,000 in fees added in, the series was still more than $35,000 in the hole.
The biggest shortfall came in the biggest event, Event #10: $100K GTD 8-Max NLH. Only 66 players stepped up to the registration desk with $1,060 for the buy-in, leaving $34,000 in overlay from the $100,000 guarantee.
The smallest event, Event #2: $10K GTD 8-Max Mini NLH also ended up with less than 75% of the guarantee in entries.
The way Borgata has addressed the previous shortfalls in the latest schedule is interesting. This time around, the total guarantee has been reduced to $280,000, with the main difference between the May and June schedules for the Online Series coming from reduced buy-ins for the two biggest events, and a smaller guarantee on the final event.
In May, the first event was a $535 entry with $50,000 guaranteed, but in June, players will get the same $50,000 guarantee for the half-price buy-in of $215. Likewise, the final event has been similarly modified, with a half-price entry fee of $535 but a reduced guarantee of $75,000.
While the guarantee for the series closer in June is smaller over all, the reduction in guarantee is less than the reduction in cost. In May, with fees included, the final game had just over $94 in guarantee for each dollar of buy-in, whereas in June, that same game will have more than $140 per dollar of buy-in.
PartyPoker NJ Series Comparison May/June
| Series | Total Buy-In | Total Gty | $Gty/$Buy-In |
| --- | --- | --- | --- |
| May Series | $3,119 | $325,000 | $104.20 |
| June Series | $2,488 | $280,000 | $112.54 |
To be fair, there is at least one game in June that looks to have a bit less value in it. Event #3 is twice the buy-in this time around, but the guarantee is only 25% higher. Overall, the June series looks slightly juicier than May, with almost $113 of guarantee per dollar of buy-in, versus just over $104 in May.
New Jersey partypoker US Network Online Series Schedule
Date
Tournament
Buy-In
Bounty
Gty
6-Jun
Online Series #1: $50K Gtd 8-Max

NLH

$215
$50,000
7-Jun
Online Series #2: $20K Gtd 8-Max

NLH

$215
$20,000
8-Jun
Online Series #3: $25K Gtd 8-Max

NLH

$535
$25,000
9-Jun
Online Series #4: $10K Gtd 6-

MAX

PLO

$109
$10,000
10-Jun
Online Series #5: $20K Gtd 40 Stack

NLH

$215
$20,000
11-Jun
Online Series #6: $25K Gtd 8-Max

PKO

$320
$150
$25,000
12-Jun
Online Series #7: $20K Gtd 8-Max

NLH

$215
$20,000
13-Jun
Online Series #8: $5K Gtd 8-Max

MINI

NLH

$20
$5,000
13-Jun
Online Series #9: $30K Gtd 8-Max $109 1/2 Price

NLH

$109
$30,000
13-Jun
Online Series #10: $75K Gtd 8-Max

NLH

$535
$75,000
$2,488
$280,000
Solid Results for Borgata in 2021
2021 has been a good year so far for Borgata in New Jersey online poker. In December of 2020, it overtook PokerStars for second place in the revenue race in the market, with both operators behind the market leader WSOP.com, powered by 888poker software.
Borgata also recently surged into second in cash game traffic as well, for the second time in 2021. While its first move into second in March came on the back of a big drop in cash game traffic at PokerStars, the latest move looks to be more directly related to growth by Borgata.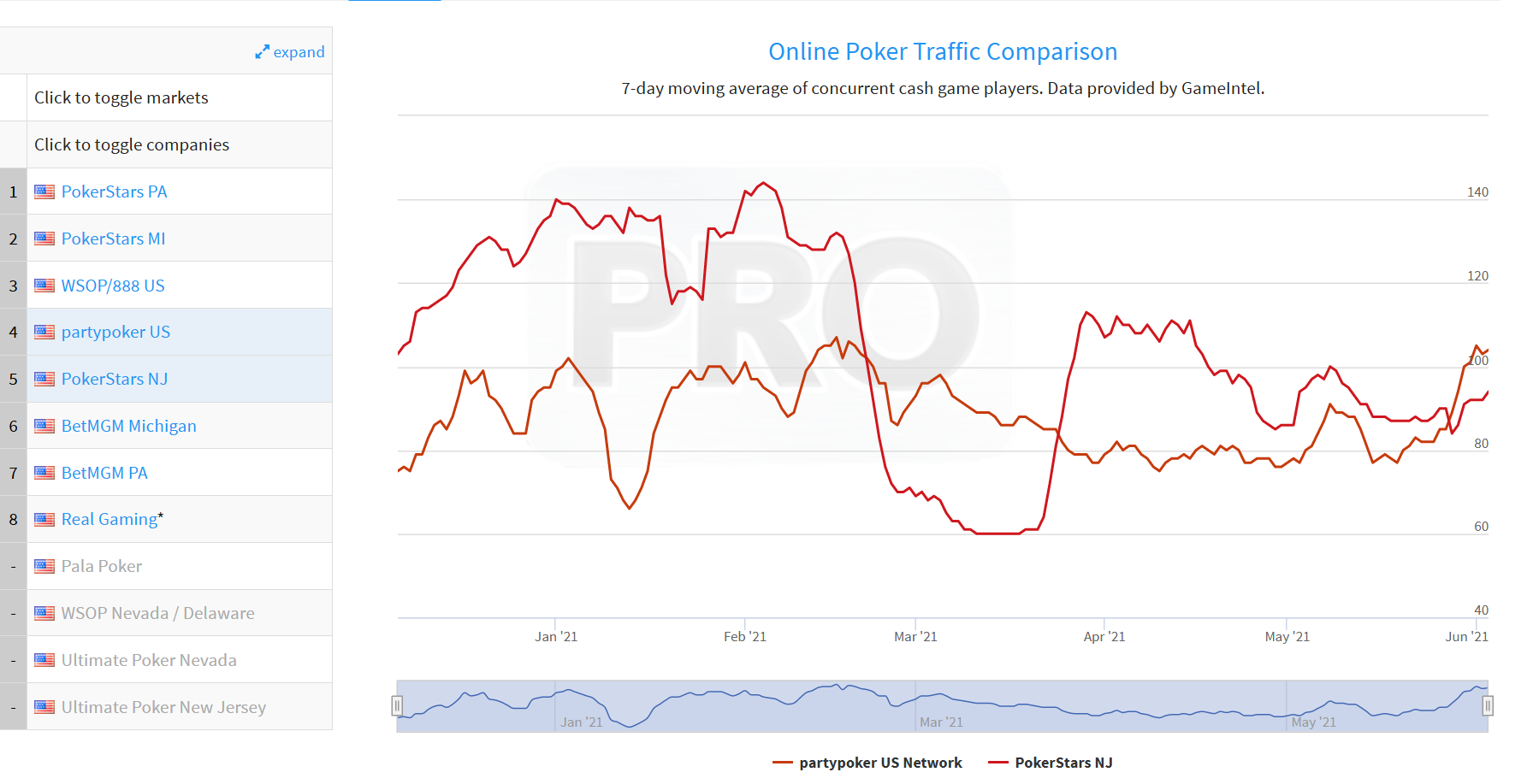 While the cash game traffic is a very recent change, the revenue position has held steady for all of 2021. Borgata put in a huge month with over $1 million in revenue in December of 2020, which pushed them close to the market leader, WSOP.com's $1.175 of revenue. Third place PokerStars lagged behind that month with less than $775,000.
Since then, Borgata's lead has diminished a bit, but it has maintained its second place spot. It came close to dethroning WSOP.com in March of 2021 as well, and has had more ups and downs than the more consistent revenue from PokerStars, but even the lows have been high enough to keep them in second place.
While overlay in an online series isn't the end of the world for a poker operator, it is not a sustainable model over the long term for obvious reasons. In the short term, overlays can help inject money into the ecosystem and attract new players to the platform, but over the long run, operators need to be making money, not giving it away.
Borgata appears to be banking on the idea that lower buy-ins with more guarantee value on their biggest events is the way to attract more players. The latest series, running from June 6 through June 13, will put that idea to the test.