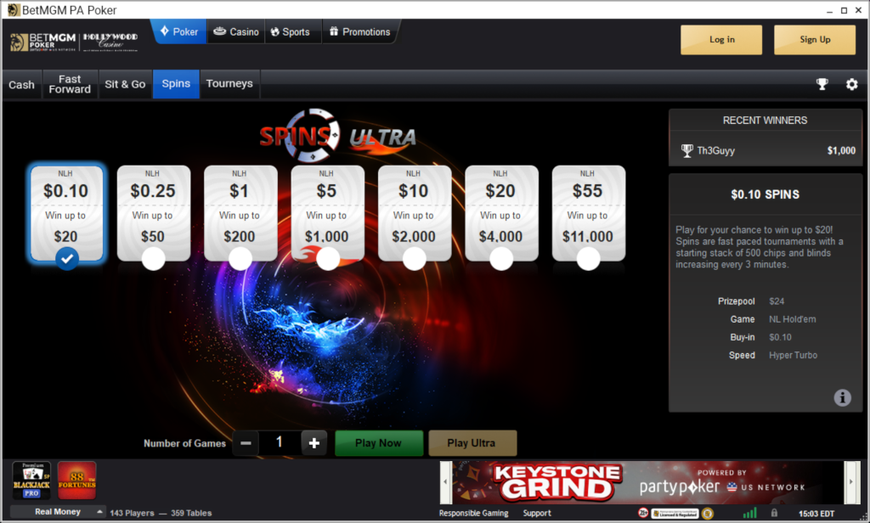 BetMGM intends to offer Spins lottery sit and gos in all the US markets it operates in, pokerfuse has learned.
Currently, only its newest online poker room, BetMGM Pennsylvania, features the lottery sit & go (LSNG) format—but that is set to change. The company plans to introduce them in both Michigan and New Jersey in the near future.
Spins are a variation of the increasingly popular LSNG format where players compete for random prize pools in three-handed hyper-turbo games. Prizes for the games vary from two times the buy-in to some truly eye-watering prize pools with astronomical multipliers.
BetMGM, in conjunction with Borgata, opened in PA on April 29 of this year with two skins running software from partner partypoker. It was the first time that the operator had spread Spins in the US markets.
BetMGM Poker is live in Michigan, Pennsylvania and New Jersey!
Great no deposit bonus

Get $25 in freeplay as soon as you register
Quality

MTT

action across all stakes
Cash games ranging from $0.01/0.02 to $25/50
Powered by the modern partypoker platform
US Spins History
Partypoker has offered the Spins games on its global client since early 2019 when it rebranded its previous LSNG game, Sit & Go Jackpots.
However, when BetMGM went live with the partypoker software in New Jersey online poker, and much later in Michigan, Spins games were nowhere to be found. Borgata and BetMGM have long been in the New Jersey market, after launching back in 2013, but Spins have not been on the schedule.
The story was similar, if more recent, in Michigan online poker. BetMGM MI launched March 22 of this year, but it too launched without the LSNG games being offered.
A month later, BetMGM PA and Borgata PA went live in the Keystone state, and for the first time in the US marketplace Spins were part of the offerings.
Spins Mechanics
The Spins games are a variant of the LSNG format that has been spreading through the online poker world. Typically, the format is a three-handed sit & go played with short stacks and a fast blind structure. Some versions include timed portions, but the key distinguishing feature is a random prize pool.
While the most likely prize pool in LSNG formats is usually twice the buy-in, and therefore a small loss compared to a normal prize pool, there is the chance to score huge in the LSNG format. While very unlikely, there is the chance to win thousands of times the buy-in for some formats, and a range of other increasingly more likely payouts in between.
In the implementation in Pennsylvania, Spins games from BetMGM look pretty close to the general format 500 chips to start and three-minute blind levels. Games in PA range from $0.10 up to $55 to get into, with the chance of a maximum prize pool 200 times the buy-in.
Few Details on Rollout
To date, there are very few details on how or when the operator plans to deploy Spins in Michigan and New Jersey. The company has confirmed to pokerfuse that it plans to make the move, but did not provide a timetable.
BetMGM is not the only operator to offer LSNG format games in the US market however. Rival PokerStars has Spin & Go games in all its markets with prize pools up to 1,000x the buy-in.
WSOP.com, which runs on 888poker software and operates the only multi-state network in the US market tying Nevada, NJ, and Delaware together into a shared player pool, also offers a similar format called BLAST. BLAST is the most lucrative of the games in the US market, with the chance for a 10,000x prize pool.
While it is not yet clear when the move will happen, BetMGM has signaled its intention to expand Spins to all its markets. New Jersey and Michigan players hungering for another LSNG option should keep their eyes on the BetMGM clients in their region, because Spins are on their way.
Pick your favorite poker site in MI
BetMGM MI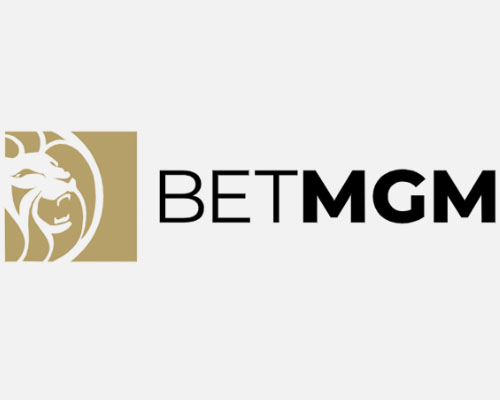 Kick things off with $25 with no deposit required and a big deposit boost up to $600!
SIGN UP NOW: NO CODE NEEDED
PokerStars MI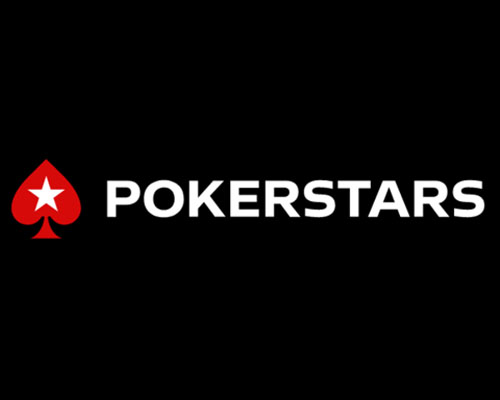 Michigan players get $50 in free Spin & Go tickets or a more traditional 100% bonus up to $600!
Use code FREE30 or STARS600