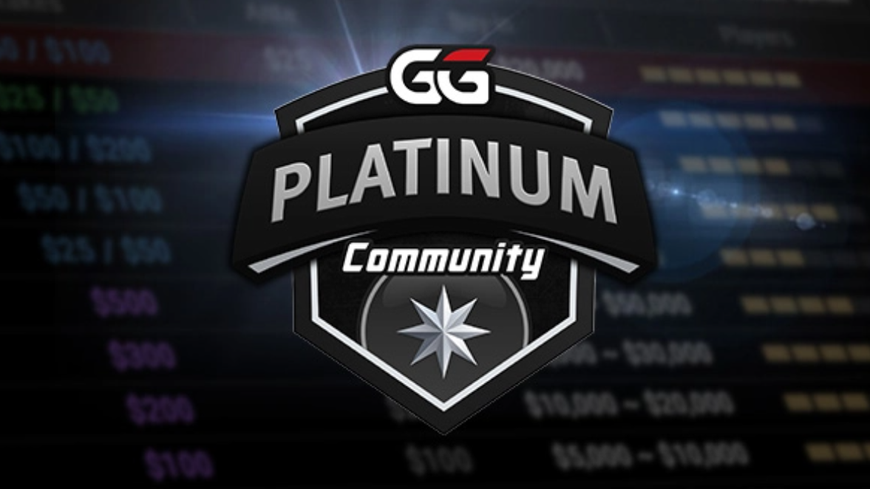 Whether you play the nosebleeds or the micros, there is almost certainly a way for you to get into the Platinum Community.Players at GGPoker have a new way to earn cashback now in the GGPlatinum Community.
The new GGPlatinum Community is an invitation-only group of GGPoker players who who will be eligible for special offers, as well as have a say in the future of online poker at GGPoker.
Bronze and silver are nice, and gold is even better, but Platinum is best at GGPoker. Players can find out the full eligibility requirements by emailing platinum@ggpoker.com to see if they qualify—Platinum status on the Fish Buffet rewards program is not a requirement for the GGPlatinum Community.
Players who make it to the Platinum Community will enjoy some big rewards, but they'll also get some other perks. In addition to discount offers for poker training and sneak peeks to new events, Platinum Community members will also be fast-tracked for support ticket resolution and get the chance to shape the future of GGPoker through regular feedback.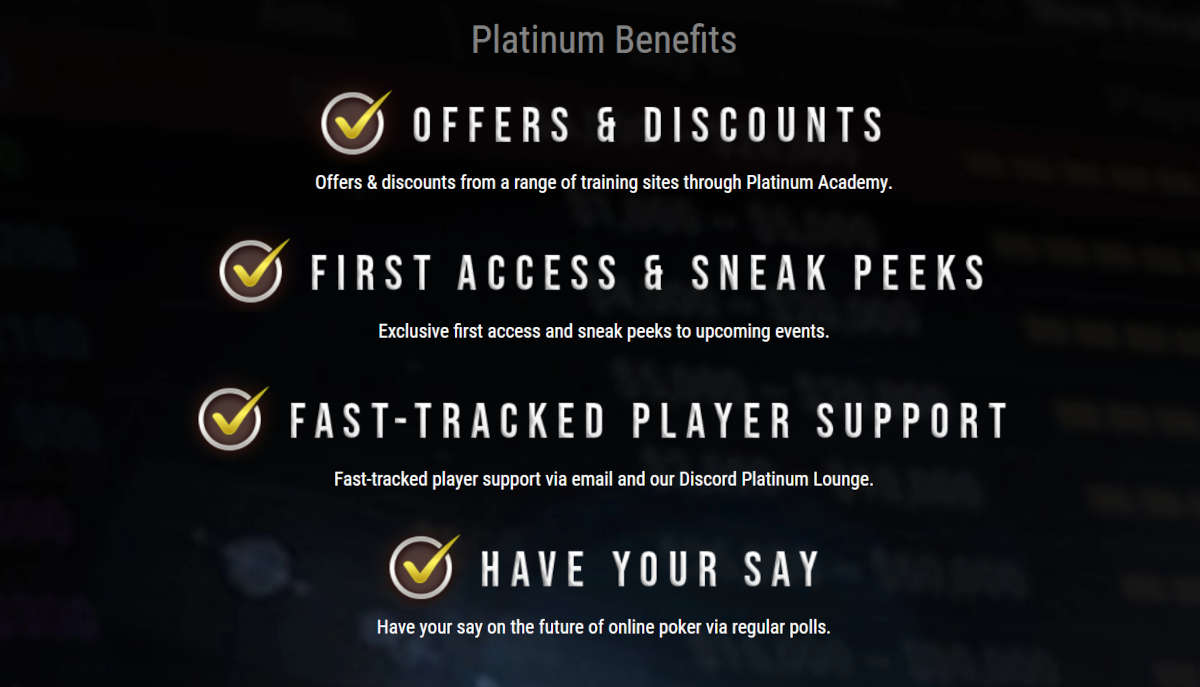 The GGPlatinum Community is not tied to the Platinum levels in the Fish Buffet. No matter what level a player has achieved in the Fish Buffet, they can still qualify for the GGPlatinum Community. While full eligibility requirements are somewhat unclear, players from all levels have been accepted.
Platinum is the New Black in Fish Buffet
The Fish Buffet has also gotten a platinum makeover. The new Platinum levels on the Fish Buffet replace the old Black levels in the previous system. As of late February this year, the highest rung on the GGPoker rewards ladder was renamed from Black to Platinum.
What makes the Fish Buffet especially interesting is that players can reach the highest level without actually reaching the highest level. Platinum status is not just available to the highest of high rollers—Players at the Fish, Octopus, and Whale levels can all work their way up to Platinum status in their level, while Sharks are always Platinum.
Fish status is easily attainable at all bankroll levels on GGPoker, and even Fish can be part of the Platinum Community. So whether you play the nosebleeds or the micros, there is almost certainly a way for you to get into the Platinum Community with a bit of work.
Fish Buffet ranks provide very good cashback rewards, with rewards improving as rank increases.
| Rank | Rewards | Average Cashback % |
| --- | --- | --- |
| The Platinum | $1 per 167FP | 60% |
| Platinum Shark | $1 per 182FP | 55% |
| Platinum Whale | $1 per 200FP | 50% |
| Platinum Octopus | $1 per 285FP | 35% |
| Platinum Fish | $1 per $500FP | 20% |
Players don't always have to play more to achieve that Platinum status. One way to move into Platinum, of course, is to play more and earn more points, to move up the ranks of your current level in the Fish Buffet.
But players can also elect to move down the food chain, giving them instant access to the Platinum benefits, albeit at the level below their current one. That means, for example, any level of Whale can immediately opt to become a Platinum Octopus, while any level of Octopus can choose to drop back to Platinum Fish.
Platinum Community Just One of the Exciting Things at GGPoker
The new Platinum Community is just one new development among a string of recent updates at the growing GGPoker. In early June, the operator introduced Battle Royale, an innovative format with fast-paced action aimed at replicating the battle royale mode of games like Fortnite.
That is added to innovative formats like Flip & Go and Spin & Gold, but the biggest news is just on the horizon: Starting in August, GGPoker plays host to the international leg of the Worlds Series of Poker (WSOP) Online 2021 with 33 Gold Bracelets on offer.
Last year's pandemic-fired series was huge for GGPoker, moving them from a small player in the industry to one of the juggernauts. That status was secured when the 2020 Main Event on GGPoker turned into the biggest online poker prize pool in history. While it seems unlikely that this year's event will beat the astounding $27.5 million prize pool of 2020, August is no doubt set to be a month of huge traffic for GGPoker.
There has never been a better time to get that Platinum status. With WSOP 2021 Online a bit more than a week away, now is the perfect time to start earning some points. Find out if you are eligible for the Platinum Community by emailing the GGPoker team at platinum@ggpoker.com.