WSOP USA represents a household name in the poker industry. The World Series of Poker has been in existence for well over five decades and it firmly retains its position as the biggest and most significant competition in the poker world.
Looking to expand its market foothold, WSOP extended into the regulated online poker market in the US as soon as the opportunity presented itself. Joining forces with 888 as its interactive partner, WSOP.com launched online poker sites in Nevada and New Jersey over the last few months of 2013.
Nevada and Delaware entered the MultiState Internet Gaming Agreement in 2015, allowing operators to share liquidity across state lines. In 2017, New Jersey joined the compact, allowing WSOP in the US to spread its wings through the interstate network made up of five poker sites (WSOP NJ and NV and 888 rooms in NJ, NV, and DE).
Over the next few years, WSOP USA continued doing on the online front what have it has been doing in live poker for decades. The operator affirmed its presence in the States, providing players with a completely safe platform powered by the reliable 888poker software.
The year 2020 was very important one for WSOP.com. With the coronavirus pandemic virtually stopping live poker worldwide, the World Series of Poker moved online. WSOP USA saw a significant surge in numbers, with players flocking to the platform to compete in various events and fight for coveted WSOP gold bracelets.
WSOP

in the

USA

Although WSOP was one of the first operators to offer regulated online poker in the US, the company took some time to spread beyond the initial three states. However, in 20201, WSOP USA finally entered Pennsylvania and then joined the regulated market in Michigan as well in March of 2022.

We are bringing you a quick overview of the WSOP USA presence for the existing and upcoming sites:

As mentioned, all the sites on the WSOP USA poker network are powered by 888poker software. The company has announced the rollout of the new Poker 8 platform, which was schedule to go live before the end of June of 2021. The operator kept its word and rolled out the new platform in PA, which they also used to enter MI. Of course, WSOP.com will probably incorporate the new platform for the other three states at some point, but there is no clear date as to when this should happen.

It is important to note that players on WSOP PA WSOP MI have to play in the ring-fenced market. While the operator combines its NJ, NV, and DE player pools, this is currently not an option for either PA or Michigan, although this could change in the near future.

Namely, these states are not currently a part of any multi-state agreements. Both have left room for this possibility in the future, but they are waiting for the final verdict on the Wire Act interpretation before they proceed with any plans that involve crossing state lines.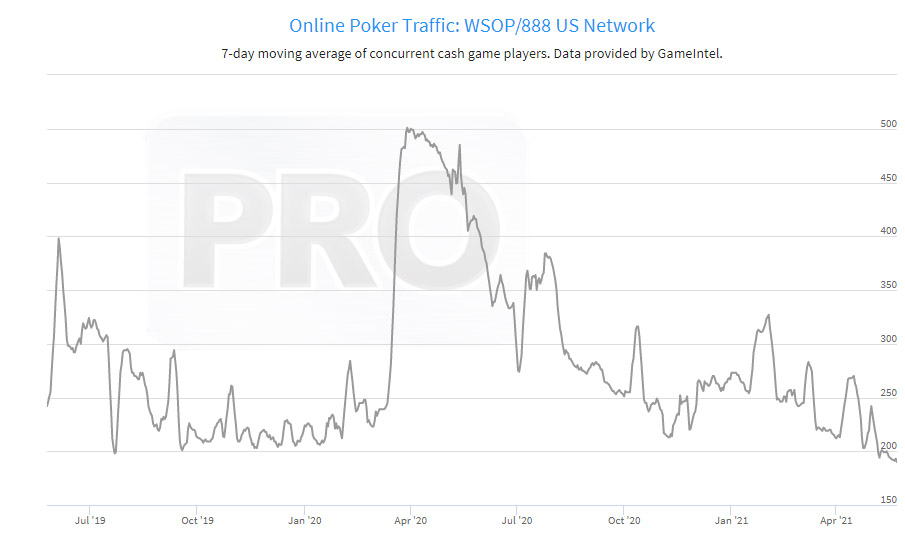 WSOP

Nevada

WSOP NV was the first WSOP USA poker site to go live. It launched in September of 2013 and has been going strong ever since, becoming the leader in the state regulated market.

With a strong brand to back it up, WSOP Nevada had a very strong starting position to build upon. The addition of online bracelet events in 2015 definitely helped the operator to establish a firm foothold in the state.

In addition to the rich tournament schedule, WSOP NV offers a solid variety of cash game tables with stakes going up to $10/$20, so there is something for all players to enjoy.

When it comes to newcomers, the operator offers a nice welcome bonus consisting of $50 in free play after depositing $10 or more and a generous 100% match up to $1000.
WSOP

New Jersey

WSOP launched in New Jersey in November of 2013, expanding the WSOP USA presence and adding more liquidity to the network that already included Nevada and Delaware (through 888). Alongside its partner site 888, WSOP NJ had to fight for the players with Borgata Poker NJ and PokerStars NJ, which joined the state market in 2016.

Although the competition was fierce, in 2020, WSOP NJ took the clear lead in the state, largely thanks to the allure of the first-ever online World Series of Poker. But, even without this, the operator attracts players with its solid offering of scheduled tournaments and a good amount of cash game action powered by the great traffic from all three states.

The operator also offers a decent welcome bonus for new players, which is probably slightly better than what other US regulated sites bring to the table:
$50 in freeplay after depositing $10 or more, and
100% boost up to $1000 on the first deposit & freeroll tickets
The number of game variations is the only aspect in which WSOP New Jersey could do better, especially when compared to its main competitor, PokerStars. However, the site spreads Texas Hold'em, Pot Limit Omaha, and Stud, which is more than enough variety for most players.
WSOP

NJ
: The world's most recognizable poker brand is legal and regulated for online poker in
New Jersey!
Massive Value

$50 freeplay on first deposit, 100% deposit match bonus up to $1000 + freeroll tickets
Part of the All American Poker Network with five online poker sites bringing togethers players from Nevada, New Jersey, and Delaware
Compete for real

WSOP

bracelets and rings in official online events from your own home
Frequent reload bonuses and lucrative monthly promotions
WSOP

Pennsylvania

WSOP Pennsylvania became the latest site to join the WSOP USA network. The operator went live in summer of 2021, and rolled out their brand new Poker 8 software right off the bat. With this, they joined a rather competitive market already hosting several active sites, namely PokerStars PA, Borgata Poker PA, and BetMGM PA.

WSOP PA could not join the WSOP USA network from the get-go. For this to happen, state legislators will need to sign off on Pennsylvania entering the MSIGA, which will only happen once the Wire Act situation becomes crystal clear.

Early in 2021, the First Circuit Court ruled against the 2018 DoJ interpretation of the Wire Act, which insisted its application extended to online poker. This pretty much settles the matter and opens doors for multi-state agreements.

The DoJ passed on the opportunity to appeal the decision, so now everything seems to be lined up just right for the future. In the coming months, PA might join a multistate agreement and should that happen, WSOP PA will be able to join forces with some or even all sites operating in other states.

WSOP

PA

: The world's most recognizable poker brand is now fully legal and regulated for online poker in

Pennsylvania!
Top Welcome offer

$50 freeplay after the first deposit, 100% match up to $1000 & extra $10 in free play with code FUSEBONUS

Modern software

Top-quality poker client for mobile and desktop play thanks to new Poker 8 software

Blast poker

Compete in jackpot sit and go's around the clock and win up to 10,000x your buy-in
WSOP

Michigan

After long wait, WSOP MI finally went live in March of 2022, going live with its new Poker8 software and giving players access to another safe and modern platform.

In terms of shared liquidity, the situation is identical to that in PA. Michigan has left the option on the table to enter agreements with other states once the legal climate changes.
Last verified: July 2022
NOW
LIVE
IN MI • Special Signup Offer
100% deposit bonus up to $1000!
$50 in free play with bonus code FUSEBONUS50
Fresh & modern Poker 8 software
Great tournament action 24/7
Check out
WSOP

USA

in action
WSOP

USA

offers a sleek and easy-to-navigate lobby for the beginners
WSOP

NJ and NV offer plenty of cash game action even for those with small bankrolls
Quick and easy way to find particular games using convenient filters
Big cash prizes up for grabs with popular Blast sit and go tournaments
Tournament action is always going strong across the
WSOP

USA

network
Online Casinos & Sportsbooks Powered by
WSOP
USA
The online branch of the WSOP US does not offer online casino or sports betting under the WSOP brand. However, Caesars does have presence in all aspects of the regulated online gambling market.
So, those looking to play casino games or place sports bets will not find these offers on the WSOP.com site, but they are offered by the Caesars brand.
| State | Sportsbook | Online casino |
| --- | --- | --- |
| New Jersey | Yes | Yes |
| Nevada | Yes | No |
In Nevada, there are still no online casinos, which seems somewhat strange, but it is also fairly understandable. The state relies heavily on its land-based gaming industry, and the matter of launching online casinos is a highly sensitive one.
Online Poker Regulation in the US
Regulated poker in the United States officially started in 2013. It was after Black Friday (in April of 2011) that the issue of legislation started to pick up some speed as players in the States were left without any safe and reliable online options.
WSOP USA, as one of the biggest and strongest poker companies in the US, was the first in line to get in on the action. Unlike some other operators, most notably PokerStars, WSOP had no legal issues to overcome. The company had all their ducks in a row and was fully ready to take on the newly-forming regulated market in the States.
2013: First
WSOP

USA

Sites Go Live

Online branch of the WSOP in the United States wasted no time to join the fray. In September of 2013, the operator went live in Nevada, one of the first two US states to pass laws regulating online poker.

WSOP had no problems receiving operating licenses and their partnership with 888Holdings gave them access to the top-quality software solution. Thus, the company was fully prepared to take on the new challenges.

Shortly after, in November of 2013, the room entered the newly-regulated New Jersey poker market via WSOP NJ, further expanding the online WSOP presence in the US.
2014: First MultiState Interactive Gaming Agreements Are Signed
In 2015, Nevada and Delaware signed the first interstate agreement, allowing operators from the two states to share liquidity across borders. This was the first such agreement in the US and it made it possible for the WSOP USA network to start shaping up thanks to their partnership with 888.
2017: New Jersey Joins the Party
A few years down the line, the only remaining regulated state joined the multi-state agreement as New Jersey joined forces with Nevada and Delaware. With this agreement in place, all operators from all three states could freely combine player pools as they saw fit.
This was a huge step for the WSOP in the US. This development made it possible for the operator to combine players from five different sites: two WSOP online rooms and three poker sites powered by their interactive partner 888.
It positioned WSOP.com really well as WSOP/888 were (and still are) the only operators with the presence in all three states. Thus, their traffic surged, creating more opportunities for big tournaments and filling up cash game tables.
2018 and Beyond:
WSOP

USA

Slows Down

With such a strong start and given the fact the company had no legal issues to deal with, it seemed like the WSOP US online poker branch would take the newly regulated markets by storm. However, after the strong start, the company took a bit of a step back.

Pennsylvania passed the online poker bill in 2018 but the only operator that was quick to seize the opportunity was PokerStars, as the site launched in 2019. When the PGCB started awarding interactive licenses, it seemed like WSOP would be one of the first sites to go live in the state, and statements coming from Caesars backed up these assumptions.

But then things went quiet for a couple of years, and players were left in the dark as to if or when WSOP PA would launch. Finally, in September of 2020, 888 was awarded a gaming license by the PGCB, paving the way for launch.

In a recent interview for pokerfuse, WSOP confirmed their plans to go live in Keystone State before June of 2021, so it seems that the launch of another WSOP USA site is imminent.

Michigan was the last state to regulate online poker, legalizing it in 2019. The first poker rooms launched in early 2021. WSOP does have plans to launch there as well, but these seem to be further down the line as the operator still does not have the required license in the state.
2021
WSOP

PA Goes Live

WSOP finally launches in Pennsylvania, rolling out their brand-new Poker 8 software. The operator launched with a segregated player pool that does not combine players with other rooms in the WSOP USA network as PA is not a part of any multistate agreements. However, this could change in the future as the legal landscape has changed quite significantly in the US.
WSOP

MI Joins the Fold

In the first quarter of 2022, WSOP went live with another licensed room, going live in Michigan. Just like in PA, the operator started off with a platform catering only to players physically present in the state, with the plans to expand when and if the legal climate allows for it and MI potentially enters agreements with other states that would allow for shared player liquidity.
Year
Legal Developments
Significance for

WSOP

USA

2013
Nevada and Delaware pass iGaming bills

WSOP

.com launches as one of the first online poker operators
2013
New Jersey regulates online poker

WSOP

NJ goes live as one of two poker sites at the time
2014
NV and DE pen the first multi-state agreement
The operator is allowed to combine player pools from two sites
2017
New Jersey joins the

MSIGA

The

WSOP

USA

network is born, combining player pools from three regulated states
2018
Pennsylvania passes iGaming bill
888,

WSOP

USA

interactive partner, acquires PA iGaming license in 2020
2019
Michigan regulates online poker

WSOP

announces plans to launch in the state
2021

WSOP

PA goes live

WSOP

rolls out its new Poker 8 client in Pennsylvania
2022

WSOP

MI launches

WSOP

joins the MI market
WSOP

in the

USA

Highlights

Being one of the first online poker sites to go live, WSOP USA has played a significant role in the overall development of the regulated poker market in the States.

Soon after launching in Nevada in 2013, WSOP.com helped the state reach the new high in terms of player traffic. At the time, the only other site operating in NV was Ultimate Poker, but that operator withdrew from the market in 2014.

Initially, WSOP experienced some difficulties with geolocation services and player verification systems. While inconvenient, these problems were quite expected in the new environment and would be ironed out later down the line.

In November of 2013, WSOP.com went live in New Jersey. Shortly after, the operator announced the New Jersey Online Championships Tournament Series featuring a guaranteed prize pool of $1,000,000. For the early days of online poker in the States, this move by WSOP USA was rather impressive.

In the next year, WSOP NJ would assert its leading position in the New Jersey market, topping cash game traffic charts.

In 2015, WSOP USA has ticked off another important milestone, setting up the first-ever bracelet awarding event to take place online. While today this does not seem like such a big deal, the $1000 online tournament offering an actual WSOP bracelet was a huge development.

In the end, the first-ever WSOP US online event attracted 905 players and was won by Anthony Spinella, who took home just shy of $198,000 alongside his very first WSOP bracelet.

In the following years, WSOP continued to add more online events. In 2017, the amount of money awarded in online bracelet tournaments exceeded $3,000,000.

Of course, the year 2020 was, beyond doubt, the biggest one for the USA WSOP online branch. Having moved the entire World Series of Poker online, the operator saw a huge surge in traffic over the summer.

A grand total of 31 events took place on WSOP/888 with a total prize pool in excess of $26.8 million. The biggest prize pool was generated in the $1000 NLH Championship event: $2,019,700, while six tournaments had prize pool in excess of $1,000,000.
WSOP

2020 Online Bracelet Events Stats
Bracelet Events Ran – 31
Total Prize Pool Generated – $26,871,265
Avg Prize Pool – $866,815
Avg Buy-in – $802
Biggest Prize Pool – $2,019,700 (July 31 – Event #31

NLH

Championship $1000 Buy-in)
No. of Events with $1 Million Prize Pools – 6 (Events #10, #12, #14, #26, #29, #31)
Total First-Place Prizes – $4,718,447
Average First-Place Prize – $152,208
Total Entries – 44,179
Avg Entries – 1425
Total Places Paid – 6582 (excluding knockouts)
Biggest Turnout – 2545 (July 19 – Event #19

NLH

$400 Buy-in)
Total Rake Collected – $2,325,746
Future of
WSOP

in the

USA

WSOP USA certainly has a bright future ahead. With its position pretty much set in New Jersey and Nevada, the operator will look to expand to other regulated markets. Their recent launch in Pennsylvania is a clear indicator of the path the company plans to take moving forward.

That path was further confirmed with the operator going live in Michigan in 2022, clearly looking to become present across all regulated US markets.

Being the largest online poker network in the States, WSOP in the US is particularly interested in what happens with the Wire Act. Should PA and MI enter a multi-state agreement with NJ and NV, this would create massive opportunities for WSOP/888. With the infrastructure already in place and the experience behind them, these two operators could create a very strong online poker network.

As for other states currently awaiting regulation, it is too early to say. Once legal obstacles for interstate compacts are removed, WSOP USA will probably seek to enter as many markets as possible. This might even include West Virginia, the only state that has regulated online poker but no poker operators to speak of due to the limited market size.
WSOP
USA
FAQ
Can I play online poker with
WSOP

USA?

Yes, you can play online poker in the United States via WSOP.com. The operator offers an online poker platform powered by their interactive partner 888.
What states is
WSOP

US licensed in?

As of right now, WSOP in the US has a presence in Nevada, New Jersey, Pennsylvania, and Michigan.
Does
WSOP

USA

share player pools between different states?

All currently active US WSOP poker sites share liquidity with each other and with 888 sites. WSOP PA players currently have to play in ring-fenced market, at least for a little while, and this is also the case for WSOP MI.
Can I play for actual
WSOP

bracelets on US

WSOP

online poker sites?

Yes, WSOP in the US offers plenty of opportunity to play for WSOP bracelets online. In fact, in 2020, the entire series was moved to the online environment due to unforeseen circumstances. However, even in a normal situation, there are several bracelet-awarding events on WSOP.com sites every year.
Do I have to be a resident of the United States to play on
WSOP

USA

online sites?

Yes, you need to have a physical address in the US and a SSN to be able to register with WSOP.com and play for real money.
Can I travel from Europe to play the online World Series of Poker in the US?
The only way to play on regulated WSOP US sites is if you are a resident of the United States. If you travel to the States as a tourist, you will not be able to register and play for real money, even if you are in one of the states where WSOP USA poker sites are available.
Latest WSOP US News
---
---
---
---
---
---
---
---
---
---