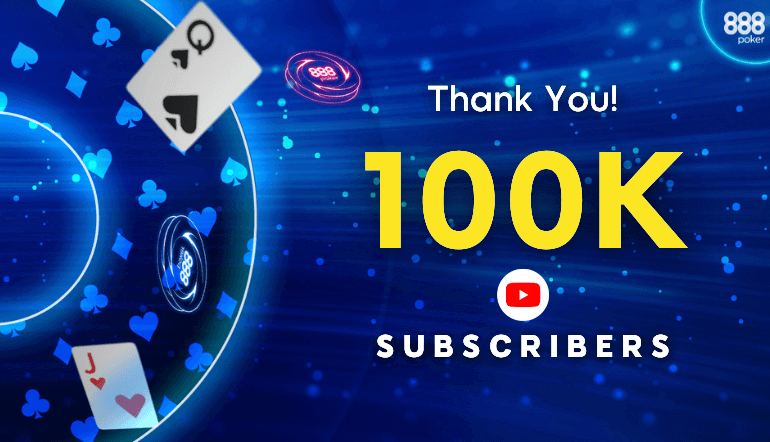 The public is watching 888poker, and the evidence is clear from its recent milestone of 100,000 subscribers for its YouTube channel. In response to the operator's 20th year of online poker operations last year, 888poker ramped up its media presence, and the results are clear.
Decades ago, poker came of age in the dark corners of smoke-filled backrooms. Players shunned the spotlight, preferring to stay in the shadows while playing a game many saw as questionable. That all began to change when Doyle Brunson stepped out of the shadows after two straight World Series of Poker Main Event wins, and poker emerged into the media spotlight.
Fast forward four or five decades, and poker is all over the new media landscape. Whether it is Twitch or YouTube, there is more poker content in the new media world than any viewer can manage. Among the operators to push forward into the new media is 888poker, recently hitting 100k subscribers on its YouTube channel.
To celebrate the milestone, the operator is thanking its players with a shot at a share of $5000 in free money. Details will be forthcoming on the 888poker channel, so stay tuned to find out how to get into the $5k free game.
Meteoric Media Rise
100,000 subscribers on YouTube is an achievement only a few creators manage to hit. In part, the success is due to a growing media presence for poker in general, with a backroom game that was once played in the shadows emerging into the spotlight, first on TV through the original poker media darling Brunson, then through the meteoric rise of Chris Moneymaker and the game on ESPN.
Since the early to mid-2010s, poker has taken great advantage of new media formats online, with rapid growth in both Twitch and YouTube content from individual players and commercial operators. 888poker got into the game in a big way over the past few years, beefing up its online media presence with a reinvigorated Stream Team in 2021, additions to its stream team like Ian "Simpioni" Simpson in 2022, and the launch of 888pokerTV on Twitch and 888poker on YouTube, among other moves.
$5k Worth of Thanks
The 100k milestone on YouTube is just another example of a meteoric media rise from 888poker, but the operator wants to thank players and viewers for their support. To sweeten the deal, the room has tossed $5000 into the prize pool of an exclusive freeroll game on Feb 4.
What: YouTube 100K Subscribers Celebration Freeroll
When: Saturday, 4th February @ 20:30

GMT

How Much: $5000

GTD
The password for this special freeroll will be released exclusively to the operator's YouTube viewers in the 'Community' section. Subscribe and turn on notifications to ensure notification when the password is released.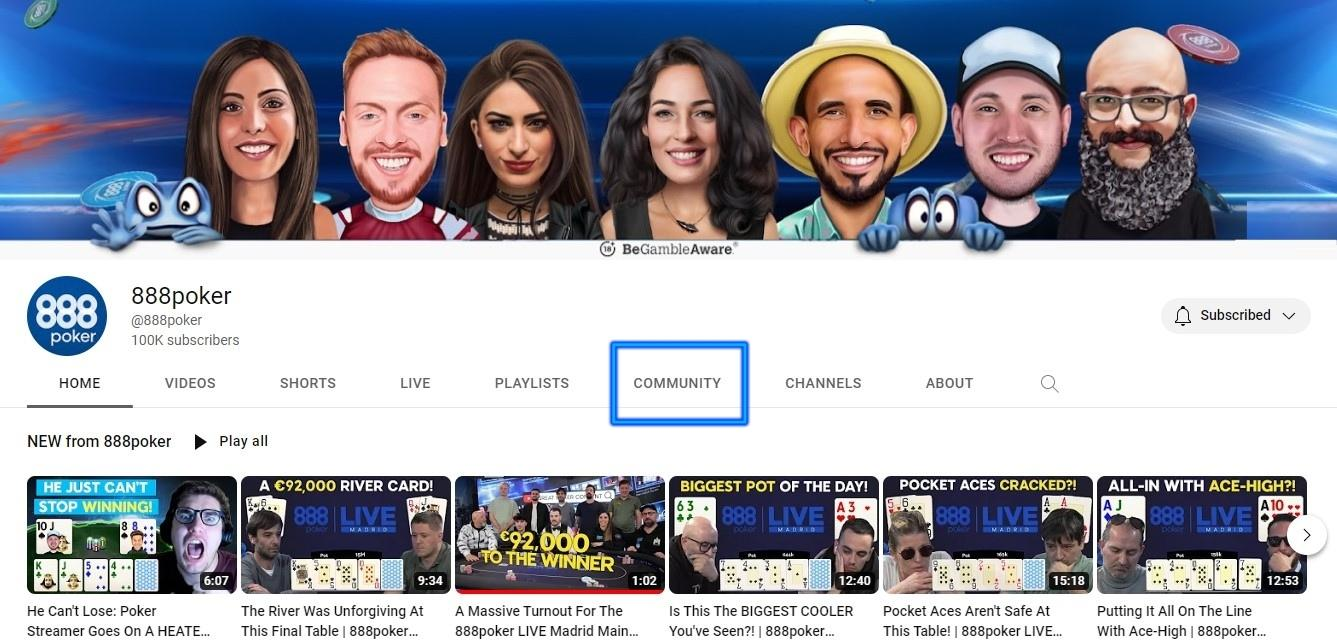 Education and Entertainment
The 888poker YouTube channel has something for everyone. With content ranging from high-level poker instruction from some of the operator's best players to engaging features on upcoming live stops, there is much to choose from on the 888poker YouTube channel.
Poker Tutorials & Ask A Poker Pro
Viewers of the 888poker YouTube channel get some pretty valuable poker content for free. Among the free content offered are detailed tutorials on various aspects of poker, perfect for newcomers looking to beef up their game.
More detailed or specific poker problems are addressed on the Ask a Pro segment, where 888poker pros like Vivian Saliba, Ian Simpson, and others answer viewers' questions on specific poker spots and general theory.
Focus Fridays & Made to Learn
There is also content focused on specific poker topics with in-depth detail to satisfy viewers' curiosity. On Focus Fridays, Team888 ambassadors and streamers strip back the mystery of poker, while Made to Learn focuses on strategy tips.
Blast Off
As the name suggests, Blast Off is straight-up fun. Team888 players go head-to-head playing Blast SNGs, with the glory and bragging rights going to the player who notches up the most wins. It is a raucous affair, with the pride at stake seeming more important than the money on the line and players ramping up the needles as the games blast off.
Viewers will find even more value on the 888poker YouTube pages — there is also exciting live content and interesting features that add color to the channel. There are 5000 reasons to subscribe and get involved in the upcoming freeroll, but 888poker on YouTube will continue to provide a lot of lasting value to poker players.