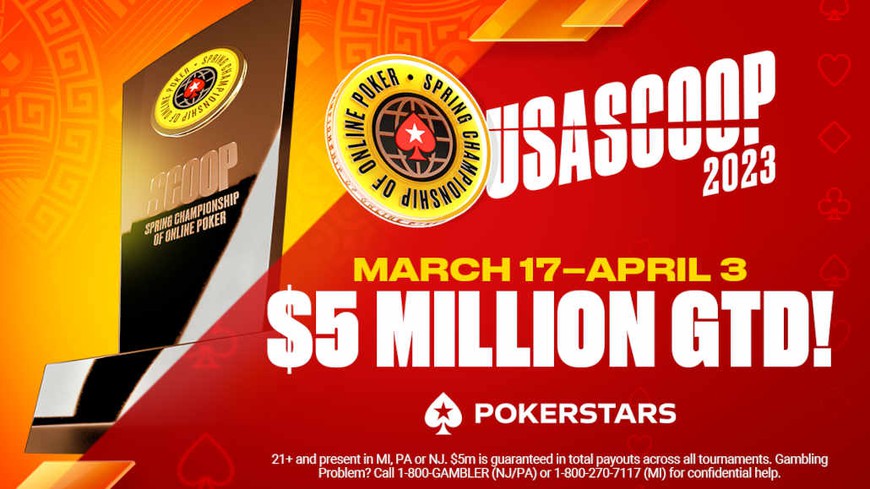 The biggest USASCOOP in history is now in the books as the final games in the series played out on PokerStars US on April 3. This was also the first-ever USASCOOP played in the newly combined market of New Jersey and Michigan, which no doubt helped contribute to more than 30% extra in total prizes.
There were two streams of action in USASCOOP this year. The newly created multi-state network comprising NJ & MI got off the ground at the beginning of 2023 — the first multi-state player pool built since WSOP joined New Jersey with Nevada and Delaware in 2017. The NJ/MI series ran its games alongside a similar schedule in the still segregated market of Pennsylvania.
This year's USASCOOP was the most monumental edition of the iconic series ever. With $5 million guaranteed between the two jurisdictions, it would always be a big one, but when the dust settled, over $6.7 million in total prizes were awarded.
Among the highlights from the waning days of the series were two huge events in each market, all four of which broke their guarantees. The four big games at the end of the series ended with more than $30k over the total guarantees of $725k.

Last verified: August 2023
Great Welcome Bonus!
100% deposit bonus up to $600!
Play one hand & get $100 in bonus play funds
Top-quality mobile app
Best online

MTT

schedule
Please play responsibly. If you or someone you know has a gambling problem and wants help, call 1-800
GAMBLER
.
Biggest
USASCOOP

Ever Crushes Guarantees

This year was the biggest USASCOOP ever, with more than $5 million in guarantees when the series began and more than $6.7 million collected by the end. In part, the size of this year's series is a natural progression of bigger and bigger events every year, but a large amount of this year's success comes from the player pool merger between New Jersey and Michigan.

That created the single biggest market in the US with a total population of almost 20 million people, taking the title from Pennsylvania's ~13 million people (which is on par with the size of the combined WSOP market of NJ, NV, and DE). With the biggest player pool, the new multi-state PokerStars client had the biggest USASCOOP, with $3 million guaranteed compared to $2 million in PA.
PokerStars

USA

SCOOP

2023 Summary
Michigan/New Jersey
Pennsylvania
Series

GTD

Overall
$3,000,000
$2,000,000
Events
126
126
Main Event

GTD

$300,000
$200,000
Lowest Buy-in
$10
$10
Highest Buy-in
$2500
$2500
As the final games convened on the first weekend of April, there was already almost $6.2 million in total prizes over guarantees of just $4.82 million. The last events added to that enormous total, with about 5% extra in prizes across the four largest tournaments.
The headline performer on the final weekend was the PA Main Event. With triple-sevens for a field, it was almost 9% over the $200k guarantee. The NJ/MI Main Event also did well, with 3.84% extra in prizes awarded.
Phased tournaments have been a big thing in online series of late, and the Phased games of USASCOOP also did well. Phase II of both jurisdictions played out on the series' final weekend, with both games breaking their guarantees.

Last verified: August 2023
Great Welcome Bonus!
100% deposit bonus up to $600!
Get $100 in casino bonus after wagering $1
Great variety of gaming options
Quality player rewards program
Claim Signup Offer
Please play responsibly. If you or someone you know has a gambling problem and wants help, call 1-800
GAMBLER
.
2023

USASCOOP

Big Games from Final Weekend
| State | Game | Guarantee | Prizes | Buy-In | Entries | % Diff |
| --- | --- | --- | --- | --- | --- | --- |
| PA | Main Event | $200,000 | $217,560 | $300 | 777 | 8.78% |
| PA | Phase II | $100,000 | $101,531 | $100 | 1106 | 1.53% |
| NJ/MI | Main Event | $300,000 | $309,680 | $300 | 1106 | 3.23% |
| NJ/MI | Phase II | $125,000 | $129,805 | $100 | 1414 | 3.84% |
With the total prizes pushing near $7 million, the 2023 USASCOOP continues to grow year-over-year. The 2022 edition — the final USASCOOP in three individual markets — saw $6.4 million in total prizes, meaning the $6.7 million of 2023 is an increase of 8% over last year.
A good portion of that 8% is down to the vast new market of 20 million possible players, but as the results from the PA Main Event show, the Pennsylvania market is also thriving. This beefed-up version of USASCOOP for 2023 bodes well for the success of this fall's USACOOP.
Check for the latest PokerStars US No Deposit Bonus, then create your account and get in on the action!