PokerStars is the world's largest and probably best-known online poker operator. The operator dealt its first hands of real money online poker in 2001 and has built its stellar reputation and global presence in the decades since. It has led the market since with its best-in-class online poker product, superb mobile app, and top-class technical support.
In this in-depth and unbiased guide to all things PokerStars US, we'll compare and contrast the operator's three poker rooms — PokerStars MI, PokerStars NJ, PokerStars PA.
PokerStars is currently live in three US states. As of Jan 1, 2023, PokerStars NJ and PokerStars MI have started to share their player pools, creating the operator's first multistate network. In the near future, it is likely Pennsylvania will join the MSIGA, and there is little doubt that PokerStars will jump at this opportunity and combine player pools across all three regulated markets it currently has a presence in.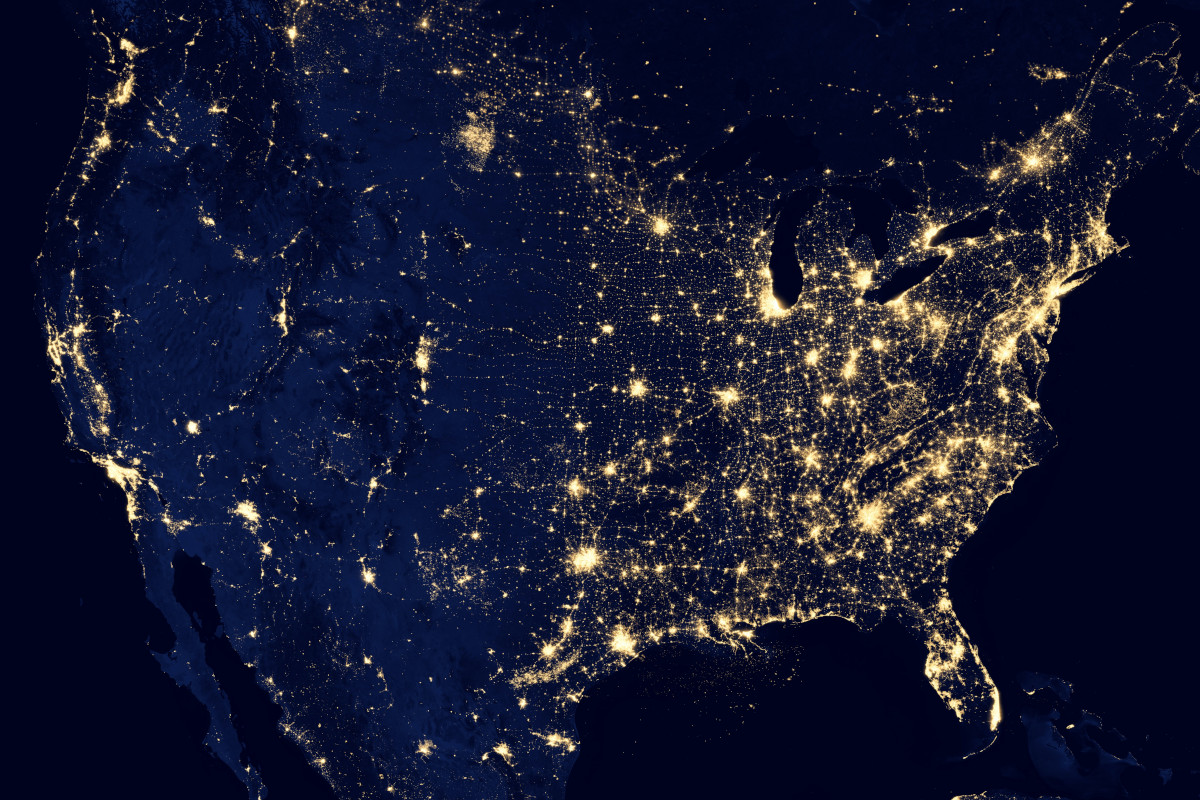 PokerStars US Welcome Bonus
PokerStars offers an identical welcome bonus for new players across all its currently active sites (PA, MI, and NJ). The welcome package contains two distinct offers, one geared towards casual players looking to get some extra value on a small deposit, and the other targeted at more serious grinders with bigger bankrolls.
$100 in Free Play
Players looking to get a bit of a boost when signing up with PokerStars US, but not wanting to risk too much money, can go for the first welcome offer. It gives you a chance to claim $100 worth of free play (combination of Spin & Go tickets and casino money), and all you have to do to qualify is opt-in and play a single cash game hand at any stakes.
The offer is available only to those new to PokerStars US. After you create your account and log in, make sure to proceed to the Challenges section. From there, opt in for the offer, and you will be good to go.
It is important to note that this bonus does not require any real money deposits. However, you will need enough funds in your balance to buy into one of the cash game tables and play a single hand. The easiest way to do this is by making the minimum deposit.
After you had qualified, the tickets will be issued as follows:
2x$5 Spin & Go ticket immediately after qualifying
50 free spins for casino slots on Day 1
2x$5 & 1x$10 Spin & Go tickets on Day 2
$10 casino bonus on Day 3
2x$10 Spin & Go tickets on Day 4
$30 casino bonus on Day 5
It is important to mention that the bonus offer is valid only for five days after creating your real money account, so you will need to make sure to opt in and play the qualifying hand within that period if you want to take advantage of this opportunity.
100% Match up to $600
Players looking to get a bigger boost on a larger deposit will probably want to go for a more traditional deposit match bonus. PokerStars US offers a 100% boost up to $600 to all new depositors, and to claim this offer, you will need to use the code STARS600 with your first deposit.
The good news is that the bonus is applied to the first three deposits, not just the initial one. So, if you make three deposits of $200 each, you will still get the full value of the bonus ($600). This is quite handy if you want to get into the action but do not have the full amount available. You can still get started with a smaller deposit and not lose out on any value.
Bonus funds are, as always, added to the restricted balance and gradually moved to your real money account. For every 140 redemption points earned playing on the relevant PokerStars US site, $10 will be moved from the bonus balance to your cash balance.
Added Value With First Depositors Freerolls
PokerStars US offers some extra value to all new players in the form of freeroll tickets. All depositing players receive entries to these restricted freerolls, regardless of the size of the deposit and what bonus option they go for.
While these freeroll tournaments do not have huge prize pools, they are a nice addition to the whole package, especially for lower stakes players. With a bit of luck, you can easily add a few extra bucks to your bankroll while enjoying free poker action and brushing up your tournament skills.
PokerStars US offers a variety of promotions. Depending on what your preference may be, the operator provides different types of leaderboards, competitions, boosted prize events, and other added value happenings that you will want to take part in.
Freeroll Tournaments
As a tournament-focused site, PokerStars US features frequent freerolls open to players under different requirements. Getting involved with these can be quite valuable, as some of them have generous prize pools and award tickets to bigger events, including those available during major series hosted in all three markets.
Missions
Players can also get involved with Missions. These are interesting tasks that require you to play different formats of real money poker and achieve certain goals. These vary in difficulty, as some Missions are very easy to complete, while others can take a while.
Either way, getting involved with these is valuable, as you will pick up additional bonuses and special rewards along the way. It is up to you if you want to stick to the Missions related only to your preferred format or if you want to challenge yourself and take on some different ones as well.
PokerStars US Rewards
Those putting in the most of their play at PokerStars US will get to enjoy the benefits of a rather unique rewards program. Named simply Stars Rewards, the program is not poker-specific as it encompasses your play across all products (casino and sports betting included), but the operator does a decent job of personalizing the rewards you receive based on your preferences.
The Stars Rewards program may feel a bit complicated at first, so we are bringing you a breakdown of the most important points to keep track of:
You collect Rewards points with all real money play (MTTs, cash games, spin & goes, etc.)
As you collect points, you will fill up your Progress Bar
Once you fill up the bar, you will unlock the next reward
Your reward is contained in a Chest and it can be StarsCoin (which you can use in the loyalty store) or Free Play you can use on the tables
Rewards Points & Chests
As mentioned, you will fill collect Rewards Points for all your play on PokerStars US products. When it comes to poker, you will be awarded 100 Points for every $1 in rake paid. For sports betting and casino games, the exact amount of points will depend on different factors, such as the game's RTP, betting odds, etc.
There are six different chest levels you can obtain, and as you climb the ranks and clear new levels, you will gain access to better rewards. Chests are distinguished by colors, as follows:
Blue: Rewards between $0.36 and $6
Bronze: Rewards between $0.72 and $12
Silver: Rewards between $1.89 and $30
Gold: Rewards between $6 and $100
Diamond: Rewards between $15 and $250
Black: Top level — rewards between $42 and $700
PokerStars US Tournaments
On the international level, PokerStars has built its name and reputation as the go-to site for tournament players. The operator transferred this experience and know-how to the United States, building an excellent tournament offering across all markets.
MTTs
Whether you live in Pennsylvania, Michigan, or New Jersey, you will find numerous exciting series with big guarantees happening throughout the year, such as:
'

COOP

events:

NJCOOP

,

MICOOP

,

PACOOP

SCOOP

series:

PASCOOP

,

MISCOOP

,

NJSCOOP

Winter Series
There is also a rich daily and weekly MTT schedule available on all platforms. PokerStars US features a variety of tournaments for all buy-in levels, so whether you are a serious professional or a recreational player with a small bankroll, there is more than enough to keep you busy.
With PokerStars MI and PokerStars NJ combining player pools, the operator is able to offer even bigger and more attractive single events and series, which will further help make PokerStars US the number one pick for all tournament players in the country.
Spin & Gos
Most online poker players are well familiar with the concept of jackpot sit and goes. These have been gaining popularity over the years, and today, they represent the most popular sit and go format in existence.
At PokerStars US, this format is known as Spin & Go, and you will find these games offered on all three sites. There is a special Spin & Go lobby available in the client, making it easy to register for the tournaments, and every game starts as soon as three players have registered.
The top prize is determined randomly at the start of each tournament. It can be as low as 2x the buy-in or as high as 1000x the buy-in, the latter being the main reason why so many players are attracted to this format.
There are Spin & Goes for every pocket. Buy-ins start at $1 and go up to $25, so it is up to you to decide what games you are the most comfortable with. It is worth noting that, every now and again, there will be special Spin & Go events, where the maximum prize will exceed the 1000x.
PokerStars US Spin & Go buy-ins & prizes
| Buy-in | Min Prize | Jackpot |
| --- | --- | --- |
| $1 | $2 | $1000 |
| $5 | $10 | $5000 |
| $25 | $50 | $25,000 |
PokerStars US Cash Game Action
While tournaments may be bread and butter of PokerStars US, cash game players will find plenty of action as well. Most importantly, the operator is one of the leaders in terms of traffic in all three markets, which means there is never lack of players and there are always seats open. This has been especially true since New Jersey and Michigan rooms have combined their player pools, creating an even healthier and richer ecosystem.
The range of stakes very generous as well. You can start playing as low as $0.01/$0.02 and move all the way up to $10/$20. There are even higher games running on occasion, but these are the stakes get the most traffic.
For those who do not like waiting around for the next hand, PokerStars US also offers its popular Zoom Poker, where you are dealt into the new hand as soon as you click the fold button. Stakes go up to NL/PLO200, but the player numbers in these games have traditionally been lacking. Once there is shared liquidity between PokerStars MI and PokerStars NJ, this is very likely to change, though.
Another great thing about the PokerStars US platform that helps the operator stand out from the competition is the variety of games on offer. PokerStars covers all the popular (and not-so-popular) poker types, including:
No-Limit Holdem
Pot-Limit Omaha
Omaha 8
Seven Card Stud
2-7 Triple Draw
Razz
6+ Hold'em
Mixed Games
There is a good range of stakes for these other games, too, so if you are looking to master a new format without breaking the bank, this is the only platform in the US where you can do so.
Cash game games & stakes at PokerStars US
| Game Type | Min Stakes | Max Stakes |
| --- | --- | --- |
| No Limit Hold'em | $0.01/$0.02 | $25/$50 |
| Pot Limit Omaha | $0.01/$0.02 | $25/$50 |
| Mixed Games | $0.25/$0.50 | $100/$200 |
How to Sign Up for PokerStars US
At the moment, PokerStars is available in Pennsylvania, Michigan, and New Jersey. You can register for a PokerStars US account from anywhere in the country, but you will need to be physically present within a particular state to be able to play. The signup process itself is very easy:
Visit the PokerStars US page
The geolocation software should redirect you to the relevant site, but double-check you are on the site you wish to sign up for (NJ, MI, or PA)
Click on the green 'Join' button in the top right corner
Fill in the forms with your personal details & choose your username
Confirm your email
Log in and navigate to the Cashier to claim your bonus & start playing
PokerStars US Software
If there is one thing that has helped PokerStars establish its position as a leader in online poker worldwide that would be their software. PokerStars has one of the best, most advanced software platforms, and they brought that platform to the United States.
The PokerStars platform stands out in every important aspect that matters to recreational players and pros alike. It is highly customizable, quite stable, and overall, quite player-friendly.
Functionality
The first and perhaps the most important aspect of an online poker platform is its functionality. This encompasses the overall usability, stability, and support for different operating systems and devices.
PokerStars US stands tall in all of these aspects. The operator's software is very stable and regularly updated, so you will rarely experience technical issues during your sessions. Even when some issues happen, the support is usually quick to react and resolve them in players' favor.
The software can be installed on a variety of devices powered by Windows and iOS, so you should have no problems there, either. The download and installation process is quick and simple, and you can choose a few options during that procedure already, such as choosing from many different languages.
Reliability
Serious bugs are virtually nonexistent on the PokerStars US platform. While you may find videos online showing some strange glitches, these are freak occurrences rather than a rule. As far as reliability goes, PokerStars leads the way.
Any bugs that do appear are addressed quickly and efficiently. Players can easily report them to the customer support via email and social media platforms. From here, technical teams will take on and do their job to patch things as quickly as possible.
It is also worth noting that the operator tries to maintain fair and player-friendly policies when there are some technical difficulties at play. Money is refunded quickly and tournament prize pools distributed fairly (or at least as much as possible).
Appearance
On the visual side of things, PokerStars US has a lot to offer as well. The platform features many customization options, giving you a chance to make it your own, with different table backgrounds, deck designs, and more.
For those that require more, there are also sound options and different animations that you can easily turn on and off. While these can make the software run slower if your computer is not powerful enough, they can add to the overall experience for recreational players.
PokerStars US Mobile App
Just like the desktop software, the PokerStars US mobile app is a state-of-the-art product. It offers one of the best experiences for those who want to play poker on the go, offering full access to everything you could possibly need.
You can use the app to deposit, withdraw, contact customer support, and join the full range of tournaments, cash games, and spin and goes. There are no limitations, and you can even play up to five tables at once with ease. The app has a very good alert system to help ensure you never time out or miss your turn.
The app is available for Android and Windows phones as well as iPhones and you can easily download it to get started whether you already have an account or need to register for one.
Banking
Like all licensed sites in the US, PokerStars features a good selection of safe and reliable payment options. You can pick based on your preferences and rest assured that whatever you choose, your money and your personal information will remain fully protected.
The operator takes things a step further, giving you access to a range of responsible gaming tools, allowing you to set deposit and loss limits, and giving you full control over your gaming habits.
As for the banking options available on the site, these are some of the most popular options you will find offered across all three sites.
| Payment Method | Deposits | Withdrawals |
| --- | --- | --- |
| MasterCard | Yes | No |
| Visa | Yes | No |
| Paysafecard | Yes | No |
| PayPal | Yes | Yes |
| Skrill | Yes | Yes |
| Bank Transfers | Yes | Yes |
PokerStars US Safety & Fairness
PokerStars US is fully licensed and regulated in three US states at the moment, with the goal to expand to other markets when the opportunities present themselves.
PokerStars NJ is regulated by the New Jersey Division of Gaming Enforcement (

NJDGE

)
PokerStars PA is regulated by the Pennsylvania Gaming Control Board (

PGCB

)
PokerStars MI is regulated by the Michigan Gaming Control Board (

MGCB

)
All state regulators require poker rooms to adhere to very strict rules and they closely monitor the operators' activity. Furthermore, you can always lodge a complaint with a regulator if there is an issue that you cannot resolve on with the room, which adds an extra layer of safety.
PokerStars US utilizes one of the most advanced Random Number Generators out there as well, based on a completely new and unique technology, guaranteeing that every hand you play is completely random and impossible to predict.
PokerStars in the US
PokerStars US was initially refused entry to the regulated US market because it decided to continue catering to American players after the passage of the UIGEA. However, the company eventually made it into the regulated market in the States, where it has continued to grow and prosper, as one of the biggest brands in North America.
The first US PokerStars site to go live was PokerStars New Jersey, which launched in 2016. After that, the operator launched PokerStars Pennsylvania in 2019, followed by the launch of PokerStars Michigan in 2021. In each state, PokerStars came hot out of the gates, usually being the first site to launch, and proving itself to be a force to be reckoned with, rising to the top of each market and holding tight to that number one spot.
As of 2023, PokerStars US operates three state-regulated rooms. These are:
All three rooms share many similarities, the most notable being the same software used across all regulated markets. As of Jan 1, 2023, PokerStars MI and PokerStars NJ are sharing player pools, which means that players in both states can play together, entering the same tournaments and playing together at the same cash game tables.
However, individual rooms still also offer different tournament schedules, cash game limits, and game formats, so there are some differences to be aware of. We are bringing you a quick overview of all PokerStars US sites with links to in-depth reviews if you want more information.
Check out PokerStars US in action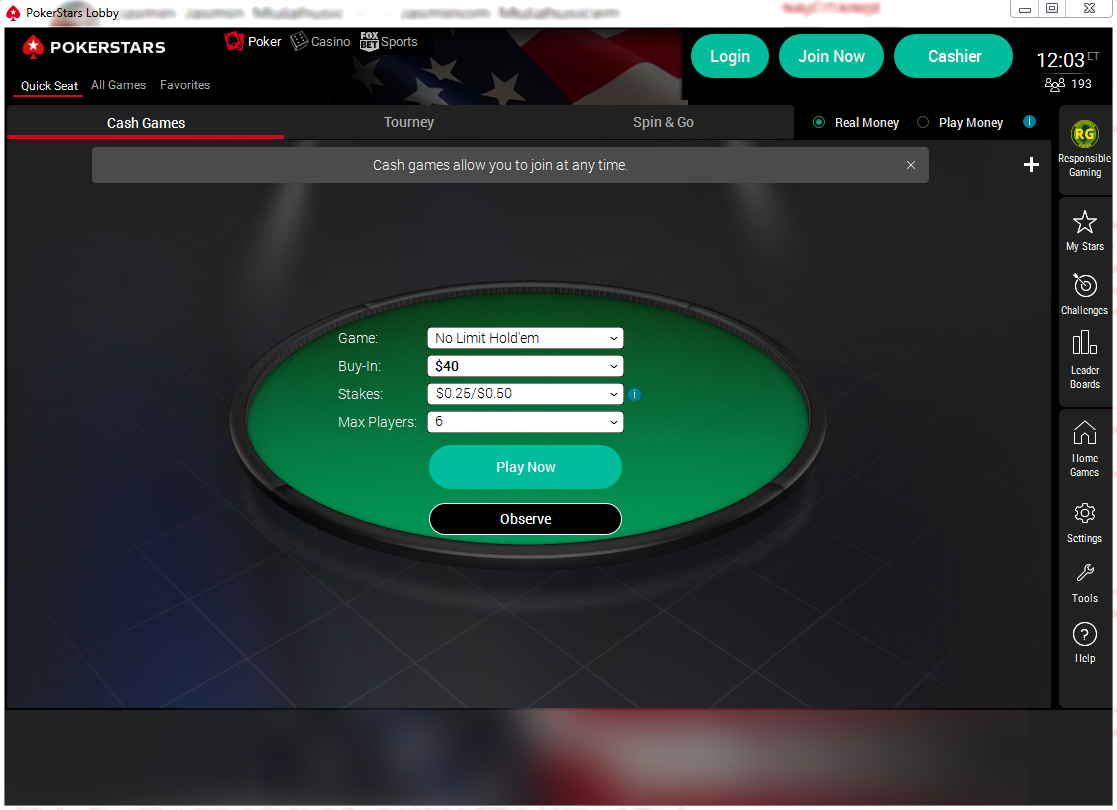 PokerStars New Jersey was the first PokerStars site in the US to go live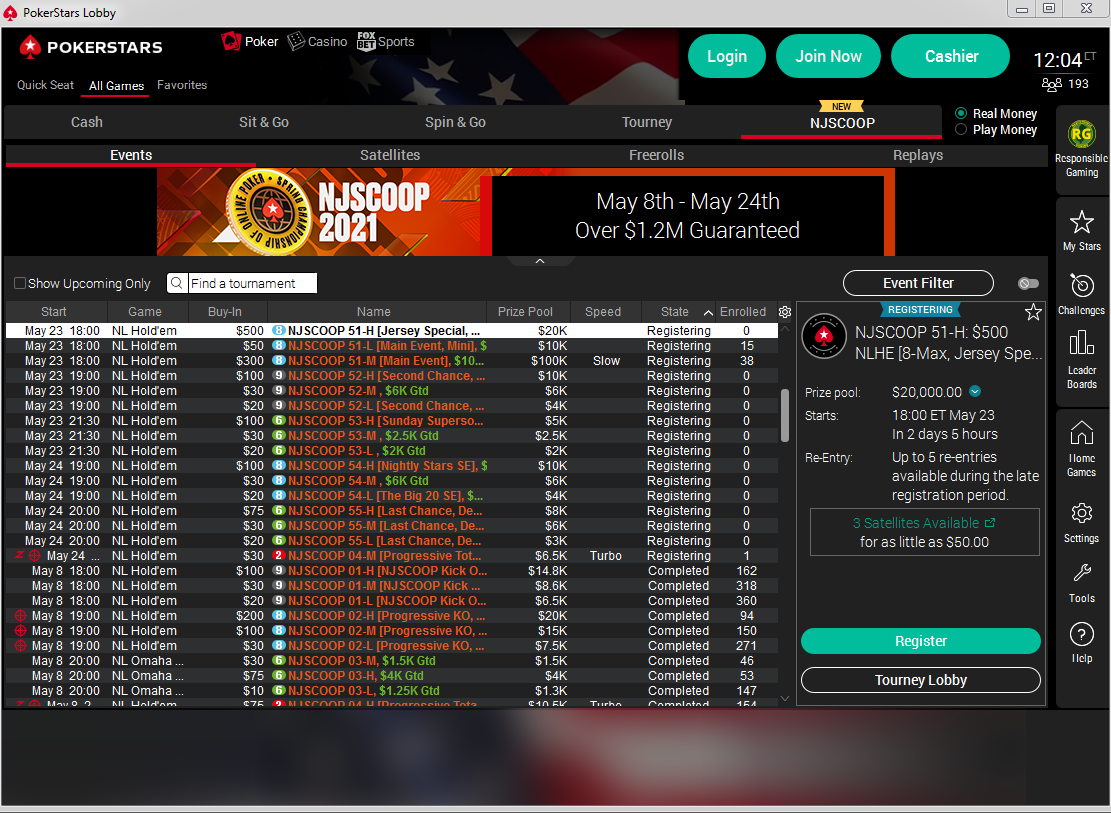 NJSCOOP

powered by PokerStars NJ is one of the largest online series in the state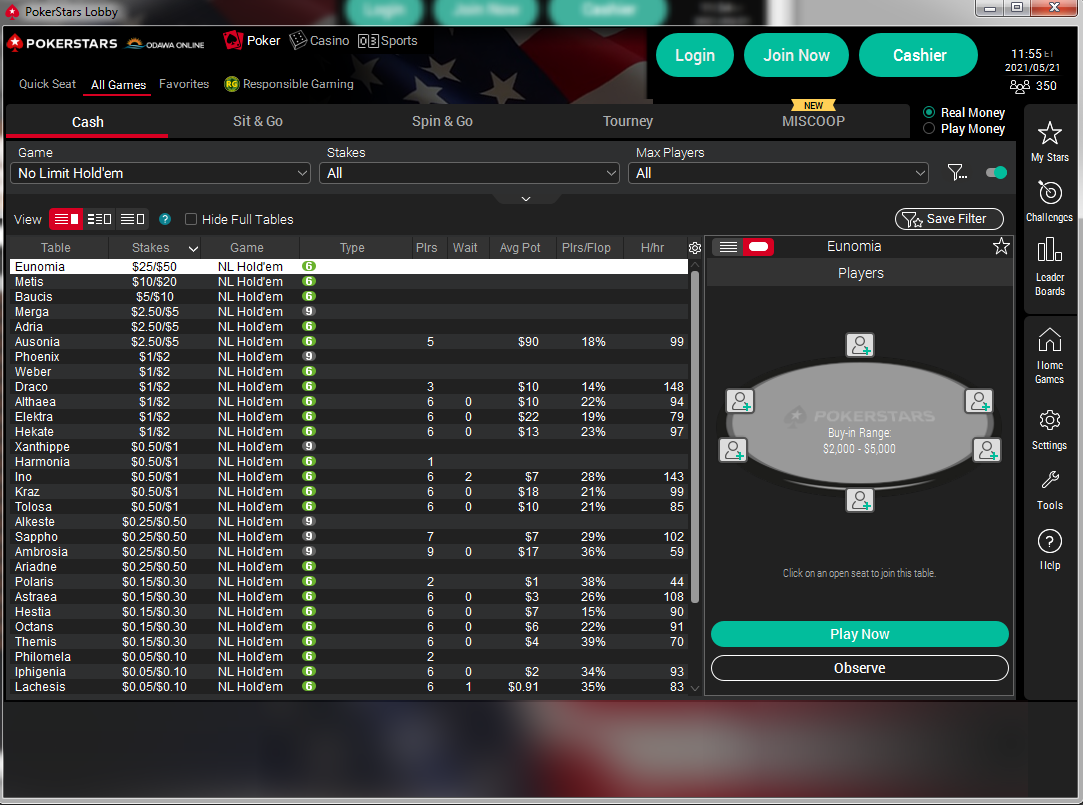 PokerStars MI offering a nice range of cash game stakes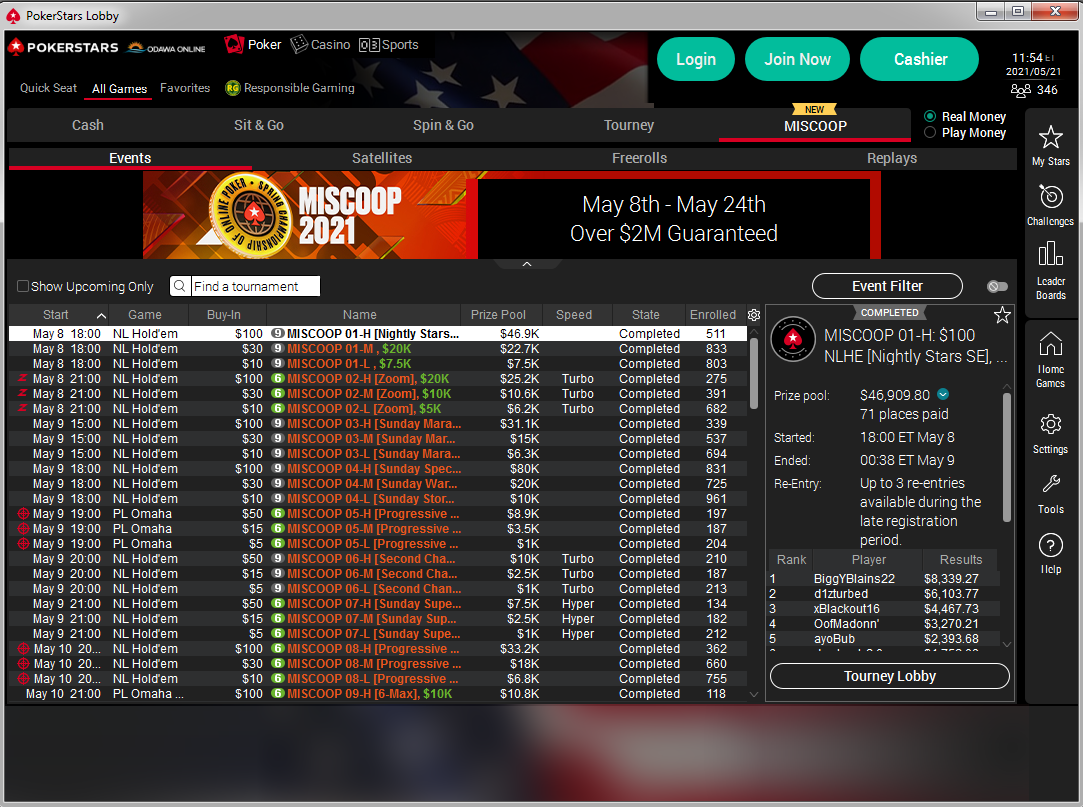 MISCOOP

in full swing at PokerStars Michigan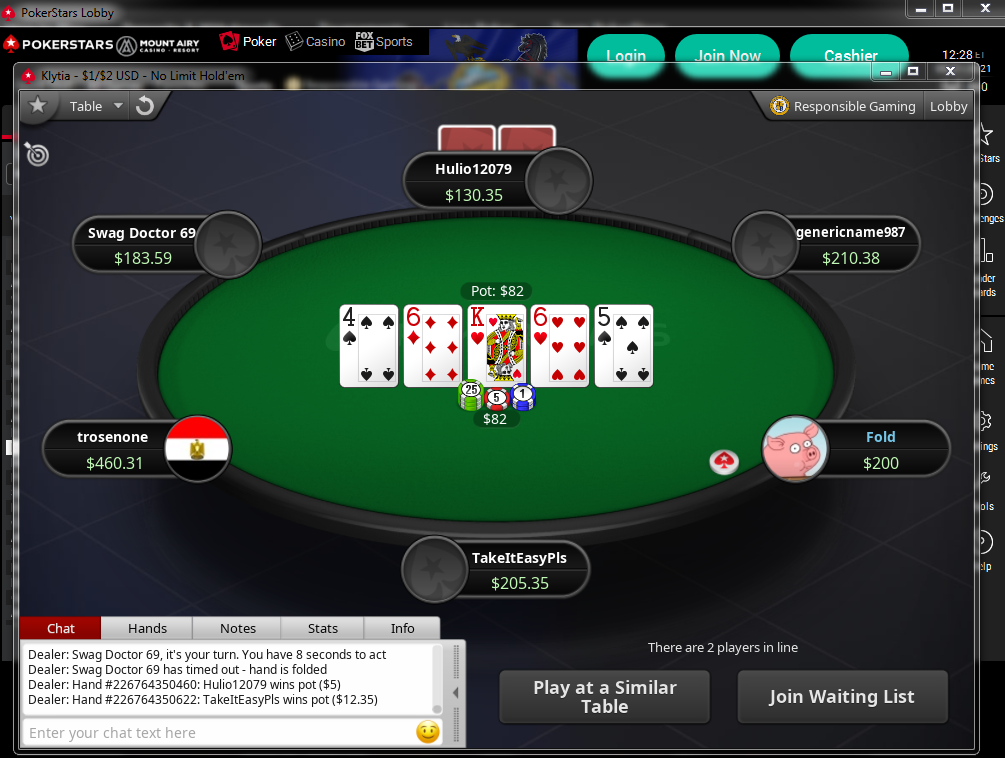 Lively cash game action at PokerStars PA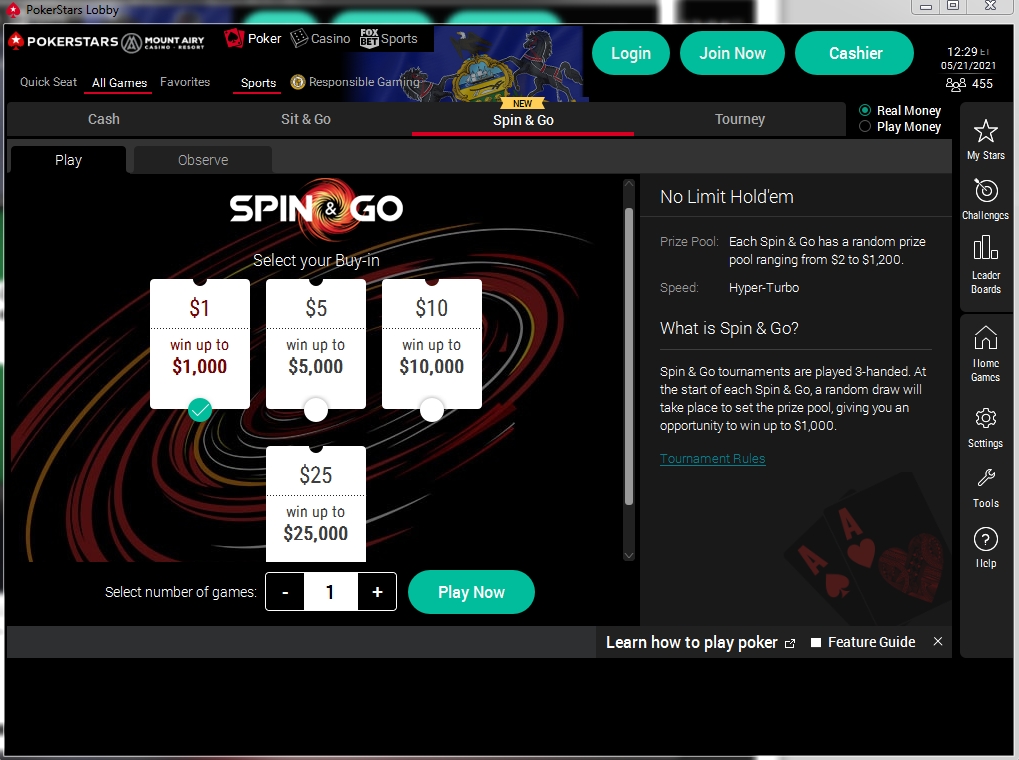 PokerStars PA offers Spin and Go torunaments with prizes up to 1000x the buy-in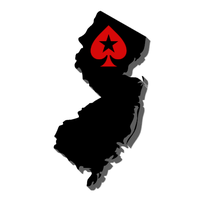 PokerStars NJ was launched in 2016 after the company was finally given the green light to apply for the license, which was subsequently granted. It was a significant step into the young but promising regulated online poker market of the United States. Then, in 2023, PokerStars NJ combined its player pool with PokerStars MI, creating a much larger platform in terms of player traffic.
New players can choose from two welcome bonus options:
$100 worth of Freeplay funds after playing a single cash hand
100% match bonus up to $600 on the first deposit
The operator has brought some variety to the online poker tournament scene in the US. In addition to daily and weekly tournaments, PokerStars NJ is also home to a major tournament series — New Jersey Championship of Online Poker, or NJCOOP for short. The series traditionally features more than 50 events and more than $1,000,000 in guaranteed prizes.
Players in New Jersey also have access to Spin & Go tournaments, a hugely popular, jackpot-style format, offering a chance to win up to 1000 times the buy-in.
Regarding cash games, the New Jersey branch of PokerStars' US operations features several variations beyond Hold 'em, such as Omaha, Razz, Seven Card Stud, and Five Card Draw. Stakes range from $0.01/0.02 to $25/50.
Download the PokerStars NJ app and get in on the action or head to our comprehensive review to learn more about PokerStars NJ Real Money Poker »
After successfully operating in New Jersey for several years, PokerStars has expanded its presence in the regulated US market by acquiring a license to operate in Pennsylvania in 2019. This was the first and, at the time, only online poker operator in the state. The room's land-based partner is Mount Airy Casino.
New players here can also look forward to a nice welcome bonus, choosing between $100 in free play after playing just one cash hand or a 100% match up to $600.
Following on the experience from NJ, PokerStars PA continued to go strong with the tournament offering, creating PACOOP and PASCOOP, big online series offering a great selection of events and big prize pools across the board.
Tournament players enjoy an excellent leaderboard, offering additional prizes and motivation to keep the grind going.
When it comes to cash games, the range of stakes is similar to that found on other PokerStars US sites, i.e., from $0.01/0.02 up to $25/50. The selection of game variations is quite impressive, including Hold 'em, Omaha, Stud and Stud 8, Razz, 2-7 Triple Draw, 8 Game, and more.
Sign up for PokerStars PA and start playing or head to our comprehensive review to grab the latest PokerStars PA Bonus Code »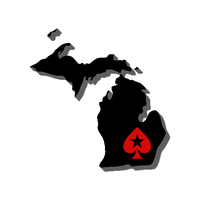 PokerStars MI was added to the US PokerStars presence in January of 2021, becoming the first regulated poker room in the state. A couple of years later, in Jan, 2023, PokerStars MI became the first operator to take advantage of Michigan joining the MSIGA and combined its player pool with PokerStars NJ.
Like the rest, the operator welcomes new players in style, with two welcome offers to choose from:
$100 in poker & casino free play, or
$100% up to $600 on the first deposit
The operator wasted no time launching the Michigan Championship of Online Poker (MICOOP), creating something for all tournament fans' in the state to look forward to.
Players also have access to the operator's trademark Spin & Go tournaments and a great variety of cash game options across all stakes, from Hold 'em and Omaha (including 5 Card Omaha) to Stud, Razz, 2-7 Triple Draw, and 8 Game tables.
Download the PokerStars MI app and get in on the action or head to our comprehensive review to learn more about PokerStars MI Real Money Poker »

Our #1 Rated US Online Poker Room
100% deposit bonus up to $600!
Play one hand & get $100 in free play funds
Top-quality mobile app
Best online

MTT

schedule
#1 Rated online poker room in the US by pokerfuse.com
Please play responsibly. If you or someone you know has a gambling problem and wants help, call 1-800
GAMBLER
.
PokerStars' Casino & Sportsbook Offerings
While PokerStars in the United States is primarily focused on online poker, the company took full advantage of its gaming licenses in the states they operate in, launching other products, namely casino and sportsbook.
Players do not have to make new accounts to access these different products. As long as they have a poker account with the operator in the particular state, they can also access all other available products.
PokerStars and Online Poker Regulation in the US
Following the events of Black Friday in April of 2011, the online poker environment in the US has changed dramatically. All major operators were forced to leave the market, leaving players with minimal options in the form of smaller, unregulated, and questionable international sites.
As bad as these events were for online poker, they did serve as the much-needed push for regulation. Regulating online poker on the federal level was not possible, but individual states could pass separate bills.
2012: US Online Poker Goes Live Without PokerStars
It all started in Nevada in 2012. Being the gambling hub of the US, it was hardly a surprise this was the first state to have regulated online poker. However, PokerStars US would have to wait for a few more years as Nevada's gambling bill included what is known as the "bad actors" clause.
In short, this meant that any operator that continued catering to US players after the passage of the infamous UIGEA (in October of 2006) could not apply for a license. PokerStars, as you might know, was one of these sites, as they only left the US after Black Friday.
Delaware was the second state to pass the iGaming bill, only days after Nevada. Delaware did not include the bad actor's clause in the law text, so there were no obstacles for PokerStars to try and apply for a gaming license. The operator did exactly that when the state lottery invited interested operators to apply in 2013.
However, the room failed to acquire the license as the Delaware Lottery decided to go with 888 and Scientific Games. So, PokerStars turned its sights to the only other regulated state at the time.
2016: First PokerStars US Site Goes Live in NJ
The first real opportunity for PokerStars in the US came with New Jersey. The state passed the online gambling legislation in 2013 and the bill's final language did not include the bad actor's clause. This meant that the room was free to apply for the license.
However, because of its past, the room still had to undergo a very rigorous process to acquire a license. The NJDGE took a full 14 months to review the application. Owned by Amaya during that period, PokerStars had to prove it was worthy of participation in the NJ regulated market.
In the end, the regulator was satisfied with the review results, which included sworn interviews with more than 70 individuals, and was granted the license in 2015.
But there were more issues to overcome. All state laws require online operators to have a physical presence in the state through a licensed brick-and-mortar venue, and NJ was no exception. So, before the company could start operating in the state, it had to purchase or partner up with a physical casino in Atlantic City.
After some back and forth and a failed attempt to buy a casino in AC, PokerStars has finally partnered up with the Resorts Casino. With that partnership in place and the gaming license issued by the NJDGE, the room went live in the state in March of 2016, setting the foundation for PokerStars in the US.
PokerStars NJ was late to the party to some extent as there were already several rooms operating in the state, namely WSOP NJ, 888, and Borgata Poker NJ.
2018 and Beyond: PokerStars Takes US Regulated Market by Storm
After initial enthusiasm, there came a rather long quiet period for online poker in the States. Looking to boost their numbers, the first three regulated states entered an interstate compact, allowing them to share player pools across state borders. However, not much else was happening.
Several states have been toying with the idea of online poker regulation, but there has been no real movement. Bills were proposed, rejected, and redrafted, but regulated online poker remained limited to the initial triumvirate.
Then, in 2018, Pennsylvania passed the all-encompassing online gambling bill, covering casino gaming, sports betting, and online poker. A year later, in 2019, the first online casinos went live in the states, and some months later, the state got its first online poker room in PokerStars PA.
Since there were no legal obstacles, the operator quickly took the opportunity and improved the presence of PokerStars in the US. PokerStars was the only online poker operator in the state for a couple of years, eventually joined by Borgata Poker PA and BetMGM Poker PA in 2021.
Michigan and West Virginia were the last states to pass online poker laws. Both states regulated online gambling in 2019. In Michigan, PokerStars was the first online poker room to go live in 2021.
Michigan joined the MSIGA in 2022, and PokerStars would become the first operator to take advantage of this development. After getting the necessary approval from the regulator, the room combined its player pool with PokerStars NJ, creating its very first multistate network that went live on Jan 1, 2023.
West Virginia still has no online poker despite the legislation. The size of the market is the most significant limiting factor. With a population of around 1.8 million, the state does not represent a big enough opportunity for major operators to apply for a license.
Year
Legal developments
Significance for PokerStars

USA

2012
Nevada launches online poker
PokerStars cannot apply for a license due to "bad actors" clause
2013
Online poker bill goes live in NJ

WSOP

NJ and Borgata first operators; PokerStars joins in 2016
2018
Pennsylvania regulates online poker
PokerStars becomes the first poker operator in the state in 2019
2021
Michigan passes an iGaming bill
PokerStars is the first operator to go live with online poker
2022
Michigan joins the

MSIGA

PokerStars looks to take advantage of this development
2023
The

MGCB

approves PokerStars for shared liquidity
PokerStars MI & PokerStars NJ combine player pools

Our #1 Rated US Online Poker Room
100% deposit bonus up to $600!
Play one hand & get $100 in free play funds
Top-quality mobile app
Best online

MTT

schedule
#1 Rated online poker room in the US by pokerfuse.com
Please play responsibly. If you or someone you know has a gambling problem and wants help, call 1-800
GAMBLER
.
PokerStars US: Regulated Market Highlights
Although PokerStars was not the first room to enter the regulated market in the US, the operator has achieved many significant milestones over the years it has been active in the regulated states. This applies primarily to MTTs, which are PokerStars' specialty.
In April 2016, PokerStars launched NJSCOOP with $1.1 million in guarantees and $200,000 guaranteed Main Event
In October of the same year, the operator premiered NJCOOP with the guaranteed prize pool of $1,250,000
Both series still run regularly
PokerStars in the US has significantly transformed the online tournament scene. It replicated what they did in NJ in Michigan and Pennsylvania as well.
PACOOP was launched in 2019
The first edition of the MICOOP took place in 2021
Running large tournament series with dozens of events and big prize pools was definitely the most significant contribution of PokerStars in the real money US online poker market. However, other notable highlights are worth mentioning.
They were the first operator to take on the newly regulated markets in PA and MI. While others, like BetMGM and Borgata, hesitated with their online poker product, PokerStars wasted no time. Thanks to this decision, players in both states did not have to wait too long for the opportunity to play online poker.
PokerStars was also the first operator to take advantage of Michigan joining the MSIGA, getting the necessary approval from the MGCB and launching the first multistate room combining player pools from Michigan and New Jersey.

Our #1 Rated US Online Poker Room
100% deposit bonus up to $600!
Play one hand & get $100 in free play funds
Top-quality mobile app
Best online

MTT

schedule
#1 Rated online poker room in the US by pokerfuse.com
Please play responsibly. If you or someone you know has a gambling problem and wants help, call 1-800
GAMBLER
.
PokerStars
USA
FAQ
Is PokerStars Legal in the US?
Yes, PokerStars is fully legal and regulated in the US, but only in a handful of states at this point. State regulators have issued relevant licenses for PokerStars, making it a completely safe, secure, and legal option for online poker in these states. Only players physically present in Michigan, New Jersey, and Pennsylvania can play online poker on PokerStars US.
Is PokerStars Safe?
Yes! PokerStars is generally considered to be one of the safest and most reputable online poker platforms in the US. PokerStars is the largest online poker site in the world and has a long history in the industry, dating back to 2001. It is licensed by several regulatory bodies, including the Pennsylvania Gaming Control Board (PGCB), the New Jersey Department of Gaming Enforcement (NJDGE), and the Michigan Gaming Control Board (MGCB), which ensure that it adheres to strict standards for security and fair play.
PokerStars uses advanced security measures to protect its players' personal and financial information, including SSL encryption and secure servers. It also regularly audits its games to ensure fairness.
Is PokerStars Rigged?
No! PokerStars is one of the most reputable and trusted online poker brands in the world. It goes to great lengths to ensure the fairness of its games, including regular audits and use of a Random Number Generator (RNG).
PokerStars also puts a lot of resources into fighting bots}, software, and other forms of cheating, and redistributing the seized funds to affected players. In its ongoing dedication to the war against would-be cheaters, PokerStars is constantly building and improving its software.
In a podcast with pokerfuse, Chris Straghalis, Director of Online Poker Experience at PokerStars, said, "It is an arms race. [We] are battling against some very motivated people out there who try and implement software that can help them make more money. But we're also very motivated to keep our games incredibly safe. It is more difficult, but we're up to the challenge, and I'm confident in our abilities to continue to proactively detect these things."
Is There a PokerStars App?
Yes, PokerStars offers a mobile app for each of the states in which it operates. They are available for players to download and use on their Android or iOS devices. To download the appropriate app for your state and OS, follow this link.
The same rules apply, though, meaning that players still have to be physically present in the state that licenses the site they want to play on. Geolocation software on your device will validate your location and eligibility to play.
Do Any PokerStars Sites Share Liquidity?
While not all PokerStars players can play together, there has been a lot of positive movement in this area. As of Jan 1, 2023, players on PokerStars MI and PokerStars NJ can play together. PokerStars PA is still not a part of this network, but this will likely change in the future, once Pennsylvania also joins the MSIGA.
Can I Play on PokerStars From Anywhere in the US?
No, you must be physically located within one of the states where the room is licensed to play for real money. Players do not have to be residents of these states as PokerStars is open to all US residents, but when playing for real money, every player must be within the borders of the licensing state.
Can I play on PokerStars US from Europe?
Just like you cannot play from other US states, you cannot play on any of the PokerStars US sites from Europe. This is unlikely to change even if interstate compacts are allowed. It will probably take a while before US players can play against the rest of the world on PokerStars or any other US-licensed site.
For more about playing on PokerStars from outside the US, see our comprehensive guide to PokerStars Real Money global online poker.
Is There a PokerStars App?
Yes, PokerStars offers a mobile app for each of the states in which it operates. They are available for players to download and use on their Android or iOS devices. To download the appropriate app for your state and OS, follow this link.
The same rules apply, though, meaning that players still have to be physically present in the state that licenses the site they want to play on. Geolocation software on your device will validate your location and eligibility to play.
Latest PokerStars US News
---
---
---
---
---
---
---
---
---
---