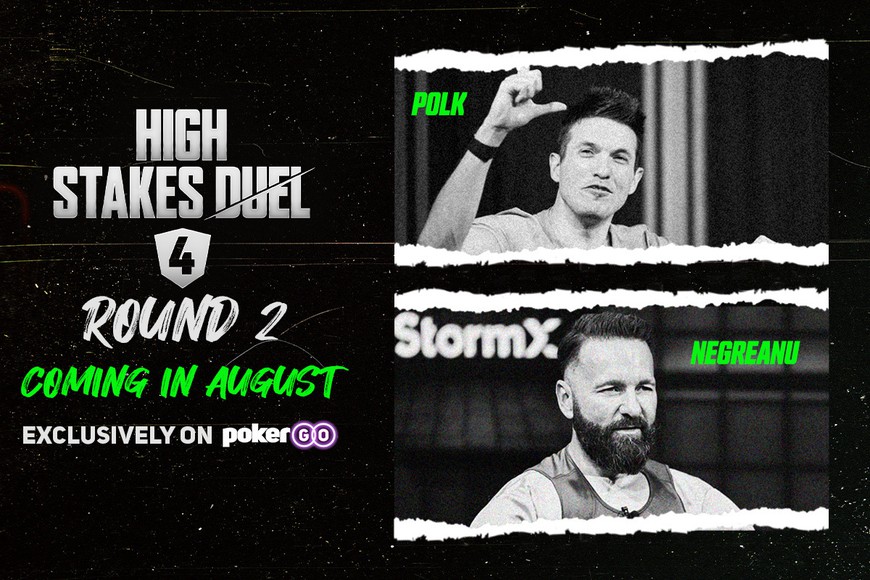 Get ready for a thrilling showdown in the world of poker as GGPoker app ambassador Daniel Negreanu and poker podcaster and pro Doug Polk gear up for Round 2 of High Stakes Duel 4.
The tension and excitement are palpable as these poker legends face off for a chance at glory and a hefty $100,000 each. With their highly contrasting styles and storied history, this match promises to be a must-watch event for all poker enthusiasts.
Let's delve into why you should tune in, what makes it a captivating show, and what to expect from their epic clash at the table, which will take place in August.
But first, if you are looking to sign up for a PokerGO subscription, make sure to add in the exclusive PokerGO promo code POKERFUSE at the checkout. It gives you 15% off an annual sub — a savings of $15.00.
PokerGo Promo Details
💸 Discount
15% off Annual Subscription
📢 Promo Code
POKERFUSE
🔦 Last Verified
May 18, 2023
🔥 Access
Unlimited Coverage of WSOP, Poker After Dark, High Stakes Poker Coverage and More
☠️ Full Price
$99.99
💫 You Pay
$84.99 ($15.00 Saved)
🤖 Apps
iOS, Android, Web
✍️ Create Account
Sign Up Here
The Clash of Titans
Daniel Negreanu and Doug Polk have been locked in a fierce rivalry for years, both on and off the poker tables. Their intense feud has captured the attention of the poker community, making this matchup even more compelling. Negreanu, known for his calculated and strategic approach, is a master of reading opponents and adapting to their playstyles.
On the other hand, Polk is a fearless and aggressive heads-up player who employs advanced mathematical analysis to gain an edge.
Why You Should Watch — Unparalleled Skill, Intense Rivalry, and High Stakes Drama
Negreanu and Polk are two of the most accomplished and skilled players in the poker world. Watching them go head-to-head provides a unique opportunity to witness their exceptional talent and expertise on display.
The longstanding rivalry between Negreanu and Polk adds an extra layer of excitement and drama to this matchup. Their clash represents a battle of ideologies and playing styles, making it an intriguing contest.
With $100,000 on the line for each player, the tension will be palpable throughout the match. The pressure to outwit and outplay their opponent will undoubtedly lead to thrilling moments and strategic maneuvers.

Last verified: November 2023
Special Signup Offer
15% off your annual subscription with code POKERFUSE
Full 2023

WSOP

coverage
100s of hours of on-demand poker content
Exclusive offer to pokerfuse readers
Watch PokerGo on your PC, tablet, TV, or phone
What to Expect from High Stakes Duel Round 4
Strategic Brilliance: Negreanu and Polk are renowned for their strategic acumen. Expect to witness expert hand analyses, mind games, and calculated moves as they vie for supremacy. Each decision they make will be scrutinized, adding to the excitement.
Bluff Battles: Bluffing is an integral part of poker, and these seasoned pros are no strangers to it. Brace yourself for intense bluff battles as Negreanu and Polk attempt to deceive and outsmart each other with well-timed bluffs and expertly crafted narratives.
Unpredictable Swings: High-stakes poker is notorious for its volatility, where fortunes can change in an instant. Be prepared for unexpected swings as the players navigate through different stages of the match. The resilience and adaptability displayed by Negreanu and Polk will be crucial factors in determining the winner.
The forthcoming Round 2 of High Stakes Duel 4 between Daniel Negreanu and Doug Polk is set to deliver an unforgettable poker spectacle.
With their contrasting styles, fierce rivalry, and a considerable amount at stake, viewers are in for a treat. Whether you are a seasoned poker enthusiast or a casual viewer, this match promises to offer strategic brilliance, intense bluff battles, and unpredictable swings.
Make sure to mark your calendars and tune in to witness this epic clash between two poker titans as they battle for supremacy at the PokerGO Studio in Las Vegas.