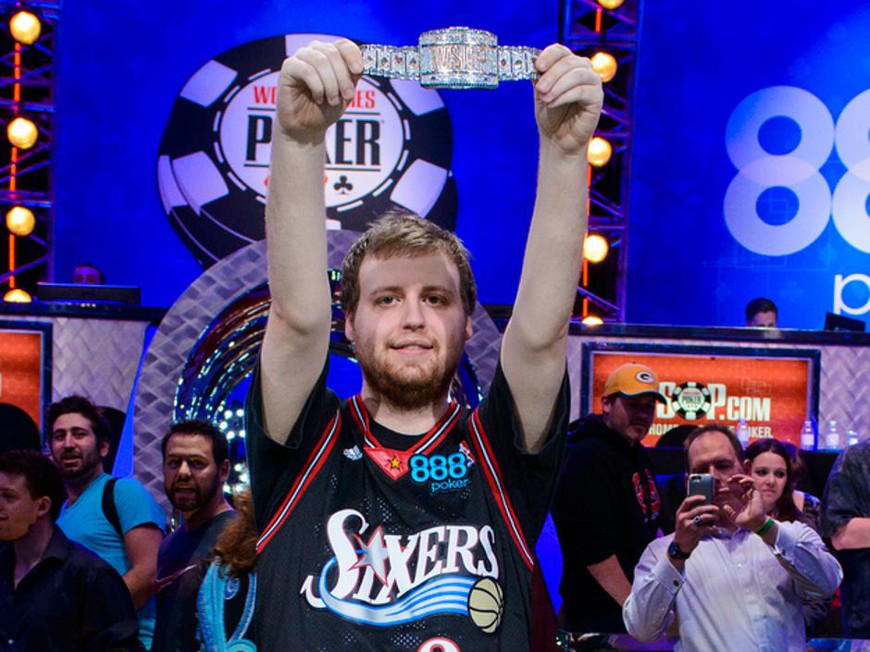 Philadelphia's Joe McKeehen, 24, became poker's World Champion on Tuesday night. McKeehen won his very first World Series of Poker bracelet and the top prize of $7.683 million as play concluded at the Final Table of the WSOP Main Event.
With the victory, McKeehen, despite his young age, has now won nearly $11 million playing poker.
How it happened
As chip leader, he entered the Final Table with a clear advantage and managed to extend his lead during each of the three days of Final Table play—until he was the only player left with chips.
He used his chip advantage throughout, putting pressure on his opponents.
Back in July, McKeehen knocked out poker Pro Daniel Negreanu in 11th place and then proceeded to knock out the 10th, 9th, 8th, 7th, 4th, 3rd and second place finishers as he made his way to the win. Runner up was 25 year old, Joshua Beckley.
Beckley entered the Final Table in seventh place with just 29 big blinds and came within one spot of becoming the world champion.
McKeehen's Ace-Ten trumped Beckley's pocket fours on the final hand. After a ten came on the flop, neither the turn nor river card improved Beckley's hand, and McKeehen was the champ. You can review the hand-for-hand recap of the Final Table play here .
Focus
"I was just focused and I didn't want to get ahead of myself, I have been that way the whole tournament because it was working," said McKeehen shortly after the victory when asked about his calm demeanor throughout. "I feel pretty good now of course."
I think I would too if I had $7.6 million in my back pocket.
Looking at the stats quickly, the Main Event took nearly 40 levels of play to complete, which equates to nearly 80 hours of poker play for a champion to be determined.
In real time, the event took 10 playing days, spread out over 128 days.
The Main Event play was suspend in July when the tournament reached its final nine players—resuming with the "Novemeber Nine" picking up play again 117 days after it left off. When play began in July, players started with 30,000 in chips and the blinds were at 50 and 100. When play completed at 8:00 pm in Las Vegas with 24 minutes, 22 seconds left in Level 39, blinds were at 500,000 and 1,000,000 with antes of 150,000.
Attracting a record 103,512 players from 111 countries to its 68 events, the 2015 World Series of Poker was a record year generating a total prize pool of over $210 million.