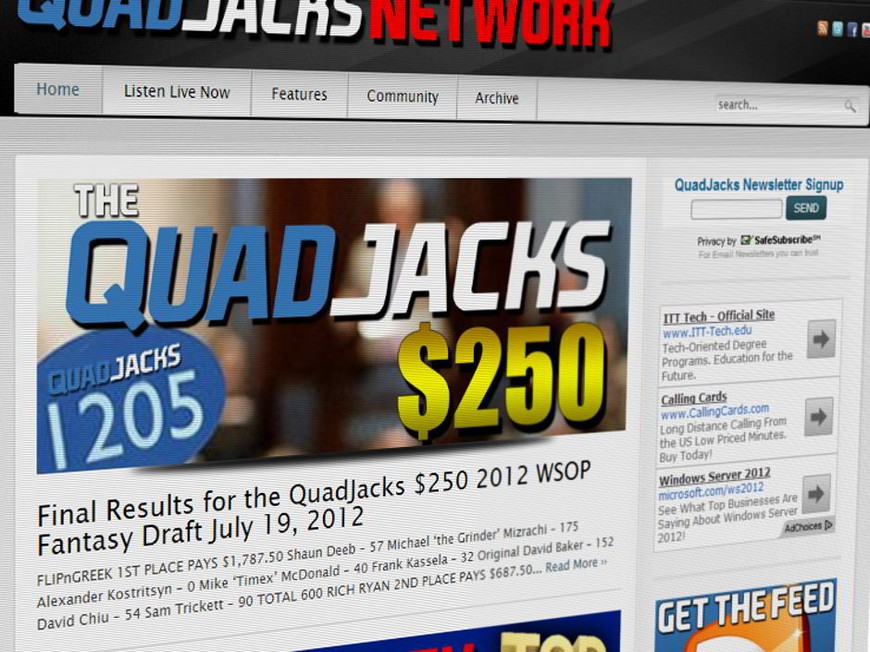 Key Takeaways
After just four months in his role at the

GPI

, Marco returns to Quadjacks.
Site is now under new ownership.
Just four months after joining Global Poker Index, Marco "AgentMarco" Valerio has jumped back into business with QuadJacks, taking on a new role as general manager.
His abrupt departure from "monitoring and assisting" growth at GPI comes just weeks after its parent company, Zokay Entertainment, announced partnerships with the WPT and WSOP through Fantasy Poker Manager, the free-play fantasy sports site that lets fans draft their own roster of pros.
On Saturday, shortly after Valerio announced on Twitter that he would take on a new role at QuadJacks, pokerfuse chatted with him about his vision for the revamped site.
"Before I left QJ, I had thought about eventually taking control," Valerio told pokerfuse. "When I left, it wasn't clear whether I could do that. If I had thought it was going to be a sure thing, I probably wouldn't have taken the job with GPI."
To be clear, Valerio is not an owner of the new QuadJacks, but he plans to dedicate his full-time attention to the site. He declined to immediately reveal the names of the owners.
"There is a new ownership structure," he said, "but I am not a part of it. I was not an owner of QJ before, and that hasn't changed."
The Italian-born Valerio—and his distinctive voice—made his mark in poker media through QuadJacks, the Nevada-based online poker radio station, particularly with his popular WSOP interviews and lengthy post-Black Friday discussions with players and those influential in the poker community.
He left QuadJacks at the beginning of 2013, and the site went somewhat silent.
Valerio said he wants to help tell the rest of the story, as online poker begins its slow, state-by-state crawl back into the US market. He has put together a "robust" team of names that "the poker community will recognize," that he expects to announce soon.
"Damn, I really wish we could be doing some kind of parody of Team Ivey," he said.
He said he wants the new QuadJacks to be a "companion to today's poker playing community … a place which poker players could count on to express themselves.
"As for the new features… I can't reveal too much yet, but we're definitely exploring all our options at the WSOP this year. We made a pretty big impact last summer that people still talk about today. I want us to outdo ourselves in 2013."
"Put outdo ourselves in italics for emphasis if you can," he added.