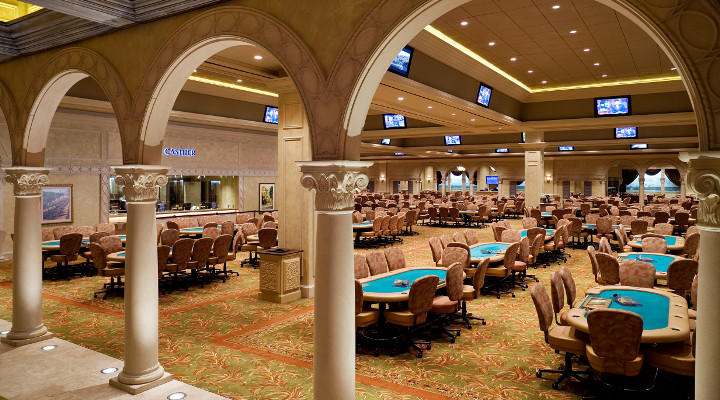 Borgata has just successfully concluded its flagship series, the Borgata Poker Open with 1075 entries joining in the $3500 WPT Championship Event to amass a prize pool of just over $3.5 million but all is not over for the New Jersey players as far as the tournament scene is concerned.
The operator is scheduled to host a series of poker tournaments for both online players (BorgataPoker.com) and live players (Borgata Hotel Casino & Spa) this month.
First up, is the return of Borgata's iconic online tournament series—the Garden State Super Series (GSSS) from October 14 to October 21. This time, over $450,000 is guaranteed across 24 events. Meanwhile, Borgata will also be running a live tournament series—the October Monster Stacks from October 15 to October 19. The $110,000 guarantee is spread across five days with five tournaments.
October Monster Stacks is followed by a $350 buy-in $100,000 guaranteed Saturday Series on October 20. It doesn't stop as another short series is scheduled to run from October 26 to October 29. This will be the return of Borgata's fifth Annual Bar Poker Open. Over $150,000 is guaranteed across ten affordable events as well as a $100,000 guaranteed Championship Invitational event from October 27 to October 29.
Garden State Super Series (October 14-21)
The fall edition of GSSS returns to BorgataPoker.com and partypoker NJ for its ninth edition. A total of 24 events are scheduled to take place from October running for eight days. Compared with the spring edition that took place earlier this year, the operator this time has increased the series overall guarantee from $365,000 to $450,000 (an increase of 23%) and also the number of tournaments from 17 to 24. Buy-ins start at $35 and go up to $1060 for the High Roller event.
A Main Event boasting a $100,000 guarantee takes place on the final day of the series. It will carry a buy-in of $320 and there will be plenty of opportunities for players to win a seat to the Main Event and other events. Besides, there will be a series leaderboard where players who finish in the top 300 positions will receive an entry into the GSSS Leaderboard Invitational tournament on October 28. The invitational tournament will award prizes with over $5300 going to the top ten place finishers.
October Monster Stacks (October 15-19)
On the live tables, Borgata will be hosting an October Monster Stacks in mid-October. Five events each carrying a five-figure guarantee will run from October 15-19. Each of the events will be a re-entry and one-day event with players receiving starting stacks of tournament chips ranging from 25,000 to 35,000. Overall, the series will pay out at least $110,000.
Usually, Monster Stacks is run during the month of March, however, this year, for the first time east coast players will be able to enjoy tournaments with monster stacks in October. The March edition ran for two weeks and paid out $315,800 across nine tournaments.
$100,000 Guaranteed Saturday Series (October 20)
Players wanting to play a single day event with a six-figure prize pool can try out the $100,000 Guaranteed Saturday Series on October 20. The tournament returns for its third edition this year and will once again carry a $350+$50 buy-in. It promises ten-times the guarantee of any standard "Big Stack" tournament on the regular schedule at Borgata. The tournament is once again adopting the big blind ante format. Players can re-enter multiple times through level 10.
The Saturday Series has always attracted a large enough field to easily surpass its six-figure guarantee. In May, the tournament drew 393 entries to generate a prize pool of $137,500 and easily covered its original guarantee by 37.5%. Prior to that, during the Borgata Spring Poker Open, 474 entries helped the total exceed $165,900 with eight players opting to chop it up. Each of them walked away with nearly $15,000.
Bar Poker Open (October 26-29)
The 2018 Bar Poker Open will take place at the Borgata Hotel Casino & Spa from October 26 for a four days of action packed with ten tournaments and a $100,000 guaranteed Championship Invitational open to the players who qualified from local bars across North America. It will be live-streamed with "cards up" on October 29.
The Bar Poker Open is a series of affordable buy-in tournaments built specifically for the Bar Poker Community at Borgata Hotel Casino & Spa. The series will feature over $150,000 in guaranteed payouts with buy-ins ranging from $120 to $300.