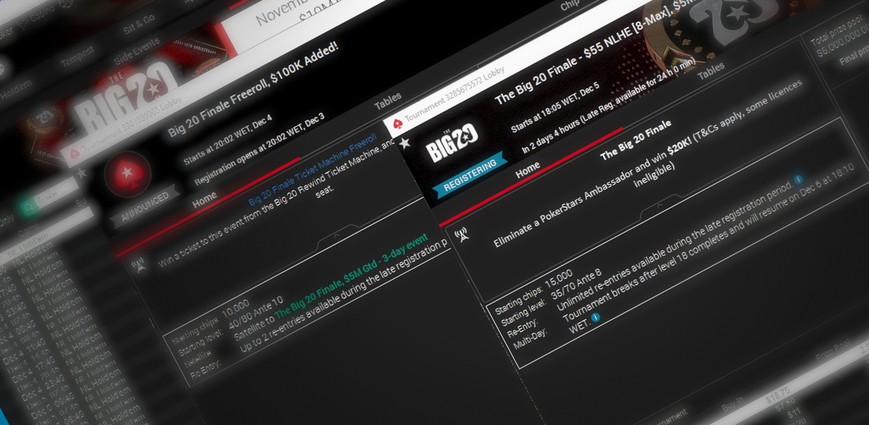 The Big 20 promotion to celebrate PokerStars' 20th anniversary has been going on for the last several weeks now, and is about to culminate in a massive $5 million guaranteed tournament with an extra-affordable $55 buyin.
The promotion has seen players compete in a series of Big 20 Rewind tournaments over the past couple of weeks, with champions being crowned every day since November 14. Each day, a different year in PokerStars' rich history was celebrated, leading up to 2021.
This Sunday, December 5, PokerStars will be awarding the final champion of the series, with The Big 20 Finale set to become one of the biggest online poker tournament of the year. Not only will PokerStars be awarding $5 million in prizes to players who make the money, but an additional $500k will be added by the operator in the form of PokerStars Ambassadors bounties and Winter Series tickets for players who don't make the money.
As the Big 20 Finale approaches, there is still plenty of time to qualify and win your seat in the tournament or consider paying the $55 buyin fee to take your shot at possibly the softest poker tournament field for a $55 tournament ever seen.
Get a Free Ticket—Just for Signing Up and Making a First Deposit
PokerStars has just refreshed its new player bonus basically gifting free entry to the $55 Finale for just signing up and making a first deposit of any amount. This is one of the best deals PokerStars has offered in a long time.
Here's how to do it.
Simple as that. You can deposit any amount—whatever the minimum deposit is for your payment method. Note, however, that you also get the usual 100% deposit match bonus up to $600, so if you want to take advantage of this you'll want to deposit the max (for more details on how this bonus is released, see our pokerstars.) But if you just want to get the ticket, there's no need to max out this offer.
The deal is currently being advertised in the UK, but it looks like it is live in global markets too. It is definitely worth trying out: it is much better than the usual deal, which gives a freeplay amount (often £40 or $50) but released through various tickets and prizes each day. Instead, this gives you just one, $55-value ticket to a tournament with $5 million guaranteed and $500,000 in extra prizes.
So if you've been on the fence about signing up to PokerStars and you are free to play this Sunday, this looks a fantastic offer.
PokerStars.com
is celebrating its 20th birthday and everyone is invited to join The Big 20 party!
Super-charged daily leaderboards starting with November 1 and running through the month, offering boosted prizes
20 thematic tournaments celebrating the biggest moments from the PokerStars two-decade history
$5MM Guaranteed The Big 20 Finale with the buy-in of just $55 and ample opportunity to qualify for free
$500k in Extra Value Up for Grabs
Back in early November, PokerStars announced that the Big 20 Finale tournament would come with an incredible $5 million guaranteed prize pool, an unprecedented amount for a $55 MTT.
Now, the operator announced that it will also be adding another $500k in value on top of the $5 million, with $200k paid out through bounties on PokerStars Ambassadors, and another $300k in Winter Series tickets given out to players who aren't fortunate enough to make the money in this one.
All players who enter the Big 20 Finale will have a shot at taking out one of the ten PokerStars Ambassadors, with a $20,000 bounty on each of their heads.
The first entry into the tournament will also count for the special prize draw on December 7, provided the player busts before making the money in the tournament. In this draw, players will have a chance to win a ticket for the Winter Series, which will be held at PokerStars at a later date, with more details on that one coming soon.
If you had any reservations about playing in the biggest tournament of the year, the $500k in extra value is yet another reason to seriously consider entering the Big 20 Finale.
Other Qualifications Routes to the Big 20
If you're an existing player and don't yet have your ticket, there's lots of other routes in. PokerStars has been giving away tickets for the Big 20 Finale since the early days of the promotion back in November, with 20 tickets given away just recently in a special edition of the Women's Sunday tournament.
Plenty more tickets are up for grabs through other promotions as well. For example, you could win your Big 20 Finale ticket by completing one of the three challenges for the Ticket Machine promotion every day. Playing 300 hands of cash game poker, 10 SNGs, or 3 MTTs in a day gives you chance to be drawn as a lucky ticket winner.
Big 20: Last Minute Qualification Routes
Complete missions for a chance of a Ticket Machine prize
55 cent Spin and Gos
Multi-step satellites
Direct buy-in for just $55
The easiest way to get your hands on the $55 ticket, of course, are the various satellite tournaments that are running at PokerStars every day. Regular satellites are running with buyins between $2.20 and $11, along with $0.55 phased satellites.
Fans of Spin & Go tournaments can also win their tickets by playing in exclusive $0.55 Spin & Gos that were launched specially for this promotion, giving everyone a fair shot at participating in the biggest tournament of the year.
Of course, if you prefer to simply come in fresh on Sunday and pay your $55 entry fee, there will be plenty of value for you as well, as the tournament should have one of the softest fields in recorded poker history, along with the $500k in added value and potential prize pool overlay.