When the poker world looks back on 2021, one of the biggest stories of the year will be how PokerStars' 15-year dominance of the online marketplace was finally reined in by GGPoker.
Throughout the past 12 months, the GGPoker vs Pokerstars showdown has heated up. As we approach the end of the year, the two operators could not be more closely matched in terms of cash game traffic — a scenario which seemed unlikely when the year started.
Back in January, PokerStars' traffic was close to double that of its rival, with a seven-day average of 8723 concurrent players compared to GG's 5,325. And while the new kid on the block had seen remarkable growth, few could have known just how far GGPoker would come in 2021 (although as we moved into February, there was at least one site making just such a prediction).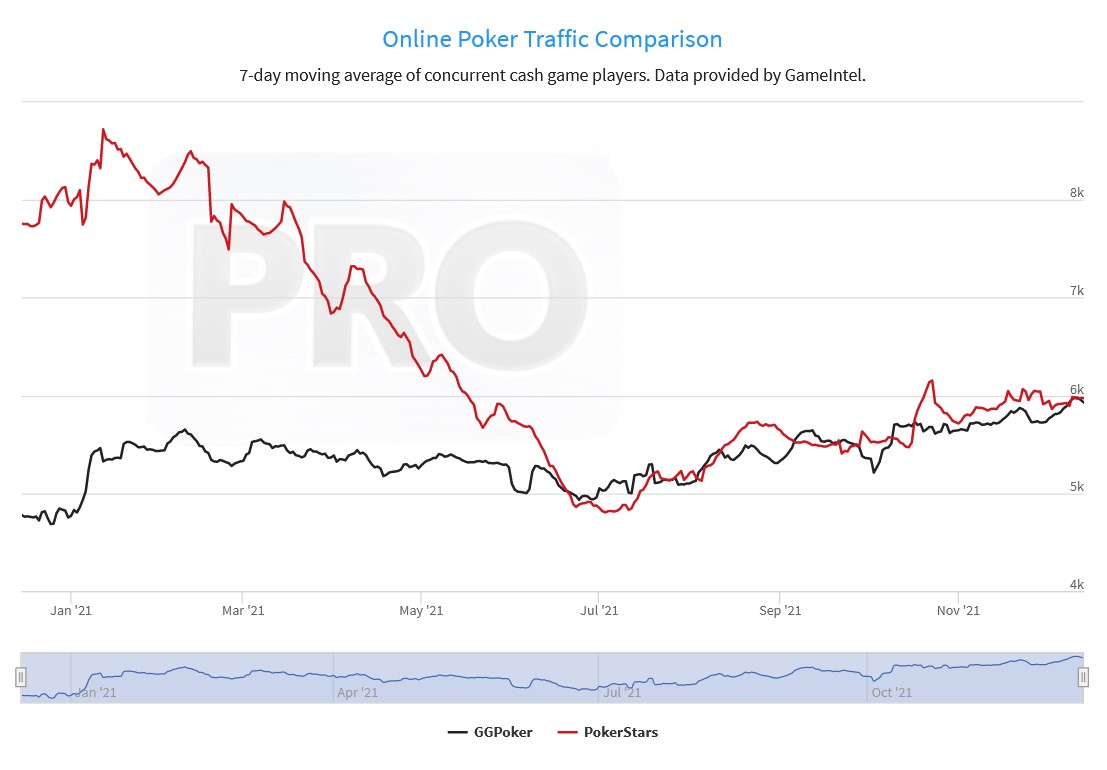 GGPoker Rock Steady as PokerStars Declines
Between February and May, GGPoker's cash numbers stayed more or less at the same level; PokerStars however, saw a decline in cash players, meaning that by the middle of June, the two goliaths of online poker were neck and neck.
On Sunday June 22, GGPoker overtook Pokerstars in cash game traffic. What would have been unthinkable a year previously had suddenly become a reality. The lead was slender, and it lasted only a month, but it marked a paradigm shift in online poker worldwide.
It is hard to pinpoint exactly why PokerStars numbers dropped so dramatically in the first half of the year. Almost all online poker sites have struggled — as the surge of traffic that came with lockdown inevitably tailed off. Nevertheless, PokerStars struggled more than most.
In early February, it was still averaging 8500 concurrent players. By July 3, that number was down to 4800. Its traffic virtually halved in less than five months. However, if we pull back and look at the longer-term trends, the drop is no more severe than it had been pre-pandemic.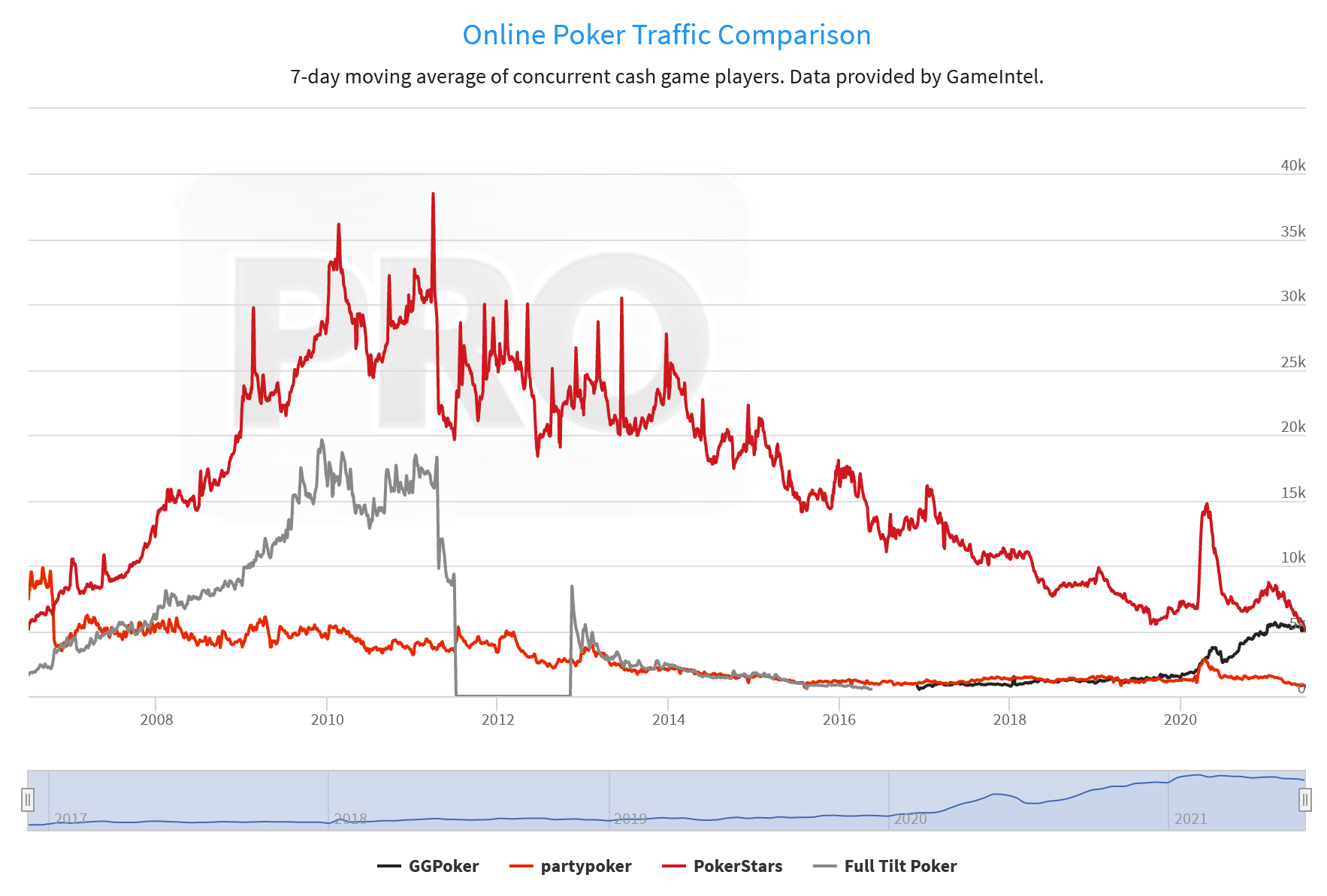 The fact is, the operator had been on a downward trajectory for many years, stretching as far back as Black Friday in 2011. But PokerStars was not going to give up its crown without a fight.
PokerStars Comes Out Swinging
The red spade brand launched a raft of new promotions, including 20th-anniversary celebrations and a rebrand of its Grand Tour that utilized global ambassador Neymar Jr. In addition, there was a Twitch campaign and an updating of PokerStars' training platform.
But perhaps the biggest statement of intent has been the complete revamp of its Rewards program, offering up to 25% fixed rakeback, with an additional 40% possible through personalized challenges.
It is early days, but the strategy appears to be paying off. In the GGPoker vs PokerStars saga, the Stars retook the lead from GG on July 21 and the two have been duking it out for top spot ever since, with the lead changing hands a dozen times in the interim.
Recently, Stars led again for almost two months — between October 16 and December 11 — a relatively long period of time in the current climate. But just last weekend, GG overtook them once more, albeit briefly.
PokerStars.com
: The world's largest, most trusted, and most regulated online poker room in the world.
For more than a decade, PokerStars has led the industry with the best software, largest player pool and safest environment to play
Great Welcome Bonus: $30 freeplay on your first deposit, letting you play real money games for free, or a huge 100% up to $600 deposit bonus
Home of the Sunday Million,

WCOOP

& SCOOP, Spin & Gos and more
Winter is traditionally the busiest time of year for online poker rooms, and the two giants will be slugging it out once more. Players can expect some big offers and promotions as the operators vie for their attention.
GGPoker is not currently running a dedicated Christmas promo but it is continuing its tradition of massive monthly giveaways, having earmarked $10 million for Flipouts, Leaderboards, and other daily freebies in December.
Meanwhile, PokerStars is running its Bauble Blast rewards promotion in the dot-com market, and the advent-calendar-themed 25 Days of Tournaments in the US.
At this stage it is impossible to predict who will be on top come the end of the year, but a healthy bit of competition is great news for players — and looks set to continue into 2022, and the foreseeable future.