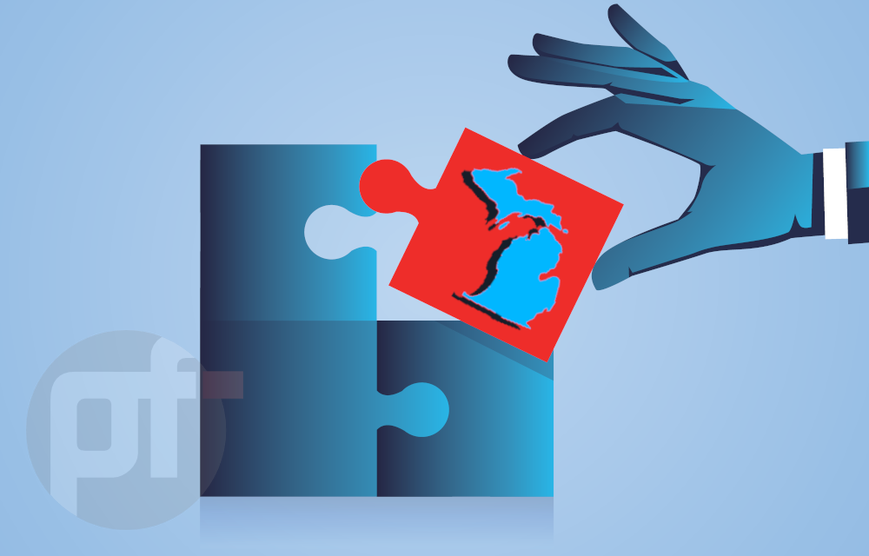 Right now, once the amended agreement is fully executed, Michigan would be the next joining state. One week after Michigan regulators alerted all licensed operators to steps they must take in order to participate in multijurisdictional online poker, the head of the interstate compact that the Great Lakes State hopes to join — aka the Multi-State Internet Gaming Agreement (MSIGA) — said Michigan's application is under review by the compact's three member states.
Rebecca Satterfield, iGaming Manager for the Delaware State Lottery and the current Manager for MSIGA, told pokerfuse on Thursday that the compact has reviewed a request by the Michigan Gaming Control Board (MGCB) to join. MSIGA currently comprises Delaware, Nevada, and New Jersey.
"Upon MGCB's review of the current agreement, suggested amendments were drafted to streamline the process for future states to join the association," Satterfield said, referring to the compact. "The drafted amendment is still under review for full execution."
She added, "Unfortunately, there is no time frame on when the amended agreement will be fully executed." When asked if any other states other than Michigan had also petitioned to join the compact, Satterfield said, "Right now, once the amended agreement is fully executed, Michigan would be the next joining state."
Michael Lawton, spokesman for the Nevada Gaming Control Board (NGCB), also told pokerfuse that Michigan's application was still under review. "The time frame [for executing the agreement and admitting Michigan] is unknown from the NGCB's perspective," he said Thursday.
The MGCB said it hopes Michigan can join MSIGA "soon," but is unaware of the current status of its application.

Last verified: December 2023
Special Signup Offer
100% deposit bonus up to $1000!
Up to $75 in

MTT

tickets on top of the bonus
Frequent

MTT

series with good guarantees
Great action around the clock
Please play responsibly. If you or someone you know has a gambling problem and wants help, call 1-800
GAMBLER
.
MI Regulator: It's "Premature" to Discuss What a Launch of Interstate Online Poker Would Look Like
In a March 16 letter to operators and platform providers in the state, the regulator urged parties interested in offering multistate poker "to review the attached list and consider which identified tasks and other items may apply to your organization." The letter included a link to a five-page guidance document posted by the MGCB on the same day.
It's not clear if the state regulator plans to have a coordinated launch for multijurisdictional online poker in Michigan once the state is a MSIGA member, or if the regulator plans to approve operators as they complete the requirements the agency outlined in the guidance.
"It would be very premature for the MGCB to discuss a launch when Michigan has not been accepted into the compact," MGCB spokeswoman Mary Kay Bean told Michigan Gaming Review.
"There really isn't anything more to say as our application has been submitted but not yet accepted. The information we shared with operators and platform providers allows them to do some advance work, such as writing internal controls."
Bean added that an operator "may offer poker via an internet casino gaming platform or a poker only platform."
BetMGM MI and PokerStars MI Will Benefit Hugely
At the moment, there are only two operators in Michigan offering online poker — the BetMGM Poker MI App and the PokerStars MI App. Both stand to reap huge benefits if Michigan joins the MSIGA, since both are also live in New Jersey. The two operators could share a player pool that would rival WSOP, which is live in Nevada and New Jersey, but not Michigan (yet).
But that would be the extent of the gains for BetMGM and PokerStars — at least until Pennsylvania joins the compact if that state also decides to do so.
While Delaware is a MSIGA member, it is also a closed market. Three racinos in the state are the only properties authorized for online poker, and each is currently using a skin powered by 888 to do so.
Nevada is likely a no-go for PokerStars, since the NGCB considers it a "bad actor" for offering online poker in NV prior to Black Friday in 2011.
Although lawmakers in Nevada passed a bill in 2013 — specifically, AB 114, which prohibits issuing an interactive gaming license for five years to operators that offered online gaming after 2006 — PokerStars has not re-applied for licensure with the NGCB. The regulator has also not said whether PokerStars is welcome to return to the Silver State. The status quo leaves Nevada as a monopoly for WSOP NV.
Meanwhile, rumors are that it is possible we might see BetMGM launch online poker in Nevada. Additional details, including a possible launch date, are not known.

Last verified: December 2023
Great Welcome Bonus!
100% deposit bonus up to $600!
Play one hand & get $150 in bonus play funds
Top-quality mobile app
Best online

MTT

schedule
Please play responsibly. If you or someone you know has a gambling problem and wants help, call 1-800
GAMBLER
.
Which Other MI Online Poker Sites Could Join?
A: That's where things get complicated.
Currently, there are14 licensed operators in Michigan for online poker, casino gaming, and sports betting. However, one of those 14 — TwinSpires — plans to exit the Great Lakes State by August 31. The operator will also depart Pennsylvania, offering a double opportunity for an operator looking to capitalize — especially if both states are in MSIGA someday.
One party that could join is, well, partypoker. The brand is already live in New Jersey and operates under the Borgata license. It was originally lined up to launch in Michigan during the first half of 2021 but did not do so. It's unclear if there is a business agreement that would prevent partypoker from entering the Michigan market.
Another possibility, although considered a long shot, would be for a European operator to take TwinSpires' spot. Bet365, a UK-based gaming giant that offers poker across Europe, was recently awarded a license for internet gaming in Ontario, Michigan's northern neighbor.
BetRivers, which is already in Michigan but doesn't currently offer online poker, could also get in on the action. Earlier this month, parent Rush Street Interactive (RSI) acquired Run It Once Poker (RIO) in a cash-and-stock deal valued at $5.8 million. While RSI hasn't announced its plans, RIO operated on the global scene for three years before ceasing operations in January. RIO was considered innovative and had many fans, but it was also looking to enter the US market.
Trying to Avoid What Happened to NJ
Michigan looks to be taking steps to avoid what befell New Jersey when it joined MSIGA in October 2017.
Then, as now, PokerStars was blackballed in Nevada and Delaware was a closed market. That left WSOP as the only operator to benefit from New Jersey's membership in MSIGA.
In hopes of seeing more than one operator in Michigan get into multijurisdictional poker, the MGCB said operators and platform providers "must comply with applicable requirements in each other jurisdiction in which it offers or conducts multistate poker."
"[The MGCB] wants to make sure that such an opportunity can be made available to a majority of their poker licensees, not just one or two as the case may have been in the past," said Jeff Ifrah, of Ifrah Law PLLC.
Ifrah added that he agreed with the sentiment that Michigan officials were no longer afraid of joining an interstate gaming compact like the MSIGA. The state has articulated that it wants to avoid running afoul of federal law in the iGaming space, especially the Wire Act, which remains wrapped up in legal proceedings from the IGT lawsuit against the DOJ.