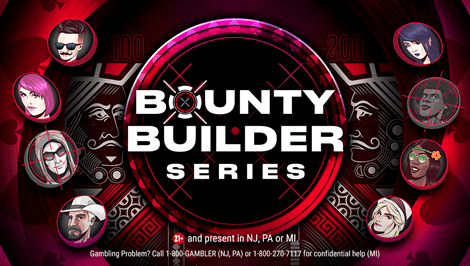 Bounty fans are about to get a real treat from PokerStars US. Starting May 13, Pennsylvania, New Jersey, and Michigan will all host a Bounty Builder Series.
There is $2 million up for grabs across the three PokerStars USA states in the upcoming Bounty Builder Series. Running from May 13 through May 23, the series is a mix of various kinds of bounty games, with enough variety to satisfy all bounty lovers.
There are 44 games each in Pennsylvania and Michigan, but online poker players in New Jersey have 47 games to play across the series. PokerStars PA is putting up the biggest guarantee with more than $1 million on its games, with PokerStars MI guaranteeing just over $700,000 and PokerStars NJ promising $634,000.
There are multiple formats to whet the appetite of all online poker players. While every game on the three schedules is some form of bounty game, there is still a lot of variety within that including:
Mini Bounties
Last Man Standing
Bounty Adrenaline
Win the Button

PKO

Total Knockout
There are two Main Events in each state on Sunday, May 22, one for $300 and one for $50. Both games are two-day events starting at 5 pm and 5:30 pm respectively.

Last verified: August 2023
Great Welcome Bonus!
100% deposit bonus up to $600!
Play one hand & get $100 in bonus play funds
Top-quality mobile app
Best online

MTT

schedule
Please play responsibly. If you or someone you know has a gambling problem and wants help, call 1-800
GAMBLER
.
PokerStars Bounty Builder Highlights
No matter where in the US you play regulated online poker, and no matter the size of your bankroll, there is a game for you in the Bounty Builder Series. All three states have more than 35 games for $100 or less, and more than 25 for $50 or less.
The full buy-in range is $5 to $1,000 with each state hosting a single $1,000 high roller trophy event, one of five trophy events in each state. As befit trophy events, they are among the highest buy-ins on the schedule, but they also boast strong guarantees.
While the scheduled games are similar, each state has a slightly different buy-in and guarantee for each event, and New Jersey players get a few extra games.
Learn more in our comprehensive PokerStars US Review »
PokerStars PA Bounty Builder Series
Events: 44
Guarantee: $1,048,500
Min Buy-In: $5
Max Buy-In: $1,000
Average Buy-In: $110
Median Buy-In: $50
Buy-Ins of $50 or less: 26
Buy-Ins of $100 or less: 36
PokerStars PA Trophy Events — $360k Guaranteed
Bounty Builder Series 10 — $100

NLHE

[Progressive KO, Special — Trophy Event]
$100K Gtd
May 15
Sun
17:00
Bounty Builder Series 19 — $1000

NLHE

[Progressive KO, High Roller — Trophy Event]
$75K Gtd
May 17
Tue
20:00
Bounty Builder Series 22 — $100

NLHE

[6-Max, Progressive KO, Wednesday Storm — Trophy Event]
$25K Gtd
May 18
Wed
19:00
Bounty Builder Series 37 — $300

NLHE

[Progressive KO, Main Event – Trophy Event]
$150K Gtd
May 22
Sun
17:00
Bounty Builder Series 42 — $200

PLO

[6-Max, Progressive KO, Trophy Event]
$20K Gtd
May 23
Mon
20:00
Grab the latest PokerStars PA Bonus Code »
PokerStars MI Bounty Builder Series
Events: 44
Guarantee: $973,500
Min Buy-In: $5
Max Buy-In: $1,000
Average Buy-In: $137
Median Buy-In: $50
Buy-Ins of $50 or less: 26
Buy-Ins of $100 or less: 36
PokerStars MI Trophy Events — $267,500 Guaranteed
Bounty Builder Series 10 — $200

NLHE

[Progressive KO, Special — Trophy Event]
$60K Gtd
May 15
Bounty Builder Series 19 — $1000

NLHE

[Progressive KO, High Roller — Trophy Event]
$50K Gtd
May 17
Bounty Builder Series 22 — $100

NLHE

[6-Max, Progressive KO, Wednesday Storm — Trophy Event]
$17.5K Gtd
May 18
Bounty Builder Series 37 — $300

NLHE

[Progressive KO, Main Event — Trophy Event]
$125K Gtd
May 22
Bounty Builder Series 42 — $200

PLO

[6-Max, Progressive KO, Trophy Event]
$15K Gtd
May 23
Grab the latest PokerStars MI Promo Code »
PokerStars NJ Bounty Builder Series
Events: 47
Guarantee: $874,000
Min Buy-In: $5
Max Buy-In: $1,000
Average Buy-In: $163
Median Buy-In: $50
Buy-Ins of $50 or less: 30
Buy-Ins of $100 or less: 37
PokerStars NJ Trophy Events — $240k Guaranteed
Bounty Builder Series 10 — $200

NLHE

[Progressive KO, Special — Trophy Event]
$60K Gtd
May 15
Bounty Builder Series 19 — $1000

NLHE

[Progressive KO, High Roller — Trophy Event]
$50K Gtd
May 17
Bounty Builder Series 26 — $200

NLHE

[Progressive KO, BigStack Thrill, Trophy Event]
$20K Gtd
May 19
Bounty Builder Series 38 — $300

NLHE

[Progressive KO, Main Event, Trophy Event]
$75K Gtd
May 22
Bounty Builder Series 40 — $1000

NLHE

[6-Max, Progressive KO, High Roller, Trophy Event]
$35K Gtd
May 22
Grab the latest PokerStars NJ Bonus Code »