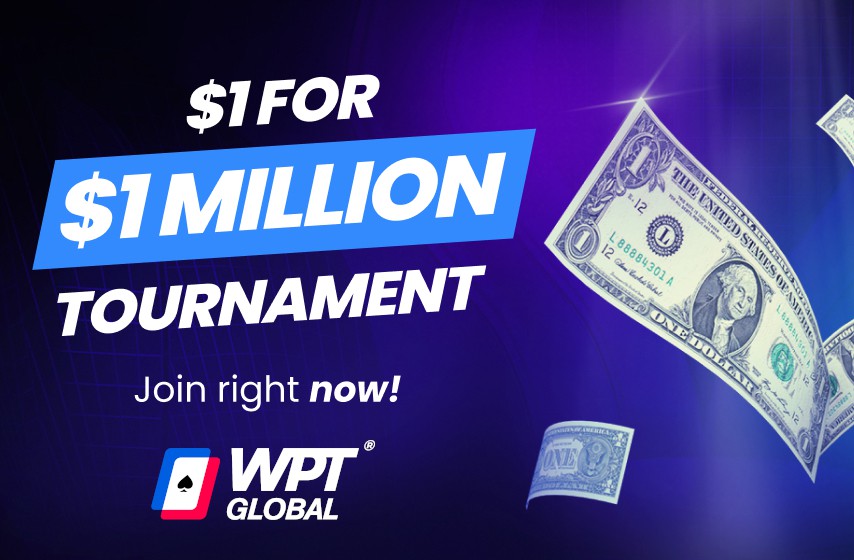 As many of you reading pokerfuse know, WPT Global, a newcomer to the online poker space, has been running its first tournament series, the Summer Festival, featuring a very solid schedule with generous guarantees, headlined by the $1 For $1 Million event.
As the name suggests, the event features a huge seven-figure guarantee combined with a super-small buy-in of just $1, making it one of the most valuable tournaments we have seen this year and beyond. The action kicked off on July 20 with the first of many Day 1s, and the original plan was to play Day 2 on August 21, with the live-streamed final table taking place on August 22. But, WPT Global changed the schedule and pushed the Day 2 date a bit into the future.
According to the new press release from the operator, Day 2 will now take place on Saturday, October 1, while the final table will play out on Sunday, October 2.

Last verified: August 2023
Special Signup Offer
100% deposit bonus up to $1200!
Use bonus code FUSEBONUS
Generous welcome bonus
Quality mobile app
Looking to Attract More Players
The decision to move the Day 2 date for over a month came as a bit of a surprise, but WPT Global owners explained it was not motivated by the desire to shrink the overlay. When the tournament was first announced, it was clear it would have an overlay in excess of $900,000, and this extension will not influence that fact too much.
What WPT Global wants to do is give as many players as possible to get involved with the tournament, and having an extra few weeks to sign up, take advantage of the WPT Global deposit bonus, and jump into some Day 1 flights should help achieve that goal.
While moving the Day 2 date came as a surprise, the accompanying promise from WPT Global was probably a bigger one. Namely, to compensate the players who have already qualified (and thought they would play on August 21), the operator will give away free $330 tickets for the $1,000,000 guaranteed Main Event to everyone who made Day 2 before this change.

Last verified: August 2023
Special Signup Offer
100% deposit bonus up to $1200!
Use bonus code FUSEBONUS
Generous welcome bonus
Quality mobile app
Surprise Decision, but Fair Play
When a poker operator changes things out of the blue, it rarely goes over well with the players. These sudden changes often are financially motivated as the room looks to protect its bottom line and somehow gets out of what turns out to be a raw deal.
But for the WPT Global $1 For $1 Million event, it is hard to think the operator would do this just to get an extra $10,000 or $20,000. And, with them giving away so much money in the Main Event tickets, it is clear that the motivation has nothing to do with the overlay. The $1 For $1 Million will still have an overlay of at last $910,000 — so nothing has changed in that regard.
The fact of the matter is that there has never been a $1,000,000 tournament with a $1 buy-in, so the room wants to get the maximum exposure for it, and that's definitely reasonable. Perhaps it should have made better projections, but this is unfamiliar territory.
And, with such generous compensation coming to everyone who was affected by this change, it is really hard to find a legitimate reason to complain. That said, the Main Event will kick off in a few days, so check your WPT Global backpacks and take advantage of that ticket as soon as it lands, as there are not that many Day 1 flights remaining.