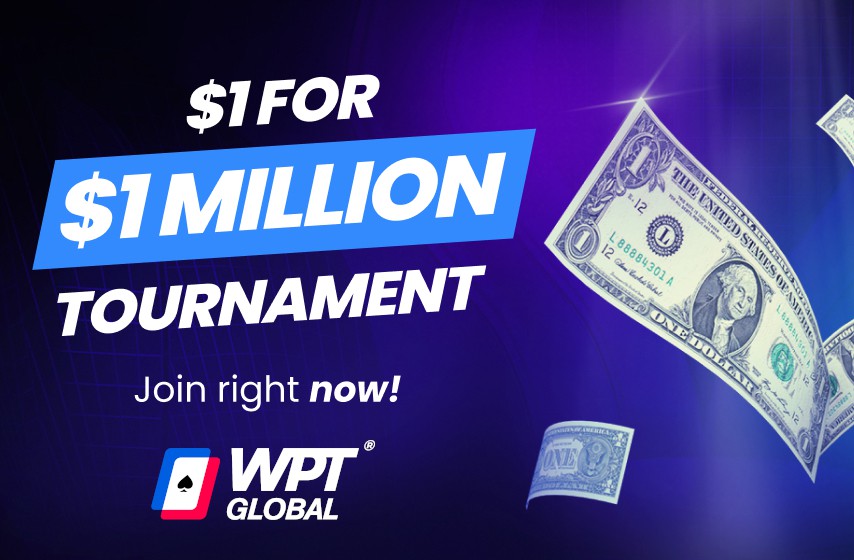 The big day is almost here. Starting flights for the WPT Global $1-for-$1-million tournament have been running for some time now, giving players a chance to fight for a cool $1,000,000 prize pool for an entry fee of just $1. And thanks to many bonuses and promotions, many players have been able to take their shot for free.
Now, there is very little time left to secure a seat to Day 2 of the tournament, scheduled for October 1. There are a few more starting flights set to take place until September 28, after which the window of opportunity will close.
The tournament is structured in a way where the top 13% of players from each Day 1 progress to Day 2, carrying over their stack. Players are also allowed to enter multiple Day 1s, with the stipulation that their best qualifying entry — the biggest stack — progresses to Day 2.

Last verified: September 2023
Special Signup Offer
100% deposit bonus up to $1200!
Use bonus code FUSEBONUS
Generous welcome bonus
Quality mobile app
Final Day 1 Flights on the Docket
There are a few days and several initial flights remaining on the WPT Global tournament schedule for those looking to secure their seat or try to boost their Day 2 stack. These are:
Sep 24, Saturday — three flights
Sep 25 Sunday — two flights
Sep 26, Monday — one flight
Sept 27, Tuesday — two flights
Sep 28, Wednesday — two flights
The room has yet to add any starting flights for the final two days leading up to Day 2, so if you are looking to secure your seat, the safe bet is to get in the action sooner rather than later.
All Day 1 flights offer re-entries, so players willing to take some risks can apply a more aggressive strategy to accumulate some chips during the fairly lengthy re-entry period.
What Is up for Grabs?
As hard as it is to imagine that a $1 tournament will dish out $1,000,000 in rewards, this is exactly what will happen on October 1 and 2 on the WPT Global app. While there will probably be some changes to the prize pool distribution with the qualifiers from the final few days, at least 550 players will make money on Day 2, with the minimum cash being $400.
Those making the 8-handed final table have plenty to look forward to. Everyone making it to the final eight will be guaranteed five figures, while the winner stands to take home over $170,000 for their efforts. The runner-up will bank an amount just shy of six figures as well.
The final table action will play out on Sunday, October 2, and it will be streamed live on the WPT Twitch channel with live commentary.
As it stands, the Day 2 action will be quite interesting, as players will start with a variety of stack sizes, ranging from over 500,000 chips at the top to just around 20,000 at the bottom of the leaderboard. Those starting with short stacks will be looking for opportunities to double up quickly, while those with big stacks are virtually guaranteed to make money, although there is no such thing as "guaranteed" in poker tournaments.
All in all, the $1-for-$1-Million event stands to be the most valuable tournament of the year, so there is plenty of reason to get involved in one of the final remaining flights and try to build your stack!