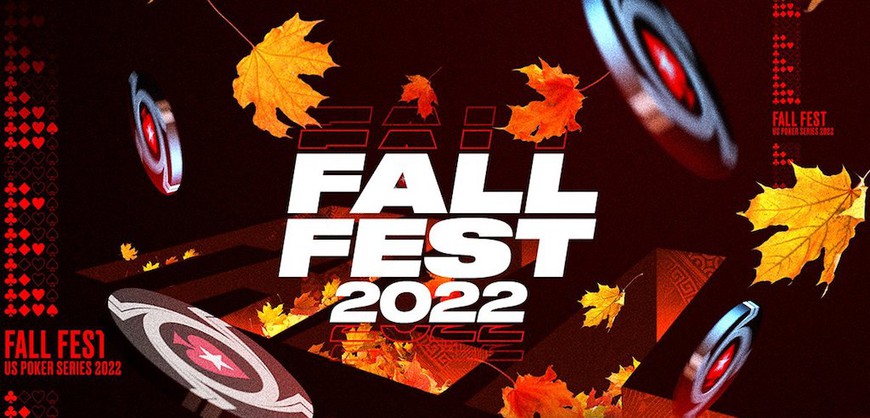 After more than a week of poker action, the Fall Fest from PokerStars Ontario is complete, and both players and the operator will be quite pleased with the results. Over $500,000 was guaranteed across the series, and when the dust settled, almost $565,000 in prizes was collected — an increase of about 10%.
Fall Fest kicked off on Nov 19 to start 10 days of poker action. The turnout was strong right from the start, with the first 12 tournaments breaking their guarantees. It wasn't a perfect run, however — by the end of the series, 13 of 57 games failed to hit their guarantees.
In the end, the missed guarantees were not an issue, as there were less than $25k in overlays across the whole series. With more than $45k in fees collected, it was still a profitable venture for PokerStars Ontario.
After 57 events, the series had 9487 entries across all the events, with the most extensive field coming in Fall Fest 47: Progressive KO. That game saw over 500 entries for a prize pool nearly double the $2.5k guarantee. The second biggest game by entries was the phased Fall Fest 1, which saw 402 entries but missed its $25k promise by almost $7k.
2022 Fall Fest Summary Results
| | |
| --- | --- |
| Total Games: | 57 |
| Total Gtd: | $512,900 |
| Total Collected: | $564,125 |
| Total Entries: | 9,487 |
| Missed Gtd: | 13 |
| Beat Gtd: | 44 |
| % Over Gtd | 9.99% |
| Avg % Increase: | 19.10% |
| Avg Prize Pool: | $10,334.66 |
| Avg Gtd: | $8,998 |
| Total Overlay | -$24,950.50 |
| Total Fees | $45,885 |
Fall Fest Delivers Autumn Bounty
With 57 games across the 10-day schedule, the 2022 Fall Fest from PokerStars Ontario was a much smaller affair than the operator's previous series. With more than $500k guaranteed, it was about $200k smaller than the Summer Stacks series in August and about half the size of the Platinum Series and the Bounty Builder series.
That said, the Fall Fest did pretty well per tournament with the 3rd best average guarantee, behind only the Platinum Series and the marquee ONCOOP series from earlier this fall. That was partly because the $500k+ guarantees were spread over fewer tournaments than the previous series.
PokerStars Ontario Tournament Series History
Series
Dates
Total Gtd (

CAD

)
Tournaments
Avg Gtd (

CAD

)
Platinum Series
July 10 — 18
$1,000,000
90
$11,111
Summer Stacks
Aug 7 — 14
$750,000
108
$6944
Bounty Builder Series
Sep 4 — 19
$1,000,000
133
$7519

ONCOOP

Oct 1 — 17
$2,000,000
132
$14,925
Fall Fest
Nov 19 – 28
$550,000
57
$9682
Unsurprisingly, the biggest prize pool of the week came from the Main Event. It was also the biggest guarantee of the series and one game that missed its guarantee. Still, the event collected $64,342.50 on 345 entries, but they were still playing for the $75k guarantee.
The best guarantee breaker of the series in raw prize pool numbers was the $1000 High Roller. It beat its $50k guarantee by almost 40%, with close to $70k in total prizes by the end. There were three other games that both broke their guarantees and collected more than $25k in prizes.
One of those $25k+ prize pools came from Fall Fest 09. That event saw the 4th most extensive field with 352 entries and barely cracked its $32k guarantee for $32,313.60 in prizes.
Ultimately, the Fall Fest can only be called a success by the operator and players alike. Players got their hands on some juicy prize pools while PokerStars Ontario scored a profit even after covering the few games featured overlays.
Sign up now for PokerStars Ontario or head to our comprehensive and unbiased review to learn more about PokerStars Ontario real money tournaments.
2022 Fall Fest Detailed Results (Sorted by % over Gtd)
| Tournament | Buy-In | Guarantee | Entries | Collected | % over Gtd |
| --- | --- | --- | --- | --- | --- |
| Fall Fest 43 | $30 | $3,500 | 277 | $7,562.10 | 116.06% |
| Fall Fest 2 | $20 | $3,000 | 343 | $6,242.60 | 108.09% |
| Fall Fest 47 | $10 | $2,500 | 519 | $4,722.90 | 88.92% |
| Fall Fest 16 | $30 | $3,500 | 219 | $5,978.70 | 70.82% |
| Fall Fest 44 | $20 | $1,500 | 140 | $2,548.00 | 69.87% |
| Fall Fest 45 | $10 | $1,300 | 237 | $2,156.70 | 65.90% |
| Fall Fest 20 | $50 | $5,000 | 172 | $7,826.00 | 56.52% |
| Fall Fest 7 | $10 | $1,400 | 236 | $2,147.60 | 53.40% |
| Fall Fest 8 | $10 | $2,500 | 384 | $3,494.40 | 39.78% |
| Fall Fest 49 | $1,000 | $50,000 | 73 | $69,569.00 | 39.14% |
| Fall Fest 54 | $100 | $10,000 | 150 | $13,770.00 | 37.70% |
| Fall Fest 39 | $50 | $4,000 | 121 | $5,505.50 | 37.64% |
| Fall Fest 4 | $20 | $3,300 | 246 | $4,477.20 | 35.67% |
| Fall Fest 37 | $100 | $8,000 | 118 | $10,832.40 | 35.41% |
| Fall Fest 34 | $10 | $1,300 | 189 | $1,719.90 | 32.30% |
| Fall Fest 46 | $50 | $4,000 | 116 | $5,278.00 | 31.95% |
| Fall Fest 5 | $200 | $12,000 | 82 | $15,293.00 | 27.44% |
| Fall Fest 6 | $50 | $4,500 | 125 | $5,687.50 | 26.39% |
| Fall Fest 35 | $200 | $18,000 | 121 | $22,566.50 | 25.37% |
| Fall Fest 41 | $50 | $5,000 | 136 | $6,188.00 | 23.76% |
| Fall Fest 42 | $100 | $15,000 | 202 | $18,543.60 | 23.62% |
| Fall Fest 55 | $30 | $3,500 | 158 | $4,313.40 | 23.24% |
| Fall Fest 24 | $10 | $1,300 | 176 | $1,601.60 | 23.20% |
| Fall Fest 57 | $30 | $3,200 | 143 | $3,903.90 | 22.00% |
| Fall Fest 29 | $20 | $3,200 | 209 | $3,803.80 | 18.87% |
| Fall Fest 50 | $50 | $7,000 | 180 | $8,190.00 | 17.00% |
| Fall Fest 23 | $20 | $3,000 | 192 | $3,494.40 | 16.48% |
| Fall Fest 52 | $20 | $2,500 | 159 | $2,893.80 | 15.75% |
| Fall Fest 15 | $100 | $15,000 | 187 | $17,166.60 | 14.44% |
| Fall Fest 53 | $40 | $4,000 | 125 | $4,550.00 | 13.75% |
| Fall Fest 19 | $30 | $3,200 | 133 | $3,630.90 | 13.47% |
| Fall Fest 36 | $50 | $5,500 | 134 | $6,097.00 | 10.85% |
| Fall Fest 11 | $300 | $25,000 | 98 | $27,440.00 | 9.76% |
| Fall Fest 33 | $30 | $3,000 | 120 | $3,276.00 | 9.20% |
| Fall Fest 26 | $50 | $5,500 | 131 | $5,960.50 | 8.37% |
| Fall Fest 40 | $30 | $3,000 | 114 | $3,214.80 | 7.16% |
| Fall Fest 21 | $500 | $25,000 | 55 | $25,960.00 | 3.84% |
| Fall Fest 10 | $50 | $4,000 | 90 | $4,095.00 | 2.38% |
| Fall Fest 12 | $50 | $10,000 | 224 | $10,192.00 | 1.92% |
| Fall Fest 9 | $100 | $32,000 | 352 | $32,313.60 | 0.98% |
| Fall Fest 56 | $100 | $4,000 | 44 | $4,039.20 | 0.98% |
| Fall Fest 25 | $200 | $18,000 | 97 | $18,090.50 | 0.50% |
| Fall Fest 13 | $30 | $4,000 | 147 | $4,013.10 | 0.33% |
| Fall Fest 3 | $100 | $12,000 | 131 | $12,025.80 | 0.21% |
| Fall Fest 31 | $50 | $5,500 | 117 | $5,323.50 | -3.21% |
| Fall Fest 38 | $20 | $3,000 | 159 | $2,893.80 | -3.54% |
| Fall Fest 14 | $10 | $1,800 | 180 | $1,692.00 | -6.00% |
| Fall Fest 22 | $30 | $2,600 | 86 | $2,347.80 | -9.70% |
| Fall Fest 28 | $100 | $8,000 | 78 | $7,160.40 | -10.50% |
| Fall Fest 17 | $100 | $12,000 | 115 | $10,557.00 | -12.03% |
| Fall Fest 48 | $200 | $75,000 | 345 | $64,342.50 | -14.21% |
| Fall Fest 27 | $10 | $1,000 | 94 | $855.40 | -14.46% |
| Fall Fest 18 | $50 | $2,000 | 37 | $1,683.50 | -15.83% |
| Fall Fest 30 | $100 | $13,000 | 119 | $10,924.20 | -15.97% |
| Fall Fest 51 | $50 | $5,000 | 87 | $3,958.50 | -20.83% |
| Fall Fest 1 | $50 | $25,000 | 402 | $18,291.00 | -26.84% |
| Fall Fest 32 | $30 | $2,800 | 63 | $1,719.90 | -38.58% |