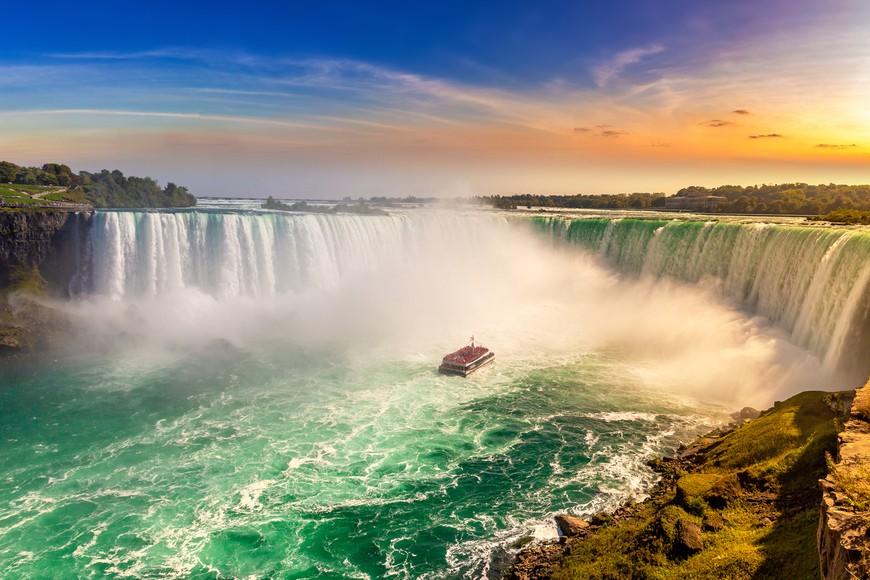 Despite launching nearly three months after two of its rivals, PokerStars Ontario has reclaimed the top spot in cash game traffic for the second time overall and is enjoying its strongest position ever against the three competitors it currently faces in the province's regulated online poker market.
PokerStars, launched on June 28, had a concurrent 7-day average for cash game traffic of 267 seats on December 18, data from GameIntel show. GameIntel tracks cash game data and is made available exclusively on the Poker Industry PRO Data platform.
By comparison, WSOP Ontario was in second place, with an average of 187 seats. The trio of operators that form the BetMGM Poker Ontario Network was third with 182 seats, while 888poker Ontario was last with 30 seats.
BetMGM, PokerStars Battled for Second Place
The Ontario online poker market has proven to be a real battleground for three of the four online poker rooms active in the province.
For PokerStars, its ability to climb to the top of the market after giving the competition a head start is surely satisfying. It never deviated from its plan to launch in Ontario at a later date, banking on the notion that it could do so because it was a well-known gray market operator in the province for years.
It's been a scrap between BetMGM Poker and PokerStars for most of the year, with the operators trading places several times in cash game traffic.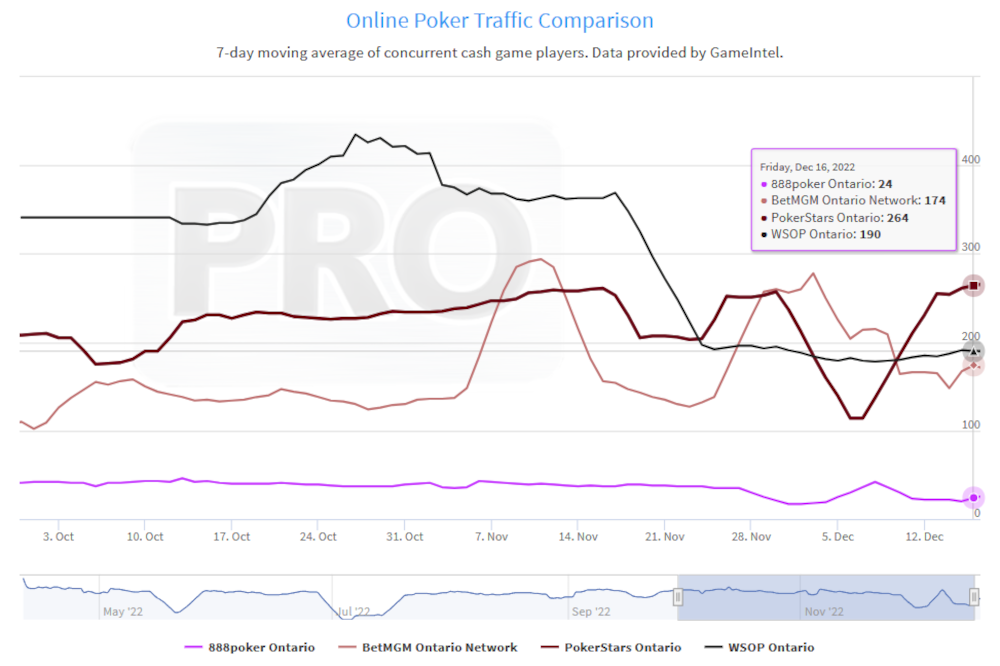 PokerStars was in front of BetMGM for three stretches of 2022 — between July 11 and July 29, then from August 24 to August 31, and then again from September 16 to September 29. Meanwhile, BetMGM led its rival twice — from July 30 to August 16 and then again from September 1 through September 13.
WSOP started well by dominating its rivals when it debuted on September 30. The GGPoker-powered poker room started with a concurrent 7-day average for cash game traffic of 341 seats. That increased to a peak of 435 seats on October 27.
But WSOP began a downward slide in mid-November — falling from 369 concurrent cash game seats on November 17 to just 192 seats on November 24. WSOP has leveled off since then, finishing with 187 seats on December 18. On that date, WSOP beat BetMGM (182 seats) for second place.
While WSOP was in front, BetMGM slipped ahead of PokerStars for four days, from November 8 to November 12. During this time, BetMGM hit a record high of 294 seats on November 11. But two days later, PokerStars snatched second place back.
Two Inflection Points
Ontario's online poker market has had two major inflection points — November 24 and December 10. The former was the first day WSOP didn't lead the market in cash game traffic since it launched. It also marked the first time PokerStars led all three of its rivals.
PokerStars didn't stay on top long — the BetMGM Poker Ontario Network seized the top spot by November 29. But BetMGM would end up ceding the top spot back to PokerStars 11 days later, on December 10, at which point it also started to trail WSOP.
That's how the market has been since — with PokerStars Ontario in first place in terms of concurrent 7-day cash game traffic, followed by WSOP Ontario in second place, the BetMGM Ontario Network in third and 888poker Ontario in fourth.
888 Remains in the Cellar
888poker Ontario launched on April 4, the first day of the province's regulated market for online poker. It was the first operator to market.
Perhaps it's been all downhill since.
Despite launching first, 888 didn't stay in first place in cash game traffic for very long. By May 9, the BetMGM Ontario Network — which by that time included BetMGM Poker and Entain brands bwin and partypoker — had passed 888 and never looked back. 888 has trailed the network trio ever since and has never led newer additions, PokerStars and WSOP.
888 also appears to be stagnating. The operator's concurrent 7-day average for cash game traffic hit a record high of 58 on April 11 but has not cracked the 50-mark since. For the last month, 888's rate has ranged from the teens to the upper 30s.