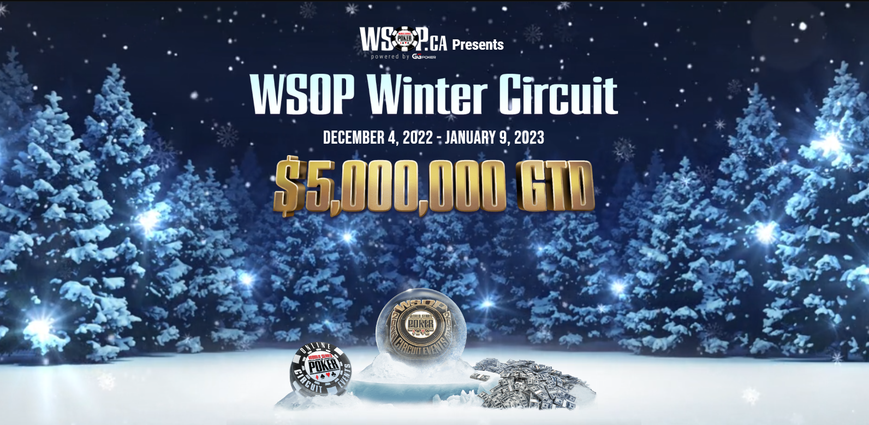 There are only five golden rings in the famous Christmas carol, but GGPoker Ontario is giving away 18 of them during the WSOP Winter Circuit this December and January. The series began on December 4 and runs through January 9, 2023, with a total of 18 Circuit Rings on offer through the series.
GGPoker Ontario scheduled over a month of hot poker action, and more than half the series is now in the books. Eleven rings have been awarded, but seven more are yet to be claimed before the Winter Circuit concludes.
There is a bit of a gap between ring activities for the main series, with the next chance to win one coming on Boxing Day, December 26. However, the period over Christmas has Day 1 flights for the Christmas Colossus and the New Year's Mystery Bounty, and there is plenty of sizzling side event action in the coming days ahead. Before the Christmas Colossus plays its Day 2 on December 26, there is more than $165k guaranteed in side events associated with the series.
The big side event guarantees this holiday weekend include a $15k guaranteed Sunday High Rollers event on Christmas Day and a few $10k guaranteed events before the big holiday.
More Rings Than the Christmas Carol
There is still plenty of money left on the tables at GGPoker Ontario in the remaining games in the 2022 Winter Circuit Online Series. With seven Ring events yet to play, more rings are remaining than you get from the 12 Days of Christmas, and over $1 million in guarantees is still up for grabs.
The pre-Christmas season has had a bit of a lull in the chances to win a Ring, so take advantage and get into position to win one down the road. While no more rings will be won before Boxing Day when Day 2 of the Christmas Colossus plays out, players still have plenty of Day 1 shots for that one over the coming days.
Equally, players are already competing for bags in Day 1 flights of the New Year's Mystery Bounty. Day 2 of the Mystery Bounty runs on Day 2 of 2023 — aka January 2 — but Day 1 flights for both Ring events are playing out on GGPoker Ontario right now, and there is over $350k guaranteed in those two events alone.
2022 Winter Circuit Remaining Ring Events
Date
Ring Event
Buy-In
Guarantee
Value (BI/Gtd)
Dec 26
Christmas Colossus
$400
$150,000
$375.00
Dec 29
Stocking Stuffer Bounty Superstack
$840
$100,000
$119.05
Jan 2
New Year's Mystery Bounty
$210
$202,300
$963.33
Jan 3
7-Handed Championship
$1500
$100,000
$66.67
Jan 5

PLO

Ho Ho Special
$525
$50,000
$95.24
Jan 8
GGMasters Winter Championship
$150
$100,000
$666.67
Jan 9
Winter Circuit Main Event
$525
$300,000
$571.43
Plenty of Non-Ring Action on the Side
While players will not have a chance to win another Ring until Boxing Day, plenty of side action is still playing out at GGPoker Ontario. There is $168,500 guaranteed across 38 side events scheduled before the end of Christmas Day, including one $15k guaranteed event and three with $10k guaranteed.
The most significant side game on offer is the Christmas Day edition of the $525 Sunday High Rollers Main Event, which promises at least $15,000 in prizes and kicks off at 4 pm on December 25.
Side Game Highlights Through Christmas
Sunday High Rollers Main Event

Date: Dec 25, 4 pm
Buy-In: $525
Guarantee: $15,000

Bounty Big Game Hunter

Date: December 25, 4:30 pm
Buy-In: $525
Guarantee: $10,000

Bounty King Frozen Throne

Date: Dec 25, 5 pm
Buy-In: $105
Guarantee: $8,000
It may be cold outside this holiday, but there is plenty of hot poker action at GGPoker Ontario. While online poker players in Ontario will have to wait until after Christmas for their next shot at a WSOP Circuit Ring, there are more than enough side tournaments to keep you warm until then.
Sign up and get into the holiday spirit with GGPoker or head to our complete guide to learn more about GGPoker Ontario real money tournaments.