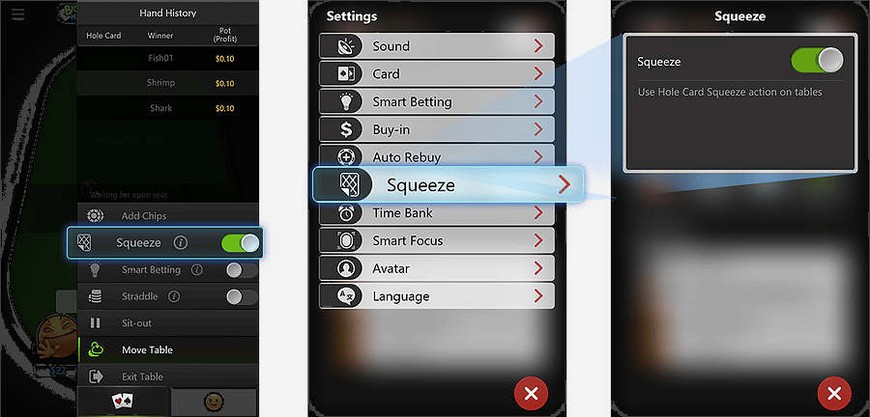 The GGPoker Ontario app is one of the industry's most innovative online poker platforms, including many gameplay features that make playing easier and/or more entertaining.
Card Squeeze is undoubtedly one feature that falls into the latter category, as it does not make playing poker any easier or help you gain an edge over your opponents. Instead, it makes playing more fun by allowing you to do the same things you enjoy doing in live poker games.
Being able to squeeze your cards in online poker is a feature that has only recently been added to premium poker platforms like GGPoker Ontario, so let's look at how it works and what you can use it for.
How Card Squeeze Works at GGPoker Ontario
To use the Card Squeeze feature, you must visit the 'Settings' section of your GGPoker Ontario poker app and turn it on.
Once this feature is activated, your hole cards will be dealt face down across all of your tables, and you can squeeze them slowly with your mouse or by applying your finger to your mobile device screen.
You can squeeze your cards as slowly as you like, but make sure you don't waste your entire time allotment, as your cards will still be folded in the same timeframe as they usually would if you fail to act.
A green 'Open' button will also be available with every hand, allowing you to instantly reveal your cards and see them as if the Squeeze feature was turned off.
While squeezing your hole cards won't help make you a better poker player, it will definitely add some mystery and make the game more dynamic for you, especially in the late stages of tournaments when the blinds are high and every hand matters.
Squeezing the Board Cards
At GGPoker ON, you will also be able to squeeze all the most important cards in your big all-in situations, in both cash games and tournaments.
Once you are all-in and asked to show down your cards in a big spot, the software will automatically allow you to squeeze the turn and river, regardless of whether you are the favorite or the underdog to win the hand.
The cards will be dealt face down, and you can slowly squeeze them or turn them over instantly and see your fate.
You will only be able to squeeze board cards in cash game pots with over 100 big blinds, but every tournament all-in will give you this opportunity.
If squeezing your hole cards was not fun enough for you, being able to squeeze that decisive river card that could knock you out of the tournament or make you the chip leader definitely will.
Join GGPoker Ontario & Have Fun
Card Squeeze is one of the latest innovative gameplay features added to the GGPoker Ontario platform. Still, it is only one of many unique to this software, including tournament bubble protection for early registrations.
If you live in Ontario, you can join the operator in no time and enjoy this and all the other exciting gameplay features and the best cash games and tournaments available in the province.
Sign up for your free player account and start playing online poker at one of the best online poker rooms in Ontario from the comfort of your home!