One of the most frustrating parts of tournament poker is bubbling. Finishing one spot off the money can be one of the most tilting spots in poker, but GGPoker Ontario is looking to help ease the pain. Ontario online poker players taking advantage of Bubble Protection can expect to get at least their buy-in back for a bubble spot.
In partnership with global giant WSOP, GGPoker Ontario has brought some features from the international client to the Ontario online poker market. Among these is Bubble Protection, giving players a chance to get their buy-in returned when they bust on the bubble.
GGPoker was the first operator to introduce the Bubble Protection feature on the global market, and now it is offering the same protection to Ontario online poker players. Just jump into the game early to ensure at least the buy-in back for a bubble spot.
Early Birds Get Bubble Protection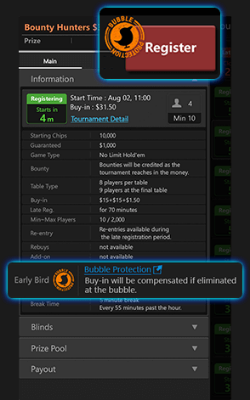 No one likes to bubble a poker tournament. Spending all that time just outside the money only to lose your chips in a brutal cooler is one of the most tilting spots in tournament poker. GGPoker Ontario removes some of that pain by offering Bubble Protection for early bird entries.
Taking advantage of Bubble Protection is easy. All players must do is ensure they are registered before cards go in the air. Once the player is in the game before it starts, they are automatically eligible to get their buy-in back for a bubble spot.
Even better, that protection applies to all buy-ins. The motto at GGPoker Ontario is "Once an early bird, always an early bird," meaning that as long as the player's first buy-in was before the start of the game, rebuys and re-entries will continue to be eligible for the bubble protection. However, only the active buy-in is eligible for a refund.
Bubble Protection is not available for all tournament buy-ins, but many bigger events have the feature active.
Tournaments with Bubble Protection include:
Daily Guarantees
Bounty Hunters (excluding Speed Racers)
Omaholic
GGMasters
There are a few caveats to mention regarding this feature. In addition to standard requirements like being aged 19 or older, Bubble Protection is only available on cash or T$ buy-ins, and the feature is not active for tournaments with less than 10 entries.
The Bubble Protection refund is issued in T$ and should be credited to the player's account when they bubble the game. The offer is unavailable on satellite games, and players staked through GGPoker Ontario's exclusive Staking platform will not have to share their refund with backers or stakers.
The number of protected bubble spots depends on the size of the game, so in many cases, more than one player will get their money back for bubbling. See the chart below for details on how many spots are protected.
Bubble Protection Levels
| Tournament Entrants | Bubble Protection Candidates |
| --- | --- |
| 10 ~ 99 | 1 |
| 100 ~ 499 | 2 |
| 500 ~ 999 | 3 |
| 1000 ~ 1999 | 4 |
| 2000 ~ 2999 | 5 |
| 3000 ~ 3999 | 6 |
| 4000 ~ 5999 | 7 |
| 6000 ~ 7999 | 8 |
| 8000 ~ 9999 | 9 |
| 10000 + | 10 |
Bubble Protection is just one of the reasons to play on GGPoker Ontario. The operator is also Ontario's exclusive spot to pick up WSOP hardware like Bracelets and Rings, and book seats in the big summer 2023 WSOP festival in Las Vegas.
For the full 2023 WSOP Schedule, venue info, and more, see our complete WSOP 2023 Guide.
Sign up for GGPoker Ontario or head to our detailed and unbiased GGPoker Ontario Review to learn more about this operator and why it's one of the best online poker rooms in Ontario!