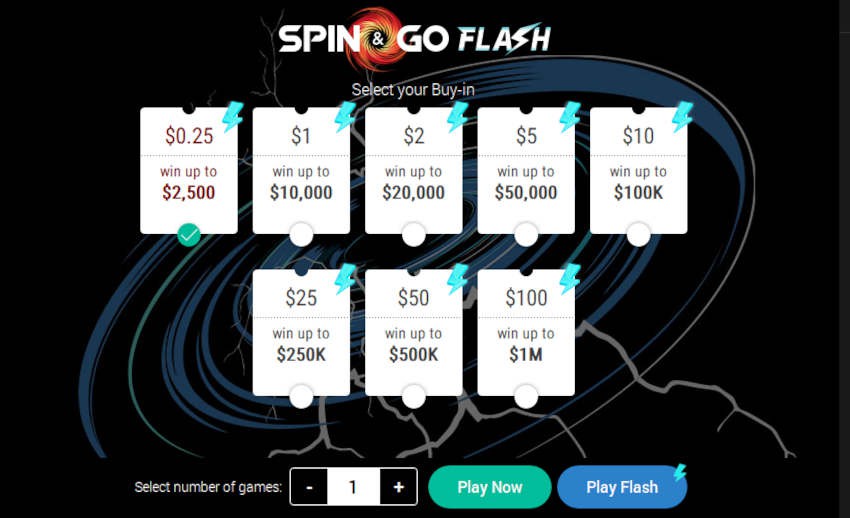 Three-handed jackpot tournaments have been a hit with players worldwide, and almost every poker operator offers its own version of these. But players playing at PokerStars Ontario might get confused, as this particular operator offers not one but two jackpot formats.
Called Spin & Go and Spin & Go Flash, both versions are very similar, but there are a few significant differences to be aware of. So what are these, and how do they factor into your decision on what format to go for?
In this short and to-the-point guide, we will explain all you need to know about Spin & Go and Spin & Go Flash tournaments at PokerStars Ontario. This should give you a better idea of which to choose, depending on your style, bankroll, and other relevant factors.
Good Old Spin & Go's
The Spin & Go format has been around on the PokerStars platform for some time now, and Ontario online poker players should have no difficulties navigating their way around it.
These three-handed sit-and-go tournaments feature a mystery jackpot determined by a random number generator at the start of each tournament. The prize ranges between 2x and 10,000x the buy-in amount, and the possibility of a massive win drives players to this format.
In a regular Spin & Go, players start with 500 chips, and blind levels last for three minutes. These games do not take long to complete, which is another reason why recreational players love them. But, in the poker world, there are always those looking for more action, and Spin & Go Flash came about as the answer to this request.
How Is Spin & Go Flash Different?
Players opting to play Spin & Go Flash games at PokerStars Ontario instead of regular ones still get to compete for the same prizes and at the same buy-in levels. When registering for a tournament, click 'Play Flash' instead of the 'Play Now' option to join this faster format.
There are two main differences between Flash and regular games. The starting stack is smaller — everyone gets 300 chips instead of 500 — and blind levels last only for one minute. So, players get into the danger zone much quicker, and the distribution of the cards influences their fate much more.
Naturally, Spin & Go Flash tournaments take up even less time and are usually done within a few minutes. Conversely, you do not get too much play for your money.
Flash or No Flash?
PokerStars Ontario offers a full range of Spin & Go games in both formats, giving you complete freedom of choice. But which is the better format and why?
The classic version of Spin & Go games is the better option for most players. While these are turbo tournaments, you still get time to pick up a few hands and perhaps get in a good spot.
With Flash games, things happen so quickly that if you do not get lucky in the first few minutes, you will see your stack vaporized without even playing a proper hand.
The variance is much more pronounced in Spin & Go Flash games, and the skill element is reduced as shallow stacks make it harder to make serious mistakes. There is still an edge to be had in these games, but finding it is much more challenging and will require some serious studying, so be prepared to put in some work if you opt for this fast-and-furious format.
Head to the PokerStars Ontario App, create your account, and you'll be spinning & going in no time!