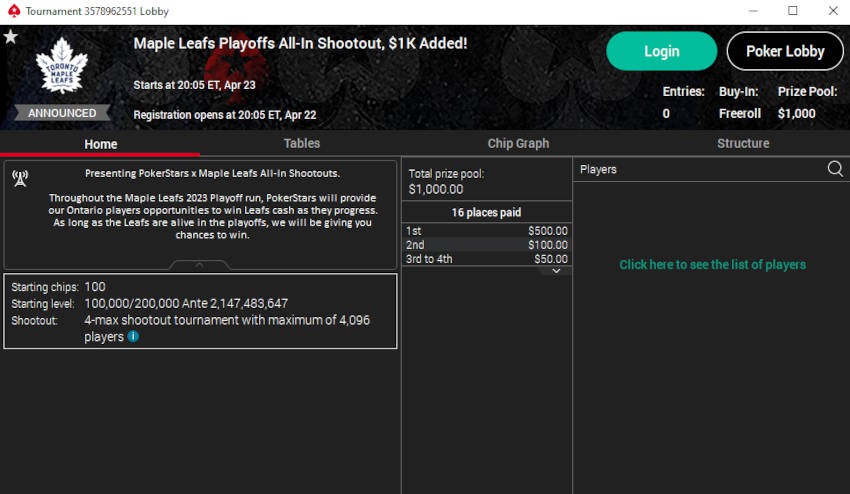 For all Ontario online poker fans that are also big hockey fans, PokerStars Ontario has launched a cool series of freeroll tournaments to accompany the Maple Leafs' performance in the Stanley Cup playoffs.
The series comprises several All-in Shootout tournaments taking place after Leafs' games and featuring prize pools of either $1000 (if the Toronto team loses) or $2500 if they book a win, with more freeroll action to come if the team makes it to the finals.
Tournaments are played in a four-handed format with standard All-In Shootout rules, where all players are all-in every hand until the winner is found.
Maple Leafs All-In Shootout Schedule
| Date | Time | Prize Pool | Buy-In |
| --- | --- | --- | --- |
| Apr 21 | 20:05 | $2500 | Freeroll |
| Apr 23 | 20:05 | $1000 or $2500 | Freeroll |
| Apr 25 | 20:05 | $1000 or $2500 | Freeroll |
More games could be added, depending on the team's performance in the playoffs.
Generous Prizes up for Grabs
PokerStars Ontario has been very active with the tournament series in 2023, featuring almost non-stop action. The operator continues the trend with the Maple Leafs All-In Shootout series; the difference being these tournaments are completely free to enter. Simply log in, navigate to the "Maple Leafs All-In Shootouts" tab, open a tournament lobby, and sign up.
All registered PokerStars Ontario players can enter the tournaments with no additional requirements. Since the tournaments are played in the all-in format, players do not have to be present for the games themselves, as no actions are required, or options are available. Everyone is at risk on every hand, and those who win must keep going until they reach the money or are eliminated.
Currently, three tournaments are available in the lobby on Apr 21, 23, and 25. Registration opens 24 hours before the start, and all tournaments take place at 20:05, Ontario time. However, depending on how the Leafs perform in the playoffs, much more action could be available in the coming days.
Bigger Prize Pools for Later Games
If Toronto Maple Leafs book a victory in a Game 7 decider, PokerStars Ontario will host a freeroll event with a $3000 prize pool, and if they make it all the way to the Stanley Cup finals, there will be an All-In Shootout freeroll with a prize pool of $5000 after every win.
This means that Maple Leafs' fans have all the more reason to cheer their team on, as every good result on the ice will lead to bigger prize pools at PokerStars Ontario.
As always, any funds won in these freerolls will be added straight to player balances and available for immediate withdrawal with no restrictions or wagering requirements. Whether you want to use the money to buy a Maple Leaf jersey or keep it in the balance to boost your bankroll, all options are available.
No deposit is required to take part, and you do not even have to be present for the tournament, so there is no reason to pass on this opportunity. Head over to PokerStars Ontario client, sign up for the event once registration opens (24 hours before the start), and you will be in with a shot at a share of the $1000 or $2500 prize pool.