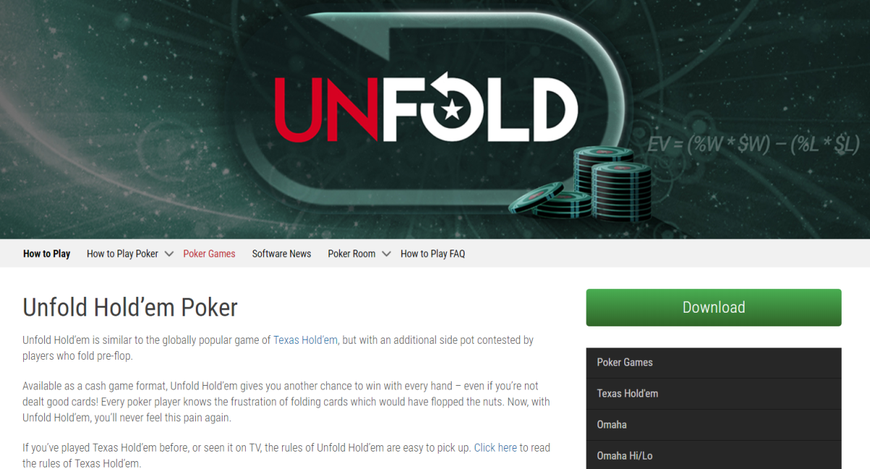 PokerStars may not want to comment on their potential new game variant which we unfolded earlier this week, however, being eagle-eyed, we were quick enough to spot the game rules before they were taken down from the PokerStars website.
There is reason to suggest that Unfold Hold'em may skip ahead of another new novelty poker game that PokerStars has been working on – Fusion (which Poker Industry PRO discovered in May). Whether Fusion is still in the works or whether it has been scrapped, we do not know; however, it is almost certain that Unfold will be next in line of PokerStars' long list of cash game rotations.
Shortly after our exclusive article on the possibility that PokerStars had another new poker game was published, PokerStars teased its followers (including us) on Twitter:
Why Play on PokerStars?

Sign Up Today »
Largest player base in the world.
Home of Spin & Go, Power Up and lots of other unique game variants.
Biggest weekly tournament schedule around.
Unfolding the Rules
Like Split Hold'em and Showtime Hold'em, Unfold Hold'em will be available in a six-max cash game format and will follow the same rules as No Limit Hold'em but with a unique twist. As the name suggests, players will be able to retrieve their mucked cards and get back into the game.
However, before the hand is dealt, each player at the table will have to put up an ante equal to half the size of the small blind (or 25% of the big blind) into a separate pot. The Unfold antes will not be a part of the main pot. There must be a minimum of four players dealt into the hand for Unfold action to kick in.
Once the flop is dealt, the table lights go up and the Unfold round begins. All players who folded will be given a chance to play for the Unfold pot. Each eligible player must decide at the same time whether to re-enter the hand to compete for the Unfold pot. Players that previously folded will not be eligible to win the main pot.
To enter the Unfold pot, players must place a one-time bet equivalent to the total of all Unfold antes collected. For example, if the Unfold pot amounts to $1.50, each player who wishes to unfold their hand will have to make a bet of $1.50.
Once eligible players pay the Unfold bet, there will be no further bets from these players and the rest of the hand will be played out among the players who originally entered the hand. If the main pot is won before the full board is dealt, the remaining community cards will be dealt to determine the winner of the Unfold pot.
"Unfold Hold'em is similar to the globally popular game of Texas Hold'em, but with an additional side pot contested by players who fold pre-flop," the rules page for Unfold described.
"Available as a cash game format, Unfold Hold'em gives you another chance to win with every hand – even if you're not dealt good cards! Every poker player knows the frustration of folding cards which would have flopped the nuts. Now, with Unfold Hold'em, you'll never feel this pain again," the description continued.
In case no players choose to unfold, the main pot is decided before the flop, or fewer than two players fold pre-flop, antes collected before the start of the hand will be refunded to all players.
It is not clear whether the Unfold pot will be raked or not, but the format does sound quite intriguing. Not many strategy adjustments will be required compared to the recently ended Showtime and Split Hold'em variants. However, the format will undoubtedly be appealing to casual players as they will fancy their chances to win with every hand. Like the other novelty poker variants released by PokerStars, Unfold will also be adopting the blind lobby functionality with a fixed buy-in amount.
Showtime Hold'em is Gone for Now
On Monday, Showtime Hold'em was removed from the lobby after a successful nine-week run. In Showtime, players had to reveal their hole cards every time they folded. It was well received from the players, introduced new dynamics to the game and added new depth to the strategy.
"It made for a fun twist on hold'em that rewarded careful observation while forcing you to rethink your strategies," wrote a PokerStars Staff member on PokerStars blog.
"We're always looking for new ways to challenge players and keep things fun, with new games with unique features testing out those what if scenarios. What if you could run the board twice? What if you could see all the folded hands?"
It is expected that at least some of the PokerStars novelty poker formats will return for another limited run, but at this time no further information about a possible return has been made available.