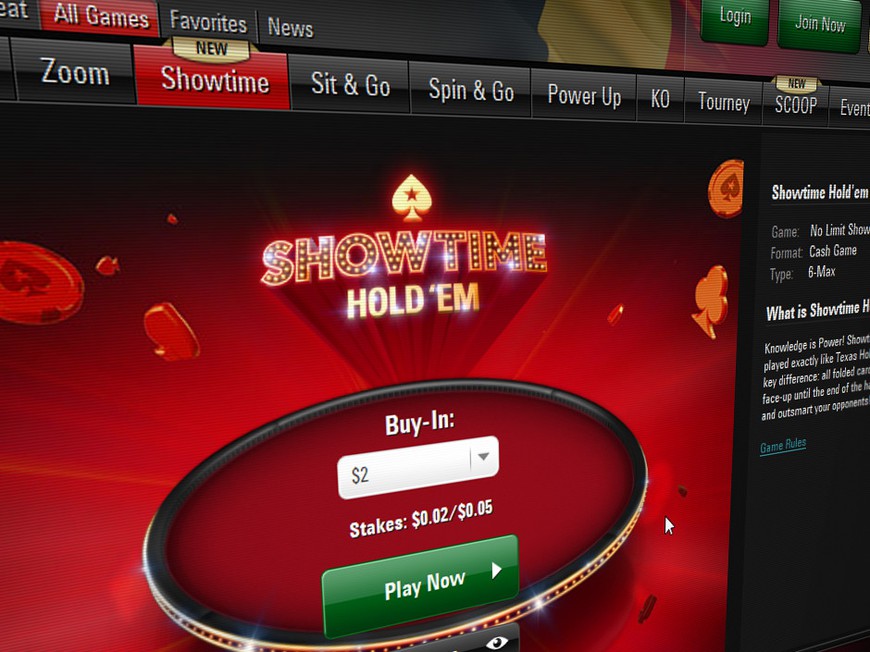 Showtime Hold'em is the newest in a long line of poker game innovations from PokerStars. The world's largest online poker room added the new real money poker game to its product offering across its international network on Wednesday.
Available for a limited time only, Showtime Hold'em differs from traditional Texas Hold'em by exposing players' hole cards as soon as a player folds their hand.
"The possibility to see all folded cards will introduce some fascinating strategic adjustments to the traditional and well-loved NL Hold'em game," said Severin Rasset, Director of Poker Innovation and Operations.
Play Showtime Hold'em on PokerStars now!
Its worth noting that you do not have to show your hand if you win before showdown—so that might encourage some players to run more elaborate bluffs to get others to fold.
The ability to see other players' hands will also help with learning how opponents are playing. Astute players will be able to take into account pre-flop folded hands to better calculate their outs and pot odds.
The game is currently live in Belgium for a real money test, but it is expected to roll out on the international network today. The game is played via the "blind lobby" system we saw with Split Hold'em, where you will be automatically taken to a seat once you choose your stake level.
Showtime Follows On From Split
The release of Showtime Hold'em comes just days after the end of the run of Split Hold'em, PokerStars previous temporary poker variant which was on offer for six weeks.
Split Hold'em played similarly to traditional Hold'em with the twist of having two separate sets of community cards dealt at the same time. There were two flops, followed by two turns and then two rivers. The pot was split between the winner of each board or a singular player could scoop the entire pot if everyone else folded or if they had the winning hand on both boards.
More New Poker Variants Coming
PokerStars has more innovative poker games in the pipeline.
As part of a World Cup-themed promotion, PokerStars will be releasing Spin & Goal, a three-handed hyper-turbo Spin & Go variant with a $1 million top prize. PokerStars will also use Spin & Goal to award prizes that can be redeemed on its sports betting site, BetStars.
The Spin & Goal promotion is part of the Stars £100 Million Challenge. Billed as "the biggest prize in online sports betting," The Stars Group will award £100 Million to a player that correctly predicts the outcome of all 64 matches in the upcoming World Cup. The contest is free to enter and is open to players in the UK, Sweden, Denmark, Norway and Finland.
According to reporting by Poker Industry PRO, another new game from PokerStars is on the horizon. Fusion appears to be a new title slated for the PokerStars play money platform. PRO predicts, that as the name implies, Fusion will combine two games into one.
One of the top candidates is a variation of Irish Poker, a game that combines Hold'em and Omaha. No timetable for the release of Fusion has been announced.
Power Up
One of PokerStars biggest innovative initiatives is Power Up, a hybrid of Texas Hold'em and esports games such as Hearthstone.
A three-handed winner-takes-all sit and go, Power Up adds special cards to the deck that allows players to manipulate standard poker gameplay such as changing community cards, looking at opponents' cards, and swapping hole cards.
PokerStars foray into combining poker with elements of popular esports games is the first such venture to offer the cross-vertical game for real money.
Since its real money rollout in October 2017, PokerStars has iterated on Power Up, adding additional stake bands, experimenting with structure changes and developing promotions around the game.
PokerStars' Previous Innovative Efforts
Having been in the online poker business since 2001, PokerStars has played a big role in many of the innovations that have become ubiquitous in online poker such as the proliferation of online poker tournaments and loyalty programs.
More recently, PokerStars has experimented with the mobile-only heads up game, Duel. Following a real money beta test in Norway, the game was eventually shelved with the company "determining that it was not commercially viable at scale."
Other recent game variants from PokerStars include Spin & Go Max, an alternative Spin & Go game with a fixed time limit and a varying number of players; Beat the Clock, a sit and go game that ended in just five minutes; and Knockout Poker, a bounty-style sit and go tournament.
PokerStars will be hosting a Twitch invitational to showcase Showtime Hold'em. Brand ambassadors will square off on the social media platform to help celebrate and promote the game. Details of the event will be announced soon.