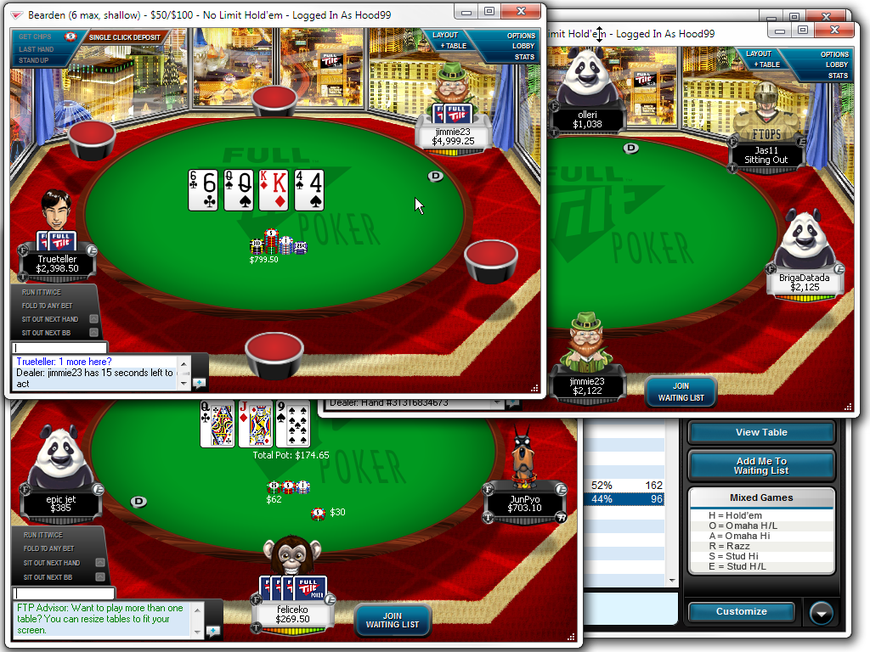 Players outside of the United States and certain regulated European countries can now return to the real money poker tables of Full Tilt Poker or withdraw their balances.
At midday UTC, or 1pm across central Europe, real money tables were deployed and full cashier functionality was enabled, permitting withdrawals and PokerStars-to-Full Tilt transfers.
Players have apparently flocked to the tables, with many active games up to high stakes. There are however some teething problems—the player-to-player transfer facility was unavailable at the time of writing, and certain cashier features were not working—which FTP is working to resolve. The new "Edge" store is also currently offline.
All real-money players will have received their large welcome bonus, part of the "deal me in" promotion that started today and runs for a week. Players can check their offer, a minimum of $200, under "requests > check my bonus offer" from the menu.
Early Morning Happy Hour, giving 2x the loyalty points, is running right now too. Happy Hours will run around the clock in the first week, alternating between games.
A lot of familiar names have returned for opening hour. "IReadURSoul" was sitting at the $400/800 NL tables, the highest big-bet stakes Full Tilt now offers. Fixed limit specialist "jama-dharma" was sitting at the $2k/4k limit hold'em tables. Active games up to $50/100 NL and $25/50 PLO were observed.
The new "Edge" program is also now live. Offering a max of 25% rakeback for the highest "diamond tier," Full Tilt has said it is not looking to compete with sister-site PokerStars with high rakeback deals for high-volume grinders.
Not all players will start Edge at the baseline "bronze" level: Depending on activity in Iron Man, Black Card and previous activity leading up to June 2011, players may have been assigned a higher tier to start. Players can check their status from the new "Edge" menu in the client.
In total, $186m will be returned to non-US players. Those in Spain, France, Belgium, Italy and Denmark cannot play on Full Tilt, but can withdraw their funds through PokerStars. PokerStars is still working with Italian regulators to provide a similar withdrawal process.