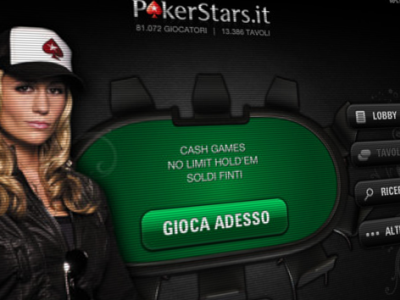 After a six week testing period with play money, the PokerStars.it mobile client – available for iPhone, iPad and iPod touch – switched on real money poker games earlier this week.
The native iOS application boasts multi-table support and shares the same player pool as the standard PokerStars.it network. Players can play Hold'em and Omaha games across heads-up, 6-max and full ring tables. Cash games, SNGs and tournaments are available. Table chat, lobby filtering and "find a player" functionality is all baked in. The only thing not available, it seems, is the cashier: Italian players will still need to deposit and withdraw with the desktop client.
It is the first real money poker game client available in the App Store. Other poker rooms have had browser-based clients to bring poker to mobile devices, and some have had Android clients, but this is the first time a poker room has received the all-important thumbs-up from the notoriously stringent rules imposed by Apple to be accepted into the App Store.
Apple only began to relax rules on gambling in late 2010; previously there was a blanket ban on all real money gambling and sports betting applications. There has since been a small collection of real money sports betting applications permitted – including mainstay brands like Betfair and Ladbrokes – but no poker applications, until now.
The reason for the Italian-only roll-out is likely due to Apple's strict policies, only permitting real-money gambling in clearly regulated "white" markets. With a successful roll-out in Italy, other regulated markets – including France, Denmark, UK, Belgium and soon Spain – are sure to on the PokerStars radar.
Italy was one of the first regulated online poker markets in Europe, with the Italian regulatory body AAMS overseeing licensed online tournament poker since 2009 and cash games opening in July 2011. It quickly grew to the largest segregated online poker market in the world, with PokerStars.it the sixth-largest cash game poker network globally – besting international networks like Merge and Microgaming.
Reportedly, an Android App is also in the making. However, real money gambling games are not permitted in Google's own App Store – surprising considering the generally permissive admission policy Google has had compared to Apple. Android apps can still be downloaded from unofficial sites like AppBrain and AppJar, or downloaded directly from websites.
Networks with dedicated Android apps include Switch Poker, which launched its app alongside its web-based client in December, and the now-defunct Full Tilt Poker, which also launched a web-based version for iPhone compatibility just prior to its demise.