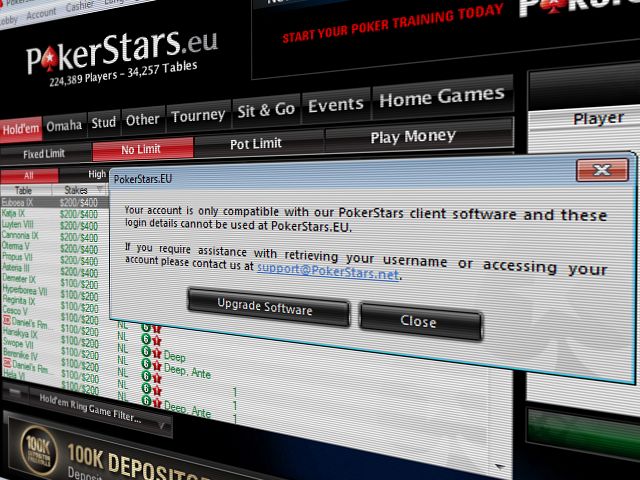 The Malta-licensed PokerStars.eu is now up and running, just three days after the original announcement. The new poker room, which shares the same player pool as the main international site, is currently only open to Swedish and Finnish players.
The rake structure, VIP club, tables on offer and signup promotions all appear the same as on the dot.com site; beyond a new "PokerStars.eu" logo in the lobby, the player experience should be identical.
The only difference is that of licensing: The new dot.eu site holds a license under the LGA, the Lotteries and Gaming Commission of Malta. The main dot.com site remains licensed by the Isle of Man Gambling Supervision.
The driving reason for this addition is one of taxation – players in Sweden and Finland are required to pay tax on winnings from poker sites that operate outside of the EU, which includes the Isle of Man. According to PokerStars' guide to the migration, poker play is "clearly tax free when offered from within the EU under a license issued by an EU member state" and PokerStars.eu "will remove any existing uncertainty regarding taxation of players winnings."
All account holders in Sweden and Finland are required to "upgrade" to the new PokerStars.eu software, and will be prompted next time they load the client. Account credentials, cashier balances and frequent player points will be automatically migrated to the new room. Accounts from other countries are not permitted to sign in to the dot.eu client, and, if they try, are prompted to "upgrade" back to the dot.com version. In that way, PokerStars is controlling exactly who is playing under which regulation. PokerStars is considering rolling out PokerStars.eu to other countries.
Despite the clear clarification, taxation is a tricky issue for professional poker players. PokerStars poker room manager Steve Day cautioned after the initial announcement that, despite the new license, "players are responsible for determining their own tax liability."
The new dot.eu joins the dot.com site, and Danish, Belgian and Estonian sites that all share the same player pool with different licenses. PokerStars also operates segregated player pools on PokerStars.fr, under regulation of France's ARJEL, and Italian AAMS-licensed PokerStars.it. A segregated Spanish PokerStars.es is expected to go live in the first half of 2012.
Today's launch of PokerStars.eu goes beyond just that of reducing the tax burden of certain Nordic players. As pokerfuse reported last week, the dot.eu platform is seen as a first step towards unifying segregated markets and harmonizing EU regulations and player pools.
In the original announcement of its new LGA license, Eric Hollreiser, Head of PokerStars Corporate Communications wrote: "We hope and expect the future will bring more certainty and more uniformity that will help players and companies alike … we were happy to see the recent reports that France, Italy and Spain are discussing regulatory cooperation and shared liquidity," but cautions that "... it will be a long and winding road to more unified regulations for poker around the world."