Golf may not be the most globally renowned sport, but it's rapidly gaining ground in North America's betting scene. As the United States witnesses a surge in sports betting, with more states legalizing and regulating it, the PGA Tour's partnership with US sportsbooks has brought golf's main odds into the spotlight during major events. Moreover, sports betting operators have expanded their range of markets for this sport, making golf betting an exciting venture.
If you're looking to dive into the world of golf betting, this guide is your tee-off point. We'll cover everything from major tournaments to various competition levels, popular markets, and essential tips to enhance your chances of long-term profitability.
Get ready to embark on your golf betting journey and explore the greens like never before!

Last verified: December 2023
Special Signup Offer
First Bet Offer up to $1500!*
Enjoy live streaming of popular events
Great mobile betting experience
Variety of betting markets on offer
*except NY
Please play responsibly. If you or someone you know has a gambling problem and wants help, call 1-800
GAMBLER
.
The Biggest Golf Tournaments
Before jumping into the markets, it is important for anyone keen to start betting on golf to be aware of the tournaments available for wagering. Golf is a year-round sport, with tournaments occurring pretty much every week throughout a calendar year.
You should distinguish the most significant events from the rest of the pack, as the bigger tournaments attract the best players with enticing prize pools.
There are four majors in golf, including:
The Masters (held in the same location every year, Augusta National Golf Club in Georgia)
US Open (played on some of the most complicated golf courses in the United States, open to both amateurs and professionals)

PGA

Championship (very tough courses; some percentage of the playing field comprises

PGA

teaching professionals)
The Open (the oldest of all majors, in the UK and Ireland, also open to both amateurs and professionals)
We then have the tournaments within the PGA Tour (the most elite organization in the United States). You can find the PGA Tour events in sportsbooks' odds almost every week. We are constantly witnessing the growth of prize pools for some of these tournaments.
The Most Popular
PGA

Tournaments
Genesis Invitational
Arnold Palmer Invitational
The Players Championship
Wells Fargo Championship
The Memorial Tournament
St. Jude Classic
Next is the DP World Tour, whose main events occur within the famous Rolex Series. Thanks to hefty prize pools, these tournaments host some of the world's best players. The events are located all over the globe. The most notable ones include:
Abu Dhabi Golf Championship
Genesis Scottish Open
DP World Tour Championship
Dubai Desert Championship
Last, we must mention the flagship team event in golf, the Ryder Cup. It is a biennial tournament where Europe's best players take on the US stars.
Golf Betting Markets
For those unfamiliar with the game, golf may seem like a simple sport to bet on with limited available markets. The reality is very different, especially nowadays, when the sportsbooks have added an array of betting options for the majority of the tournaments. The list of the markets and props grows even bigger during the main events in the year.
Outright Winner
Unlike in any other popular sport, the most common way to bet on golf is via the outright winner market. You simply back the winner of the tournament, much like you do when you want to place a wager on the futures market for the winner of a tennis tournament or an NBA (or any other team sport) season.
You may find it strange to have the main favorite of the competition priced up at +800 to win, but you will hardly run into shorter odds than +600 or +700 offered for this market. The reason is simple: the playing field normally includes over 150 players.
This makes an outright winner a tough market to land for bettors. Their bet will only be a winner if their selected player goes on and wins the whole tournament.

Last verified: December 2023
Special Signup Offer
$1000 Deposit Bonus
Make a deposit & get 20% boost up to $1000
Great mobile betting apps
Fast and hassle-free withdrawals
Please play responsibly. If you or someone you know has a gambling problem and wants help, call 1-800
GAMBLER
.
Place Picks
This is a much safer variant for bettors because the market allows you to predict whether a golfer will be placed inside the top three, top five, or top ten positions at the end of the tournament.
Some sportsbooks offer alternative place options, but the aforementioned are the most common ones. These picks are much easier to land but come together with significantly shorter odds than those offered in the outright winner market.
Each Way Picks
Each way market allows you to combine the two markets from above (outright winner and place). It creates two separate bets as you are backing a player to win and to place.
You get paid if a golfer wins the tournament because he would secure a top five or a top ten finish that way as well, or if a golfer ends inside the top five or top ten (or any other position that would make his place bet a winning one).
Head-to-Head Matchups
This market has gained significantly in popularity of late. Instead of going for the outright winner, you only focus on two, three, or four golfers (depending on how many of them are offered in a matchup).
To get a winning pick, you just need to select the one who finishes highest at the end of the tournament among those highlighted by the sportsbook.
Sportsbooks are generally very flexible with the matchups as they offer a broad range of options regarding the number of rounds and the number of players. The H2H matchups can run for a specific round, as you can select the player to get the lowest score (in that round) of the two, three, or four offered.
The matchups can be offered as two-way or three-way markets. Three-way markets are mainly bound to certain rounds and introduce a tie option. Here is an example:
Wyndham Clark vs Matt Fitzpatrick — Round 1 Winner:
Wyndham Clark at +105
Tie at +600
Matt Fitzpatrick at -105
Hole Betting
To add more entertainment to the event and put an emphasis on every play, you can back the outcomes for specific holes. Sportsbooks usually offer three possible scenarios on how the player would perform on each hole. These are:
Par (normally comes with the shortest odds)
Bogey or Worse
Birdie or Better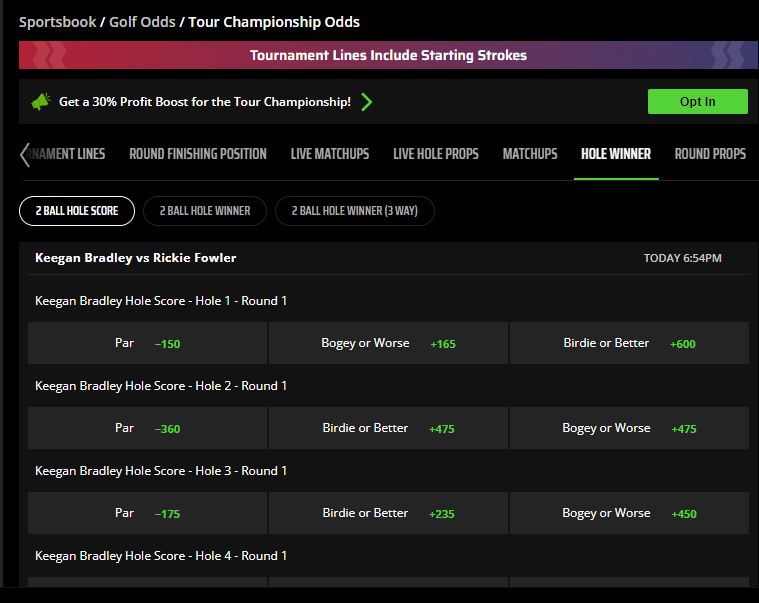 At bigger events, the sportsbooks offer the odds for hole betting for every single player in the tournament. On top of players' individual success on each hole, the sportsbooks also offer you a chance to back the winner of each hole (a much tougher task) if you feel like going for a long shot.

Last verified: December 2023
BetRivers Sports Special Signup Offer
100% first bet refund up to $500!
Quality welcome offer
Engaging & versatile promotions
Good odds across the board
Please play responsibly. If you or someone you know has a gambling problem and wants help, call 1-800
GAMBLER
.
Other Prop Markets
The aforementioned markets are the most common among golf bettors, but many more are up for grabs. We will only mention some of them to show you what props we are talking about.
Alternative Golf Prop Betting Markets
Round Props (players' scores in each round)
A Bogey-Free Round –

YES

or NO (you back whether a player will finish the round without a single bogey)
The Lowest Round Score (a player with the lowest score at the end of a round)
Will There Be a Hole In —

YES

or NO
Totals on the Winning Score (you bet on whether the winning score will be Over or Under the given line)
Will the Tournament Be Won Through a Playoff —

YES

or NO
Nationality of a Winner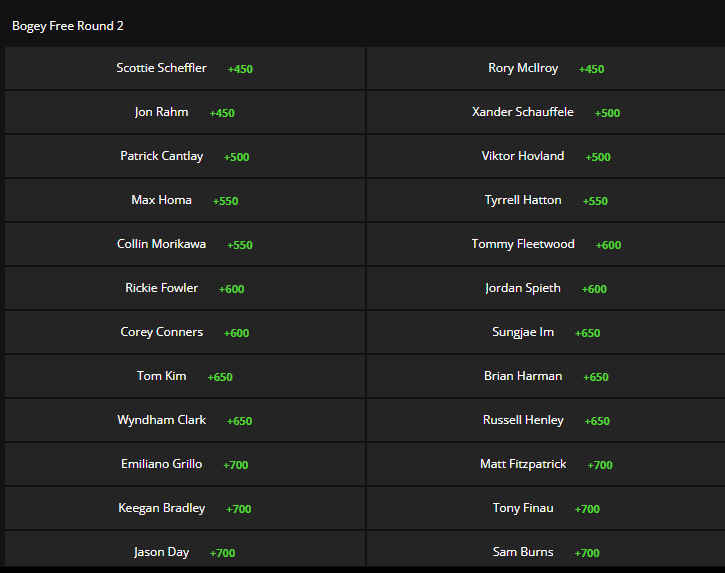 Golf Parlays
It is important to mention that golf offers bountiful possibilities for bettors who like to shoot for parlays occasionally. Head-to-head matchups are perfect for parlays as you can add as many matchups as you'd like for either the whole tournament or a specific round (or even a specific hole in some cases) to your golf parlay. Most other markets can be combined into a parlay as well.
Live Betting on Golf
Finally, live betting is becoming increasingly popular among golf admirers. You have the option to react to the happenings as they occur, as sportsbooks offer live odds for the vast majority of the markets mentioned above.
The odds and lines change in real time, adding more entertainment to the event as bettors have a chance to capitalize on momentum shifts.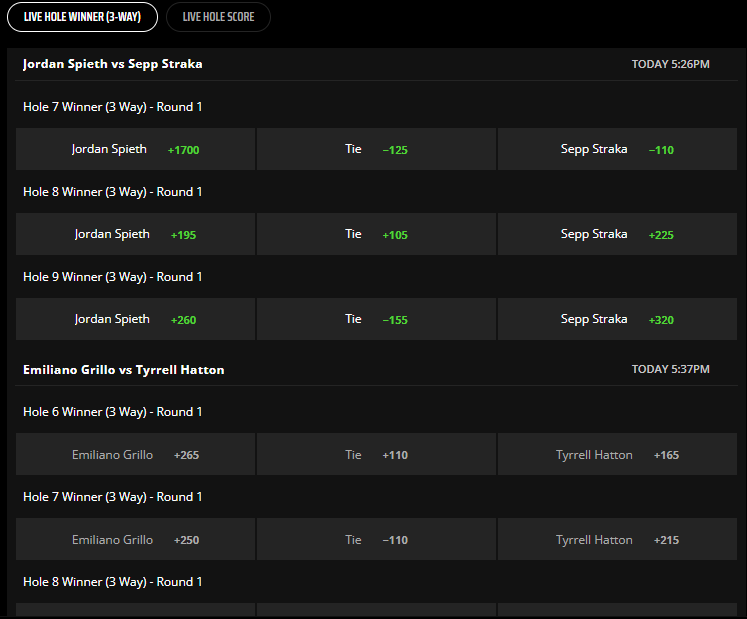 Important Tips for Golf Betting
Golf is by no means random, and it requires a lot of knowledge, skill, and strategy for a bettor to stay profitable in the long run. We have underlined several important tips you should use to improve your golf betting skills and have a better chance of making money down the line.
Strokes Gained — King of Stats
Strokes gained is one of the most relevant statistical parameters in golf. It best shows you how a certain player is performing. It does so by comparing their performance to the other players in the tournament, emphasizing their strengths and weaknesses compared to the rest of the field.
It analyses every shot a player has made and compares it to the average success the other players have had with that particular shot.
When a golfer has a positive stroke gained metric, it means they are performing better than the competitors on that specific shot. How is this relevant to betting? If a golfer has had five consecutive tournaments with positive strokes gained value, it means their form is hot, and there is a high chance of them repeating it in the upcoming events.
Different Shots, Different Courses — Your Chance
You should pay close attention to the players' performance on specific shots. There is no player with the best record at every shot in golf. Some prefer off-the-tee and teen to green shots, while others are much more successful at approach play or putting, for example.
This is where you can do your homework by analyzing golf courses. A long course requires players to be strong off the tee, while shorter courses are more suited for putters.
Form can be a good indicator, but it is by no means crucial in golf betting. Do not look at past results only. Instead, focus more on the players' strengths and weaknesses and the type of the courses.
Weather
Weather plays a greater role in golf than in most other sports when it comes to predicting the outcome of an event. Most players do not like to play with the strong wind or rain.
That said, some golfers (namely from Europe) prefer these conditions. This is why it is very important to check the weather forecast before placing a golf wager.